Stormy Daniels' Case Against Trump Was Just Thrown Out — Here's What Might Come Next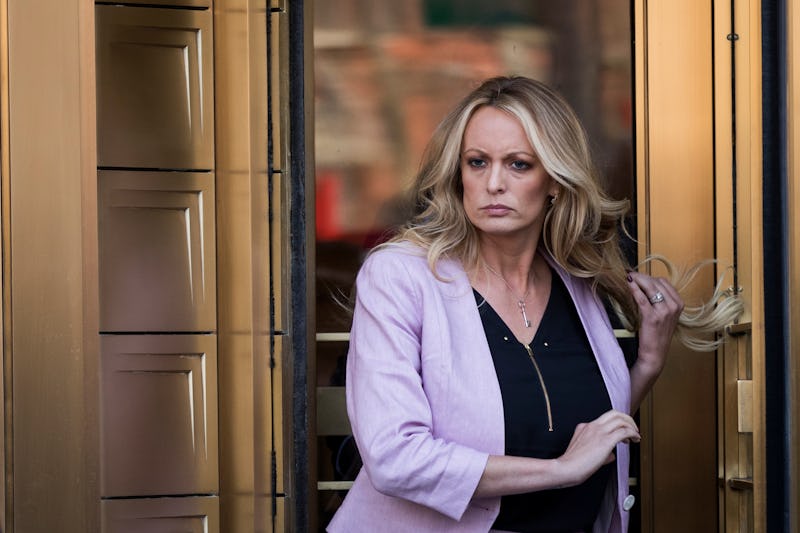 Drew Angerer/Getty Images News/Getty Images
According to a report published by The Washington Post on Monday, a federal judge dismissed Stormy Daniels' case against Donald Trump. The publication reported that federal judge S. James Otero tossed the adult entertainment performer's defamation case against the president based on free speech grounds under the First Amendment.
Daniels' case against Trump accused the latter of defaming her when he suggested that she was lying after Daniels said that she was threatened to remain silent about their alleged extra-marital affair. In the past, the president has denied the adult entertainment performer's accusation regarding the affair as well as the threat as false. In an April tweet, the president called Daniels' claim a "con job."
The news comes several weeks after Otero said in a hearing that Trump's tweet suggesting Daniels was lying was merely hyperbolic. Specifically, in September, Otero said, "This appears to be rhetorical hyperbole by a public official involving a public figure."
The president's attorney praised Otero's dismissal as a win for Trump. Attorney Charles Harder gave a statement in an email, according to The Washington Post, and said "No amount of spin or commentary by Stormy Daniels or her lawyer [Michael Avenatti] can truthfully characterize today's ruling in any way other than total victory for President Trump and total defeat for Stormy Daniels."
Some observers may think of Trump's "con job" tweet as defamation. But according to The Hollywood Reporter, Otero said Trump practiced "rhetorical hyperbole," which he defined as "extravagant exaggeration employed for rhetorical effect." The judge also said that Trump's tweet displayed "an incredulous tone, suggesting that the content of his tweet was not meant to be understood as a literal statement about Plaintiff."
"Instead, Mr. Trump sought to use language to challenge Plaintiff's account of her affair and the threat that she purportedly received in 2011," Otero said. "As the United States Supreme Court has held, a published statement that is 'pointed, exaggerated, and heavily laden with emotional rhetoric and moral outrage' cannot constitute a defamatory statement."
Additionally, the judge said that the president gave a "one-off rhetorical comment, not a sustained attack on the veracity of Plaintiff's claims." The Hollywood Reporter said that Otero distinguished between a public statement and defamation by saying that the latter would be a consistent endeavor.
All of this may not be a surprise to Daniels' attorney. In September, after all, Otero said of Trump's tweet in a hearing, "This is the type of political discourse and commentary that takes place in elections all the time, and I'm troubled that there's a claim here for defamation." Back then, Avenatti told the judge, "Your honor, this was not political by any stretch of the imagination." But the judge maintained that Trump's tweet came under his First Amendment rights.
So, what happens to Daniels' case now? The adult entertainment celebrity will have to pay the president legal fees, according to The Washington Post. But her supporters may be glad to know that she has the right to appeal Otero's dismissal. According to Daniels' attorney, that's the next step.
"We will appeal the dismissal of the defamation cause of action," Avenatti said, "and are confident in a reversal."