Stormy Daniels Might Have Just Dropped A Major Hint About Her Alleged Affair With Trump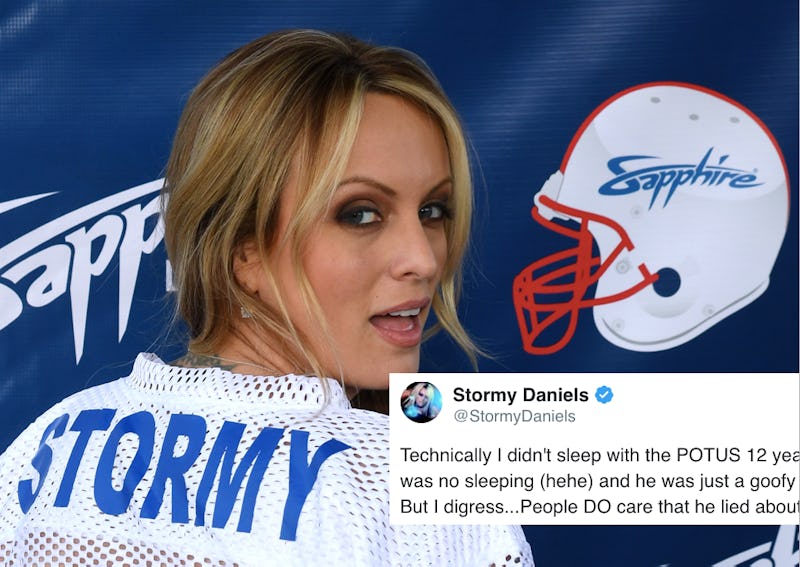 Ethan Miller/Getty Images Entertainment/Getty Images
For months, rumors that the president engaged in an extramarital affair with an adult film actress have been a recurring wave in the news cycle. Even though she has given tons of interviews and appeared on a series of television shows to talk around the matter, the actress in question has not explicitly confirm or deny whether she had ever had an intimate relationship with the president. But that may have changed on Tuesday, when Stormy Daniels tweeted that she and Donald Trump "technically... didn't sleep" together, but hinted that they did have a relationship. (The White House has repeatedly denied the affair.)
Daniels, whose real name is Stephanie Clifford, was responding at the time to a Twitter user who slurred at her told her to "just disappear." "Technically I didn't sleep with the POTUS 12 years ago," Daniels tweeted. "There was no sleeping (hehe) and he was just a goofy reality TV star. But I digress...People DO care that he lied about it, had me bullied, broke laws to cover it up, etc. And PS...I am NOT going anywhere. xoxoxo."
Trump has not personally acknowledged the alleged affair in public, but his lawyer, Michael Cohen, has repeatedly denied it on the president's behalf. "President Trump once again vehemently denies any such occurrence," Cohen said in January.
Presumably, the bullying and law-breaking Daniels mentioned were in reference a nondisclosure agreement (NDA) and $130,000 payout she allegedly accepted in the the weeks before the 2016 presidential election in return for keeping quiet about the alleged affair. Exact details about their relationship, and even the NDA, have been difficult to pin down because both parties involved tend to talk around both issues. At this point, Daniels would still be subject to the NDA, though that could possibly change if her lawyer has anything to say about it.
Early in March, news broke that Daniels was suing Trump in order to dissolve the NDA, arguing that it was void because Trump himself never signed it. Only his lawyer, Michael Cohen, actually did, according to reports.
"It was widely understood at all times that unless all of the parties signed the documents required, the Hush Agreement, together with all of its terms and conditions, was null and void," Daniels' lawyer argues in the suit. Instead, Daniels and her lawyer argue, every part of the NDA where Trump was supposed to sign was left blank.
Interestingly, the NDA itself reportedly lists neither Daniels' nor Trump's actual names. Throughout the document, as well as the lawsuit, Daniels is referred to as "Peggy Peterson." The NDA also reportedly used an alias for Trump, who is referred to throughout as "David Dennison." This alias is also included in the lawsuit.
A second, separate document is reported to exist which states that "Peggy Peterson" is Daniels, and that the other person named in the NDA, "David Dennison" is Donald Trump. Daniels lawyer says that "David Dennison" is, in fact, Trump, though the president's camp has not confirmed it.
Where the lawsuit will end up, or how it might be resolved, is unclear at this point in time. Another complication in the whole debacle is a pair of complaints filed by the group Common Cause. Their complaints reportedly argue that the $130,000 payout, which Cohen has admit to paying to Daniels himself, should have been treated as a campaign donation because it was made in order to influence the 2016 election. According to The Washington Post, they have requested that the Justice Department and Federal Election Commission investigate the matter.
Cohen has rejected these claims. "The payment to Ms. Clifford was lawful, and was not a campaign contribution or a campaign expenditure by anyone," he said of Daniels, according to the Post.