Stormy Daniels Suddenly Made Her Twitter Account Private & Something's Definitely Up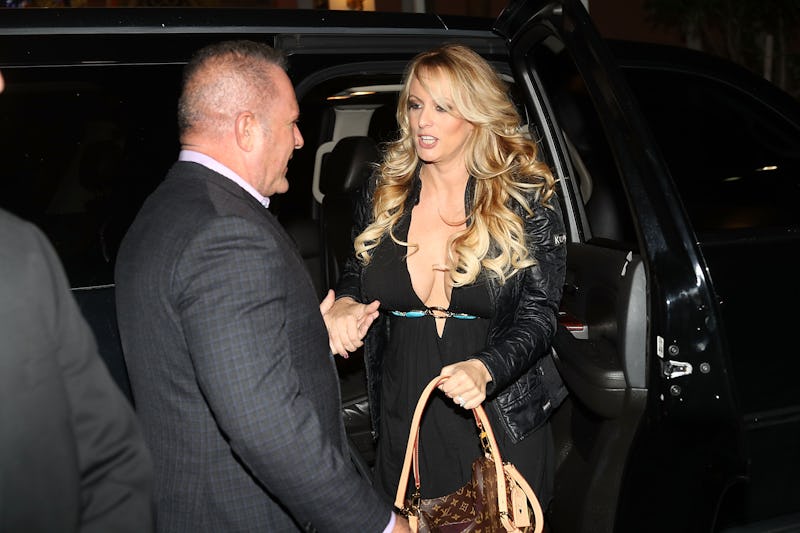 Joe Raedle/Getty Images News/Getty Images
The White House has had some tough weeks since Trump was elected, but this one may have taken the cake. And it's only Tuesday. On April 9, the FBI raided Michael Cohen, Trump's longtime personal lawyer, reportedly seeking info on a $130,000 payment the lawyer made to adult film actress Stormy Daniels. Then, her Twitter account became private — a move that certainly didn't happen out of the blue. The account privatization comes as Daniels, whose given name is Stephanie Clifford, revealed she is cooperating with federal investigators looking into Cohen's payment.
A search on Twitter reveals that Daniels' account seems to have gone private on April 9, as a variety of users commented on her account's change in status on that day. On April 10, the day after her account was made private, Daniels' lawyer, Michael Avenatti, announced that she is fully cooperating with federal investigators following the raid of Cohen's office. As Avenatti told Anderson Cooper on the latter's CNN show,
We were contacted by various attorneys from the government who are looking into this ... We're going to cooperate fully. We're going to be as user friendly as possible. We're going to respect the process. We understand the seriousness of this. This took on a whole 'nother level within the last 48 hours.
Daniels has thousands of followers on Twitter. In the days before she made the account private, she had been posting extensively to promote some of her work as an adult film actress. For example, Daniels repeatedly posted tweets whenever fans renewed their monthly subscription to an exclusive content website. She also advertised an upcoming show that will take place on April 11 in Detroit.
Daniels first captured national attention after alleging that she had an affair with Trump at a celebrity golf tournament in Lake Tahoe back in 2006. Trump has denied that the affair occurred, with a White House spokesperson saying on March 26, "The President strongly clearly and consistently has denied these underlying claims ... The President doesn't believe that any of the claims Ms. Daniels made in the interview [on 60 Minutes on March 28] are accurate."
Daniels also reported that, in 2016, Cohen, Trump's lawyer, paid her the aforementioned $130,000 as a means of ensuring her discretion about the affair. Cohen has admitted to paying Daniels, but has not said why he provided her with the funds. He has also said he paid Daniels with his own money and that the funds were not in any way associated with the Trump Organization or Trump campaign. President Trump has denied knowing about the payment. Moreover, when asked why Cohen had paid Daniels, Trump said on April 5, "You'll have to ask Michael Cohen. Michael is my attorney. You'll have to ask Michael."
As the New York Times reported, the raid of Cohen's office on Monday was conducted by the FBI and sought to collect more information regarding the payment Cohen had made to Daniels. Moreover, the Times reported, authorities were also seeking records related to a payment received from the National Enquirer by Karen McDougal, a woman who also alleges she had an affair with Trump (Trump denies this affair). As the Times noted, the Chief Executive of the National Enquirer's parent company is a friend of Trump's.
President Trump has been highly critical of the raid on Cohen's office. As the Hill reported, he told reporters at the White House on April 9, "It's a real disgrace ... It's an attack on our country in a true sense. It's an attack on what we all stand for."
As Daniels continues to cooperate with federal authorities, you can be sure that her lawyer, Avenatti, will keep the public posted about any new developments. Avenatti's account is still very much public and is frequently used by the attorney to provide updates regarding the Daniels case. However, if you wish to hear from Daniels herself — and you aren't already one of her followers — you may be out of luck, at least for the time being.