Stormy Daniels Is Coming To DC — But Not Because Of The Trump Lawsuit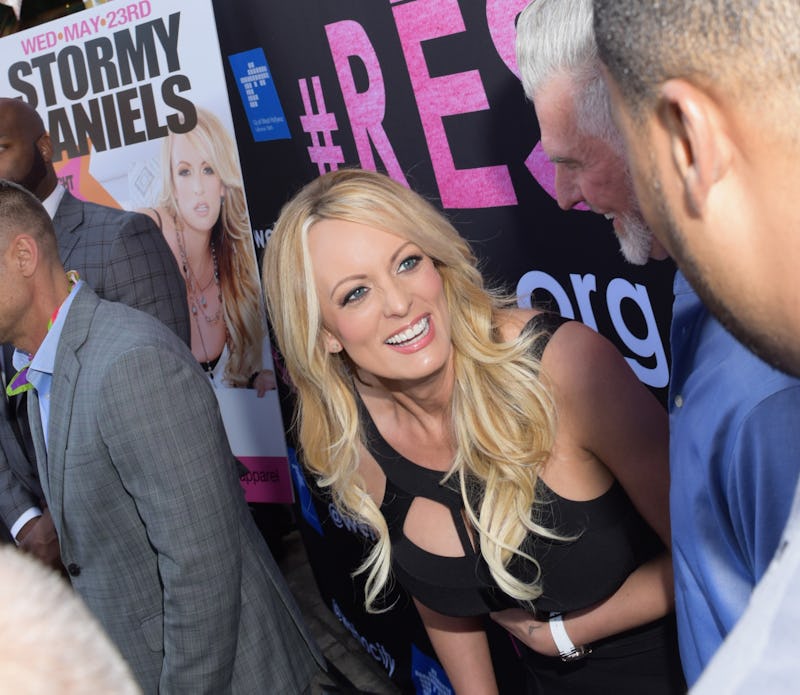 Tara Ziemba/Getty Images Entertainment/Getty Images
The most famous adult film star in America is coming to Washington — but it's not because she's suing the president. Stormy Daniels will be performing in Washington, D.C., at the Cloakroom nightclub — which just so happens to be located right between the Capitol building and the White House.
Daniels vaulted into the national consciousness in early 2018, after the Wall Street Journal reported on the the $130,000 payment to her that Trump's personal lawyer Michael Cohen made to ensure her silence in 2016, soon before the election. Daniels, a stripper, actress, director, and producer, had alleged that she and Trump had carried out an affair in 2006 and 2007, which Trump has consistently denied. She then sued Trump, saying that the nondisclosure agreement binding her to silence wasn't valid because Trump himself had never signed it, as Vox explained.
The alleged affair between the porn star and the president — and the very real suit that she has brought against him — have remained part of the national conversation now for several months, especially as the Trump team's explanation of the $130,000 payment kept changing, as Vox laid out. Daniels has capitalized on her fame with a strip club tour, which she's calling "Make America Horny Again." This visit to D.C. isn't part of that — but it's definitely keeping the focus squarely on Stormy.
The Washington Post reported about Stormy's upcoming visit to the Cloakroom, which owner Andre de Moya referred to as "a high-class gentlemen's club." The show, he said, will strike a different tone than the "Make America Horny Again" tour, although he kept things vague as to what viewers could actually expect. The name of the show, the Post reported, is "All Things Revealed."
Even after her in-depth interview on CBS' 60 Minutes, Daniels has made sure to keep reminding the country that there's still plenty to learn about her. The focus on the alleged affair has turned her and her lawyer, Michael Avenatti, into mainstream celebrities — a rare feat for an adult film star and the attorney representing her over a scandal having to do with hush money. Both of them, like Trump, have successfully used Twitter for self-promotion, becoming heroes of the #Resistance along the way. Daniels in particular frequently confronts her haters with snappy tweets, in no way shying away from or trying to hide her identity as an adult film star.
"Saw ya on a site last night ... see your back to makin people pay to look at your tits again - it did not work sweetheart your still nothing but a f****** slut," one Twitter user tweeted at Daniels. She retweeted that message on her own feed, along with the following message: "I never stopped showing my tits, you idiot. I AM absolutely a slut and proud of it but at least I know how to spell 'you're' and not look ignorant on Twitter. Xoxoxo."
Daniels' career as a stripper turned porn producer is a success story on any terms, and she's made it clear that she's proud of it despite any lingering taboos against her industry. As the New York Times reported, she began as a stripper at a club in Louisiana, eventually working her way up through the industry to become a major director — a role that not many women play in adult films. With her clear business acumen and enjoyment of her profession, it's no surprise that she would be parlaying the national attention she's getting into excitement for her shows. The fact that this show in D.C. will be only minutes from the White House just allows her to share some of that attention with another figure in her story.