Why Calling Stormy Daniels A "Porn Star" Doesn't Cut It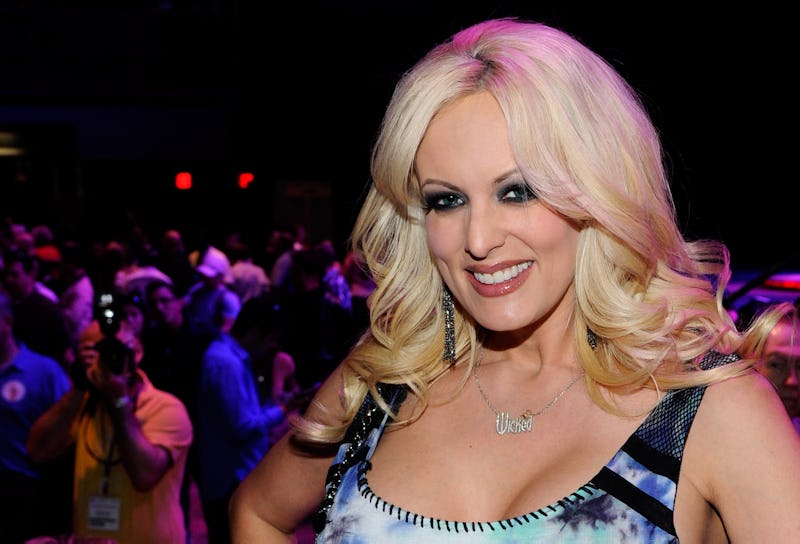 Ethan Miller/Getty Images Entertainment/Getty Images
Stephanie Clifford, more widely known by her stage name of Stormy Daniels, is certainly a big name in the adult film industry. The fallout she had from an alleged affair she had with Donald Trump, however, has her name plastered across the headlines in a way that she never experienced before. In discussing exactly what Stormy Daniels is known for, though, being a "porn star" doesn't even begin to cut it.
Daniels has a decades-long career in the adult film industry, yes, but she's much more than just an actress. Daniels started stripping at age 17 in her hometown of Baton Rouge, Louisiana, The Sun reported, but that was just her first stop in her career. According to the New York Times, this is the job where Daniels paid her dues, working long hours but also reaping the benefits of a steady income. She used this success to vault herself to a headlining a traveling show, and then she moved from there into pornography.
Even before she made the jump to adult films, though, Daniels was already approaching the industry from the perspective of a businesswoman.
The New York Times reported that Daniels saw the potential downside of this line of work, but she also looked at the benefits. "I have very mixed emotions about stripping because stripping got me where I am now," the New York Times reported that Daniels said in an interview when she was 23 (she is now 39). "I own my own house, I own my own car, I own my own business. My credit is excellent. I have nice furniture and nice things."
The Sun reported that Daniels' rise to prominence didn't take long. She signed as an actress with Wicked Pictures studio in 2002, and then began directing with them in 2004. Wicked Pictures, then, is the studio Daniels was with in 2006 when she says she met Trump at a celebrity golf tournament — where she claims their affair began (the White House has denied that the affair ever took place).
Daniels' illustrious career in adult films, much of it with Wicked Pictures, includes 275 acting credits, 91 movies directed, 19 awards for acting, seven for directing, and membership in three different pornography industry halls of fame.
"For years everyone was like, 'Stormy Daniels, she's the best female director.' That's always bugged me. What does my vagina have to do with directing?" Daniels told The Cut in 2016. "Why do I have to be the best female director? Why can't I just be one of the best directors?"
Her movies are more than your standard fare; according to the New York Times, she puts effort into creating plot lines and well-rounded characters. Daniels' epic pornographic movie Wanted had a film shoot as difficult as a Hollywood blockbuster. Not only did she star in it, but she also wrote it, and it won Best Drama at the 2016 AVN Awards.
Even as her career in adult film is still going on, Daniels has now figured out a new way to profit — by headlining a traveling show that's hawking her as the "mistress" that (allegedly) had an affair with the president. The show has garnered quite a bit of attention — and quite a large profit for Daniels.
"She likes to maximize her profits," her booking agent, Danny Capozzi, told the New York Times. "Not only on the feature dance bookings but at all times."
And why not? Daniels is a mother, wife, and equestrian enthusiast in her free time — and even there, she's won several blue ribbons in competition with the numerous horses that she owns. Something's got to fund that passion project, and Daniels has figured out a steady way to do it. She is an artist and a performer, and her name just now happens to be attached to a presidential scandal.
Read More About Stormy Daniels
Stormy Daniels' Lawyer Has Actually Gone Up Against Trump In Court Before
Stormy Daniels' Net Worth Shows She Probably Doesn't Need Trump's Alleged Hush Money
Stormy Daniels Might Have Dropped A Major Hint About Her Alleged Affair With Trump
Curious If Stormy Daniels Is A Republican Or Democrat? She Once Considered A Political Career