'Stranger Things' Fans Will Love These Group Halloween Costume Ideas Straight From Hawkins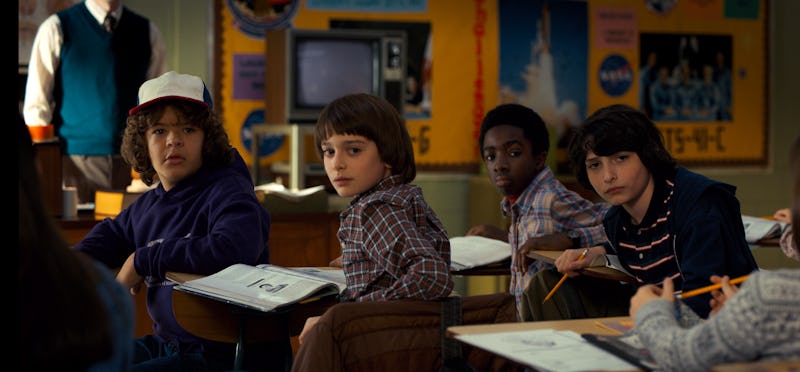 Netflix
Fans have to patiently hang tight for nearly a year until Stranger Things 3 premieres in summer 2019. While the wait seems super long, there is a silver lining. Halloween is around the corner and there are plenty of Stranger Things group costume ideas that will allow you to channel the show and make the wait feel a bit more bearable. Whether lurking in the Upside Down or experiencing the mystery in Hawkins, get your crew and be ready to fight off demogorgons. (Or better yet, be a demogorgon.)
One of the greatest things about Stranger Things is its array of characters, and their groups, for fans to cheer on and identify with. There's of course Eleven (Millie Bobby Brown), Mike (Finn Wolfhard), and their tight-knit gang. But there are also the teens like babysitter Steve (Joe Keery) and Hawkins' newest bad boy Billy (Dacre Montgomery). If you're into channeling the older crowd, there's the fan-favorite character Hopper (David Harbour) and the always stressed yet beloved Joyce (Winona Ryder).
Of course, half the fun of Stranger Things is its imaginary world, and what better way to pay homage to the show than to fully immerse yourself in it? Your crew is waiting.
Group 1: The Kids
Eleven
Women's Denim Overall Pants Relaxed Oversized Fit, $34, Target
Jessica Sweater, $32, Brandy Melville
Plaid Pocket Shirt, $19, Forever 21
El has a handful of iconic looks from the first two seasons alone. But if you and your crew are looking to capture the greatness and latest of Stranger Things 2, this look is a sure thing.
Lucas
Camo Multifunction Seamless Bandana Headband, $7, Amazon
Plus Striped Tight Tee, $9, Shein
Women's Plus Size Corduroy Sherpa Collar Jacket, $38, Target
If you're the kind of gal or guy who takes charge, channel Lucas this Halloween. And grab your walkie-talkie.
Max
Contrast Striped Crop Tee, $7, Romwe
Zip Up Hoodie, $10, Walmart
Levi's Women's Classic Bootcut Jeans, $34 - $59, Amazon
Max embodies the '80s-kid style with a laid back California flare. And if you have a skateboard lying around, definitely add this essential to her look.
Dustin
Royal Mesh Unisex-Adult Snapback, $14, Amazon
Little Brother Tee, $20, Urban Outfitters
Women's Camp Fleece Zip Hoodie, $33, Eddie Bauer
Dustin might have the most recognizable look of the crew, perhaps because of his standout trucker hat that's become synonymous with the lovable character.
Mike
Calvin Klein Plus Size Textured Hoodie, $41, Macy's
Plus Size Uniform Polo Top, $5, Kohl's
Mike loves a good polo shirt with a hoodie. While any of the kids' costumes will be easy to channel on Halloween, his might just be the comfiest for a cool October night.
Will
Thin Plaid Shirt, $15, Amazon
Hooded Longline Jacket, $32, Forever 21
When poor Will isn't being summoned by the Upside Down, he's just busy being a regular kid. Pair his '80s look with a backpack and you're good to go... until the shadow monster gets you, that is.
Group 2: The Adults
Hopper
Ranger Hat, $8, Spirit Halloween
Columbia Bonehead Shirt, $33, Zappos
Levi's Size Women's Plus Faux Leather Jacket, $65, Amazon
Chief Hopper's look is surprisingly easy to pull off at home. Add a pair of black leather gloves to take it to the next level.
Joyce
Scotch Plaid Flannel Shirt, Relaxed, $55, LL Bean
Horace Small Short Sleeve Traditional Uniform Shirt, $15 - $32, Galls
While being Joyce is certainly stressful, dressing like her doesn't have to be. (You can even add this string lights costume for the full effect.)
Bob
Makeitmint Women's Zip Up Military Anorak Jacket with Pockets, $22 - $33, Amazon
Women's Basic Long Sleeve Slim Fit Button Down Shirt,$22, Amazon
Brown Vintage Tie, $17, Etsy
Embrace the ultimate team player and lovable Bob to pair up with a Joyce before he meets his untimely fate...
Group 3: The Teens
Steve
Brown Mullet Wig, $8, Amazon
Babysitter Replica Bat, $15, Hot Topic
Casual Outdoor Windbreaker, $29 - $40, Amazon
Babysitter Steve was the low-key hero of Stranger Things 2. Grab some Farrah Fawcett shampoo and killer sunglasses and you're basically on your way.
Nancy
Cable-knit Turtleneck Sweater, $50, H&M
Gold Tone Vintage Bow Stud Earrings, $45, Bloomingdale's
Soft-Brushed Long-Line Moto Coat, $64, Old Navy
Nancy's look is definitely '80s chic, but that doesn't stop her from kicking some demogorgon butt.
Billy
Original Trucker Jacket, $64, Levi's
Relaxed Classic Clean-Slate Shirt, $18, Old Navy
Bubble Gum Cigarettes, $3, Candy Crate
The great thing about being Hawkins' newest bad boy Billy for Halloween is that his wardrobe is totally wearable in everyday life. Throw in a brown mullet wig to really tailor the look for Halloween festivities.
Jonathan
Striped Ribbed Sweater, $16, Forever 21
Sonoma Goods for Life Utility Jacket, $40, Kohl's
Pair these few simple pieces with a mysterious and brooding look, a camera (if you have one lying around), and perhaps Joyce's string lights costume, and you'll be Jonathan in no time.
Group 4: The Lab
Technician
Natural Uniforms Unisex 40 inch Lab Coat, $9 - $26, Amazon
Burgundy Matte Finish Necktie, $8, Tiemart
Regular-Fit Flannel Woven Button-Down Shirt, $25, Kohl's
Love him or hate him, Dr. Sam Owens (Paul Reiser) plays a super important role in Stranger Things 2. Even if he doesn't really know what he's talking about...
Hopper (and/or Bob)
Unisex Fashion Blend V-Neck Scrub Top, $10, Uniform Advantage
Unisex Fashion Blend Reversible Drawstring Scrub Pants, $11, Uniform Advantage
For under $30, you can channel Hawkins' greatest heroes. (Not all of them wear capes.)
Will
Unisex Medical Hospital Gown, $8, BH Medwear
Band Aid Paper Tape, $3, Target
Will's shadow monster possession is frightening, but dressing as him doesn't have to be. Without making the look too complicated, place some paper tape around your head (where the tests would run) and look scared as hell.
Demogorgon
Demogorgon Costume For Adults, $60, HalloweenCostumes.com
Demogordon Mask, $60, Party City
Whether you want to commit to being a full-body demogorgon or simply be the scary creature from the neck up, one thing is for sure: there is no lab, or Stranger Things, without them.
Group 5: Linnea's Crew
Linnea
Faux Leather Leggings, $39, Venus
Purple Hairspray, $7, Party City
This one-off episode was super controversial, which is why fellow Stranger Things fans will recognize these costumes right away. If you have a big group, take inspiration from the photo above and grab some jean chains, plaid shirts, and hair dye.
Eleven
Wool-blend Coat, $60, H&M
e.l.f. Satin Eyeliner Pencil, $1, Target
Not everyone loved this version of El, but it would still be fun to channel a more gothic and dark take on the beloved character.
Group 6: School Dance
Eleven
Lark & Ro Three Quarter Raglan Sleeve Shift Dress, $29 - $41, Amazon
High Waist Patent Leather Wide Fashion Square Belt, $30, Walmart
El's dress at the Snowball dance may be super specific and hard to find, but still, no one can forget where she and Mike shared their very first kiss.
Dustin
Fully Lined Wool Blazer, $30- $60, Chadwick's
Dark Blue Matte Finish Bowtie, $8, Tiemart
Relaxed Classic Shirt, $18, Old Navy
Really finish off Dustin's school dance look with a Steve-inspired mullet wig.
Mike
Two-Button Corduroy Splicing Cotton Suit Blazer, $35, Amazon
Textured-knit Sweater, $25, H&M
Red Necktie, $8, Tiemart
Add a simple button-up shirt to Mike's dance getup and recreate his sweet first dance with El all over again.
And just like that, you're basically in the cast of Stranger Things. Of course, you can mix and match any of these costumes to form your own group. Or, you can dress as the crew channeling another iconic group:
Like the Upside Down, the possibilities are endless.