'Stranger Things' Is Coming To Life At Universal Studios & It Actually Sounds Horrifying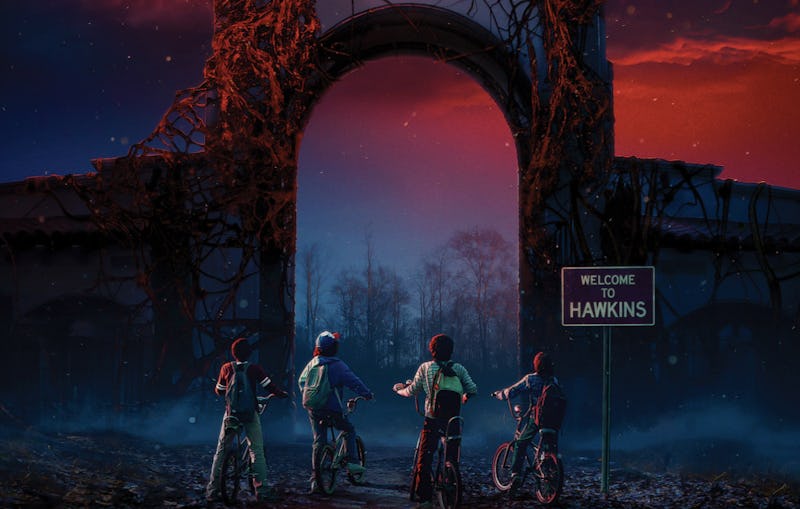 Netflix/Universal Studios
In wishing-it-was-October-in-April news, Stranger Things is coming to Universal Studios, and it actually seems like it will be pretty freaking terrifying. Part of its iconic Halloween Horror Nights, three amusement park locations will allow fans to enter the Upside Down this fall... those who dare to make it out alive, at least. The experience seems like one fans of the show will really love, and those who want a thrill will certainly get their money's worth.
Here's what you need to know (besides the fact that this will be flipping amazing): Netflix and show creators Matt and Ross Duffer are partnering with Universal to make the experience as authentic and real as possible. According to a press release, the brand new mazes (at Universal Hollywood, Orlando, and Singapore) will transport park guests to make them feel as if they are actually in recreated scenes and storylines from the show. The mazes will be inspired by Season 1 and will allow fans to encounter iconic scenes and characters from the series, including... wait for it... the terrifying Demogorgon. Seriously, where's El when you need her?
And what really seems to take the experience to the next level is the incorporation of settings fans have grown to become all too familiar with. They'll literally feel like they're victims of the Upside Down crisis in Hawkins.
According to the press release, the mazes will transport guests into familiar scenes, allowing them to experience and brave the threatening atmospheres on their own. One is the horrifying Hawkins National Laboratory under the U.S. Department of Energy. (RIP, Bob.) Another is the Byers home, of course, flashing with an erratic display of Christmas lights. The other location may be the most threatening of all: the Upside Down woods. As if that isn't intimidating enough, this location is said to "ooze a shower of floating orb-like spores."
Halloween Horror Nights is known for making park guests feel like victims in their favorite stories, and it seems the Stranger Things attraction is no exception. The teaser in the video above already gives viewers a front-row view of Universal's Hawkins and the parallel universe terrorizing it. The simple shot of an abandoned bike (flipped to the Upside Down) is enough to make fans freak out. "Im getting chills omgggggggg cannot wait," one fan wrote on the video. Others commented, "Nerd-gasm!" and "Holy Mother Of Demogorgons I Cant Believe It." Those reactions all sound about right.
Meanwhile, fans are chomping at the bit for details on the upcoming third season. Although Stranger Things Season 3 has been announced, details like release date are still unknown (although some have predicted late 2018 or early 2019, according to NME). At the recent PaleyFest in LA, cast and creatives gave some input about what to expect next. Executive producer Shawn Levy revealed Season 3 will take place in summer of 1985 (following the fall setting in Season 2). Levy also said there will be couples (like Finn and El and Lucas and Max) and that Steve (Joe Keery) will have a bigger role, according to The Hollywood Reporter. Levy also teased a turn to an even darker side...
Although the summer setting is new for Stranger Things, Levy told Variety that seasonal fun like fireworks, parades, pools, and vacation are "really enjoyable before things inevitably turn super dark." He also teased the introduction of new evil forces in addition to the Demogorgon. "The shadow monster is still lurking up there out there in the Upside Down," Levy told Variety. "He is determined to find a way to achieve his goals."
There's still so much that remains unknown, but experiencing Hawkins firsthand at Horror Nights may allow fans to be a little more equipped for the terror to come.