'Stranger Things' Season 3 Won't Be Out For A While, So Get Ready To Wait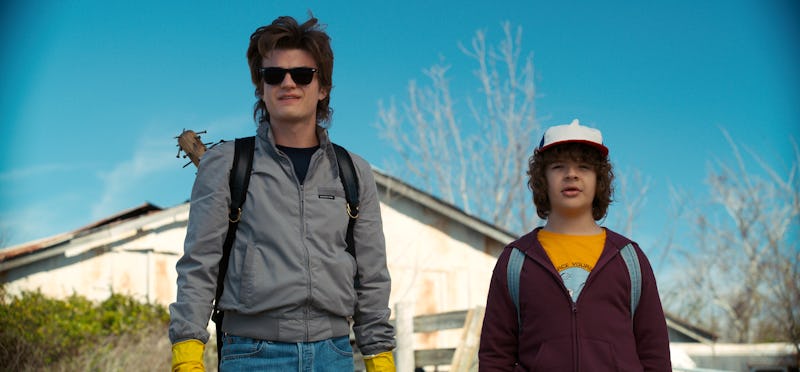 Courtesy Netflix
Hang onto your bike baskets, Stranger Things fans, because we've got news about the series' upcoming return for Season 3. And, as tends to be the case with pretty much everything Stranger Things-related, there's a little bad, and a little good, too. The bad news? Stranger Things isn't coming back until the summer of 2019, according to Netflix programming executive Cindy Holland, who confirmed the series' tentative Season 3 release date during the Television Critics Associations' press tour in L.A. Sunday, July 29, as reported by Entertainment Weekly. But, to all the dismayed Stranger Things fans who've found themselves down in the dumps over what seems to be a less-than-ideal update about the show's return — you might want to hold your gripes 'til the end. Because, as promised, there's some good news, too.
What's that? According to a recent report by EW, Holland followed up her confirmation re: Stranger Things' eventual return with a pretty reassuring explanation for the show's protracted hiatus. Which is mostly to say, Stranger Things might not be resuming its top spot in your Netflix queue any time soon, but Holland thinks the content will be well-worth waiting for. Speaking to EW over the weekend, she said,
"I think it's going to be a fantastic season. It will be worth the wait."
And while some fans might be partial to lamenting this particular explanation — because, at the end of the day, it still means they've got to wait roughly another year to see the return of their favorite band of ghost-busting kids — it sounds like it'll probably turn out to be a positive thing, for the show as well as its audiences. Because, as tends to be the case with most ventures of the creative variety, great art takes time to produce.
And after reading Holland's comments to EW, it certainly seems like the masterminds behind Stranger Things are currently set on pursuing an even loftier degree of greatness than they've come up with in the past. "It's a handcrafted show," Holland told EW, adding that the show's creators, The Duffer Brothers, and executive producer Shawn Levy "want to deliver something bigger and better than last year." Of course, with that comes an understandably lengthier turnaround time, as far as putting the whole season together is concerned.
Much as fans would probably love to know exactly how everything will play out in Stranger Things' Season 3, there's not a whole lot of details available on that front just yet. But, per EW's report, Holland also revealed that Stranger Things' third season will tout considerably more special effects than fans have seen during its previous two seasons. And those effects take a little bit longer to perfect. "It's a really exciting season, just takes a little more time," Holland added. Perhaps this means that audiences should expect more Upside Down madness coming to Hawkins this time next year, CGI-style.
While most Stranger Things aficionados probably aren't totally thrilled to hear the news of Season 3's reasonably far-off release date, Holland's confirmation shouldn't come as a complete surprise. Especially to those who watched the recently released Stranger Things Season 3 teaser video.
The promo centered on the fictional construction of Hawkins' first-ever shopping mall, and didn't give too much away about the contents of Season 3. That being said, it did make a noticeably pointed effort to convey to its viewers that something is "coming next summer." Whether that "something" was the fictional Starcourt Mall's grand opening or the series' Season 3 release date remained unclear at the time. But with this new intel from Holland, it seems the promo's semi-cryptic messaging was indeed alluding to the arrival of Stranger Things' third season, which we now know is slated for a summer 2019 release.
Fans are going to have to wait a little longer than expected for Stranger Things' imminent return. But when it does eventually return, at least fans can rest assured knowing that it will have been worth their while.