This Hilarious New 'Stranger Things' Promo Might've Just Revealed Season 3's Release Date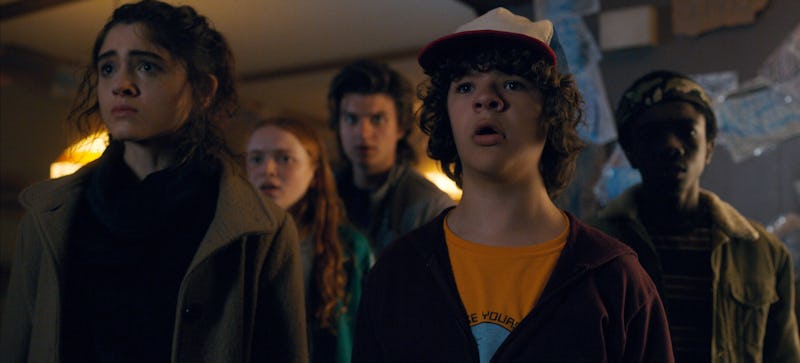 Courtesy Netflix
It looks like fans could be headed back to Hawkins, Indiana, come this time next year. That's right, Stranger Things Season 3 might be out in summer of 2019, if the series' bizarre — albeit, hilarious — new promo video is any indication. The video, released by the official Stranger Things Twitter account, was first shared with fans on Monday morning, July 16, and while it didn't mention Stranger Things 3 specifically, it did make one thing pretty clear: something is coming to Hawkins next summer.
Those who've seen the roughly 90-second-long clip know it certainly doesn't come without its share of absurdities. (Then again, when it comes to Stranger Things, pretty much nothing ever does.) With that being said, it looks like the new promo video might also come with a little hint as to when fans could be returning to Hawkins for a third time. Bustle reached out to Netflix for confirmation as to whether this is a hint about Stranger Things' season 3 release date, but the network said it could not confirm an official premiere date at this time.
What Netflix could confirm was the fictional construction of Hawkins' first-ever "premium" shopping center, otherwise known as the Starcourt Mall. In a mock press release for the building project, which Netflix passed along to Bustle, The Office of Mayor Kline (Hawkins' fictional mayor) confirmed that construction on the shopping center was indeed underway. "The grand opening is scheduled for next summer, with construction of the mall continuing at a consistent pace," reads the mock release.
Anyone feeling a little confused here? Makes sense, since the delightfully creepy Stranger Things world that fans have come to know and love doesn't have the slightest thing to do with retail or construction, much less some combination of the two. Luckily, that's where the series' new promo video comes into play. In fact, the Starcourt Mall takes center stage in the clip, which feels very much like an ode to '80s mall culture in the midwest. (Naturally, Starcourt will be equipped with a Gap, a Waldenbooks, and a Scoops Ahoy ice cream shop.) But as amusing as it is to witness all the '80s-inspired goodness the video has to offer, the connection between the Starcourt Mall and Stranger Things is a little tenuous until the promo's end.
After taking viewers on a virtual tour of Hawkins' soon-to-be retail mecca, the video settles last, but certainly not least, on the Starcourt Mall's "state-of-the-art" food court. The camera focuses in on Scoops Ahoy ice cream shop, which the narrator proudly refers to as "America's favorite place to cool down." Then, just as the video is about to finish up, out pops a familiar face. It's Steve Harrington (played by Joe Keery), looking all kinds of embarrassed from behind the cash register at Scoops Ahoy, donning a makeshift sailor's costume. "Ahoy," Steve nods toward the camera, though his tone suggests he's not too thrilled with the whole situation.
In pretty typical fashion for Stranger Things, the promo video offers viewers some breadcrumbs as to what they might expect from the series upcoming third season, but will probably still leave fans with more questions about what the heck is happening during season 3 than it will answers. Still, even though the latest promo video manages to keep most of the upcoming season's actual premise under wraps (save the fact that the Starcourt Mall might be playing a sizable part, of course), it seemed to be slightly more upfront about the premiere date.
Fans shouldn't be surprised to learn that, in this case, "slightly more upfront" still isn't really that straightforward. But when it comes to deciphering Stranger Things' often cryptic messaging, it sounds like this one might not be too difficult to interpret. Echoing the mayor's statement from Netflix's mock press release, the teaser video ends with a shot of the mall's glittery logo hovering over a blurb that reads, in bold lettering, "COMING NEXT SUMMER!"
Does this mean Stranger Things fans can interpret the fictional timeline set for Starcourt Mall's "grand opening" as the series' way of unveiling its season 3 release date? At this point, the jury's still out on that particular front. So, in lieu of more definitive intel from Netflix as to the start of Stranger Things' third season, the series' bizarrely entertaining promo video — and what audiences can glean from it — will just have to do for now.