These 'Stranger Things' Season 3 Spoilers Hint At The Show's MUCH Darker Future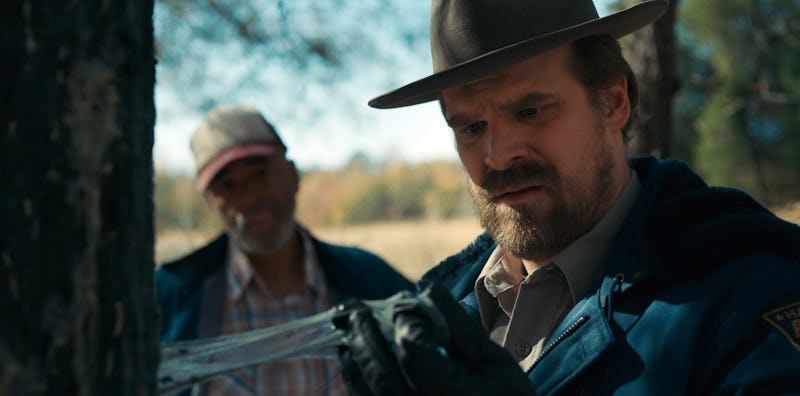 Netflix
Stranger Things' second season hit Netflix less than a year ago, but fans are still eager to know what's next for the show. While it doesn't have a release date yet, executive producer and director Shawn Levy and actor David Harbour did reveal a few clues about Stranger Things' third season in an interview with Deadline on Thursday, July 12. The series received 12 Emmy Award nominations, including a supporting actor nomination for Harbour.
Fans should be warned that according to Levy, the third season is "definitely going to yet darker still." For a show that stars a group of children, Stranger Things is already pretty dark — no child should have to undergo, say, being lost in a parallel dimension. Fortunately, Levy also told Deadline that the third season has "so much heart and humor," which will hopefully balance out the scarier and/or sadder moments ahead. After all, fans have already been introduced to Dad Steve, and it wouldn't be fair not to include more heartwarming scenes with him now.
Levy also told Deadline that Stranger Things has been shooting its third season for at least a few weeks now. They're evidently doing a great job of keeping the filming hidden from any onlookers in Georgia, considering the fact that nothing's been spoiled by savvy fans yet. (There are a few leaked set photos, but they don't reveal much, other than the fact that Harbour can totally pull off printed shirts.)
Harbour also provided a clue about the upcoming season. While the first two Stranger Things seasons paid homage to Steven Spielberg and Stephen King, as Harbour pointed out, the actor hinted that there will be new '80s inspiration for the third season. He told Deadline,
"I would go look at the great films that were released in '85, of which there were many, and just go down that list and think of the possibilities that we could be going with. I think it is a specific season to 1985, and so you'll see references to that."
Harbour didn't say which 1985 movies Stranger Things might be inspired by, but there are a lot of possibilities. If the show is taking inspiration from movies that aren't horror films or thrillers, there are plenty of movies released in '85 that might have the "heart and humor" Levy mentioned. Back to the Future, The Breakfast Club, The Goonies, Pee-Wee's Big Adventure, St. Elmo's Fire, and Teen Wolf were all released that year. There's also Mad Max Beyond Thunderdome. And fans will remember that the first episode of season 2 was titled "Madmax," as it was when Sadie Sink's character was introduced in the show.
There's another small spoiler that fans know about Stranger Things season 3, too. Noah Schnapp revealed that the Byers' family dog, Chester, passed away. That's not the biggest spoiler, but at this point, fans will take what they can get.
Stranger Things' Season 2 finale left plenty of things unanswered. The Mind Flayer is still out there, looming over the kids. And Dr. Brenner, AKA Papa, might not be dead. Eleven is safe — and adopted — but that doesn't mean the trouble in Hawkins is over. Plus, the show could still introduce fans to some of Eleven's other "siblings," who were also victims of the experiments she went through. Fans might not have seen the last of Dart. And there are still plenty of unanswered questions about Eleven's biological mom.
There are any number of things that could happen in Stranger Things' next season, and it's reassuring to hear that there will be at least some humor amid all of the darkness. Until there's more information about the new season, fans will likely be happy to cheer on Stranger Things at the Emmy Awards.