Watch 'Stranger Things' Star Joe Keery Go On An Awkward Tinder Date In This New Movie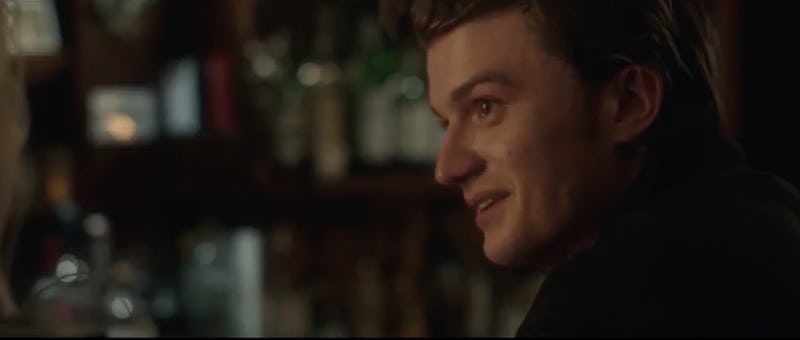 Good Deed Entertainment
If you're a Stranger Things fan who can't get enough of Joe Keery, here's some good news — the actor behind Steve Harrington has a role in the upcoming dramatic comedy After Everything, out Oct. 12. Much like Steve in Stranger Things, Keery's character in After Everything doesn't quite have the best luck romantically. In the film, Maika Monroe plays Mia, who begins a relationship with protagonist Elliot (Jeremy Allen White) after he receives news of a cancer diagnosis. But before having a fateful first date with Elliot, she goes on a mediocre date with Chris (Keery).
In the exclusive clip from the movie below, Mia confesses to Chris that it's her first Tinder date, since she's usually too picky to swipe right. When he asks what made her change her mind, she explains that a breakup was the catalyst for her decision. But as soon as he pries for more information, she quickly changes the subject. While Chris is clearly eager to get to know Mia and suggests that they "stop this first date stuff" and pretend it's the fourth date instead, Mia doesn't seem too eager to play along.
Keery doesn't have many film roles under his belt besides After Everything, which is directed by Hannah Marks and Joey Power, but he did just complete another exciting big screen role. The actor was amongst the many stars who appeared in A24's Slice, a horror-comedy indie flick starring Chance The Rapper. The rapper's fans had been eagerly awaiting the film, which is available to stream now after having a one-night-only premiere in theaters across the country. And for Stranger Things viewers who love the show's combination of campiness and comedy with terrifying moments (and want more Keery in their lives), Slice is the perfect movie to watch before diving into After Everything later this fall.
Slice takes place in a spooky town where ghosts, werewolves, and witches co-exist with humans, but things go awry once two pizza delivery guys from Perfect Pizza Base, a pizza shop in a cursed strip mall, are murdered during their shift. Werewolf Dax (Chance The Rapper) is one of the prime suspects and it's up to reporter Sadie (Rae Gray) and photojournalist Jackson (Keery) to help uncover the truth.
Both that movie and After Everything might feel pretty far from Stranger Things, but there are some similarities — namely, surprising relationships and unexpected turns. In the trailer for Stranger Things' third season, Steve is shown working at a strip mall at an ice cream shop. Despite the trailer being a mock advertisement promoting the mall, it's clear that it's not the peaceful place it appears to be. Most likely, something will wreak havoc in the mall.
The wait for Stranger Things' third season was recently announced to have increased, with it coming out next year rather than the expected October date. But Entertainment Weekly reported this summer that at the Television Critics Association's press tour, Netflix programming executive Cindy Holland assured that the wait will be worth it. And besides, while you hold out for Keery to come back and battle terrifying creatures with Dustin and the rest of the gang, you can catch the actor in After Everything, in theaters and on demand, to see him stirring up a very different kind of drama.