This High School Just Made Their Sports Teams Totally Gender Inclusive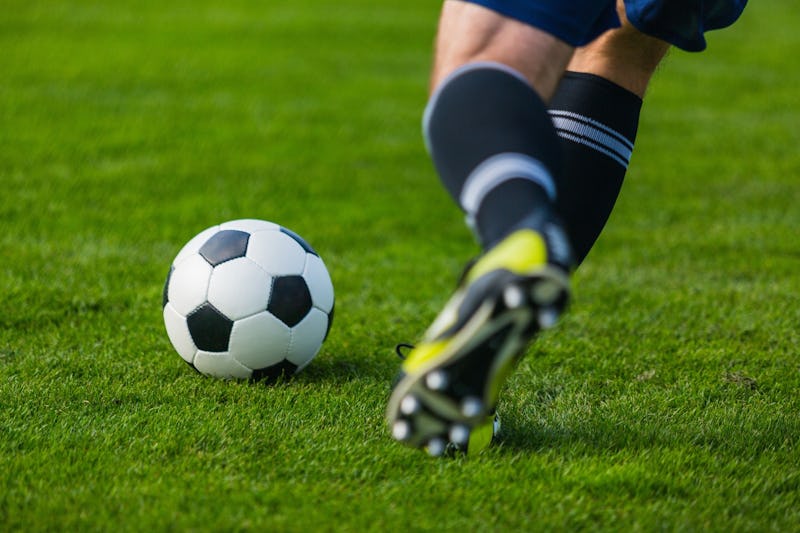 BillionPhotos.com/Fotolia
Access to sports is empowering for young people in so many meaningful ways. Studies show that the long-term benefits of sports for girls include higher self-esteem, better grades, and even a reduced risk of cancer, according to the American Association of University Women (AAUW). Now, in a major win for equity in school sports, a Massachusetts school is implementing a new rule stating that students can play on sports teams regardless of their gender come this fall, USA Today High School Sports reports.
WCVB in Boston reported that students at Framingham High School in Framingham, Massachusetts, will be able to try out for whichever gender-specific sports team they feel comfortable participating on, and they'll also get to choose which locker rooms they feel most comfortable using, and anyone uncomfortable in a locker room setting will be able to shower and change clothes in private. Students will be selected on the team based on skill, and students will not be allowed to try out for multiple teams within the same sport. The school already offers co-ed football and field hockey, USA Today High School Sports notes. Not only does this up the chances for more equal representation on school sports teams, the new rule is a major step forward for affirming the participation of transgender and gender non-conforming students as well.
Paul Spear, athletic director for the school who helped write the new rule, told the Framingham Source that "it's about making people feel included, making people feel good about themselves, giving students the opportunity to excel in whatever their interests are and knowing that the school where they participate and perform has their back." In order to promote tolerance and inclusion for a diverse student body, Spear also expressed that his efforts at drafting the new policy are meant to help create a safer environment for students, and said that the rule is also about "educating people, creating an atmosphere that's safe for everybody and that this kind of support is part of the culture and the way we do things here at Framingham."
Gender biases in school sports go back a long way, and tend to remain pretty entrenched. According to a gender equity report in high school sports by CNN in 2015, the National Women's Law Center reported that 28 percent of co-ed public high schools continue to have "large gender disparities in access to team sports." The state-by-state ranking of gender equality in school sports programs found that "high schools across the country are not providing girls with their fair share of spots on sports teams." According to the report, of the more than 16,000 schools examined nationally, nearly 4,500 schools had significant gaps in gender equity.
But Framingham High School is now helping lead the way for change. Their new official policy states that "interscholastic athletic and co-curricular participation are valuable to students' physical, intellectual, social, and/or character development." In an effort to make these benefits accessible to all students, the new rule emphasizes "inclusion," and aims to ensure that "students can participate in athletics and co-curricular activities in a manner consistent with their gender identity," USA Today reports. According to WCVB, the school's overseeing committee adopted the rule by a vote of 9 to 0, and administrators report that, so far, complaints in opposition to the new policy have been few.
According to USA Today, Julie Williams, Health and Physical Education Department Chair at Framingham High School stated that the LGBT Sports Foundation's All 50 was the model from which the school's own policy was drafted, adjusted to fit for Framingham public schools. "Creating safe and supportive environments is something I am passionate about, especially when those environments involve physical activity," Williams said. According to Williams, the new rule was also created with input from parents and students. "We are fortunate in Framingham to have administration and a school committee that understands and supports this work," Williams noted. "The challenge will be to have other schools across the state adopt similar policies so that it becomes commonplace and a part of the culture of sports everywhere."