Sugarfina's "Candy For Breakfast" Line Is The Stuff Of Your Childhood Dreams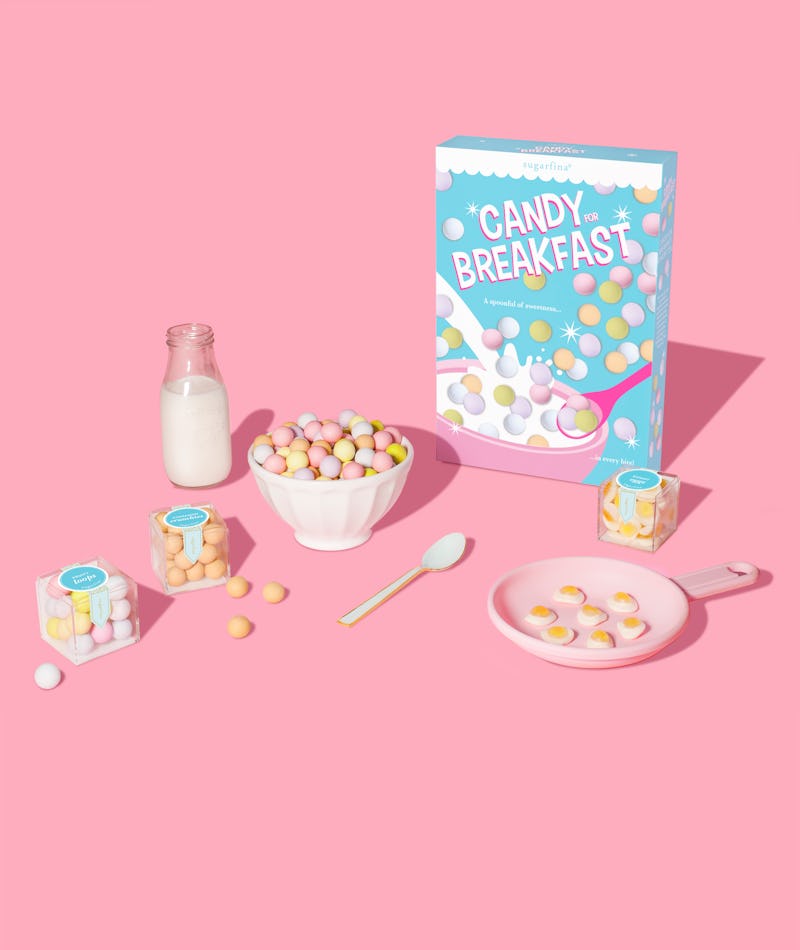 Sugarfina
Sure, you can already eat candy for breakfast if you want to. (You're an adult, dang it!) But now, you can eat candy that looks like breakfast for breakfast. On July 25, Sugarfina released its Candy for Breakfast collection of sweets that look like breakfast, are inspired by breakfast, or include actual cereal. Even if you aren't a big candy person, you can probably still appreciate how adorable these are. Look at those little eggs! (By the way, there's chocolate, too, for the more mature candy for breakfast palate.)
Sugarfina is known for making very cute, very fancy candy (their cocktail flavored gummies are particularly popular). And with Candy for Breakfast, they definitely have the cute thing on lock. The collection includes six items:
Gummy Eggs: Orange juice-flavored gummies that look like tiny sunny-side up eggs
Cinnamon Crunchies: Cinnamon "toasts" dipped in milk chocolate and covered with a candy shell
Fruity Loops: Crunchy cereal dipped in milk chocolate and covered with a fruit-flavored candy shell
Marshmallow Cereal Chocolate Bar: Pastel chocolate topped with marshmallow cereal and rainbow sprinkles
Fruity Cereal Chocolate Bar: Pink chocolate topped with fruity cereal and rainbow spinkles
Cinnamon Cereal Chocolate Bar: White chocolate topped with cinnamon cereal
The Gummy Eggs, Cinnamon Crunchies, and Fruity Loops are all $7.50, while the chocolate bars are $9.95, so these are definitely specialty items, and not like that Snickers you grabbed for breakfast last week. Rather than actually eating these for breakfast, they might be more suited to give as gifts or bring to a baby shower brunch (or a true ~treat yourself~).
In honor of their new collection, Sugarfina has decided to add to the ever-growing list of food "holidays" and is declaring July 28 National Candy for Breakfast Day. Between 11 a.m. and 1 p.m. local time on the 28th, Sugarfina stores will be celebrating by giving away free samples of Candy for Breakfast and "complimentary breakfast refreshments." You can find a Sugarfina location near you here.
While Sugarfina's Candy for Breakfast is not literally meant to be had as breakfast — even though it can be, you do you — there are some unique breakfast items out there that are bringing dessert to breakfast. Of course, sweet breakfasts are a thing (French toast, chocolate chip pancakes), but some offerings really take it to the next level.
New York pasta shop Pasta Flyer is selling ice cream breakfast sandwiches, as reported by Gothamist. The sandwiches consist of a brioche bun with strawberry, vanilla, and chocolate gelato, and strawberry compote. Explaining the decision, founder of Pasta Flyer, Mark Ladner, explained that people in Sicily actually eat ice cream for breakfast in the summer.
And while waffles covered with syrup are already pretty dessert-y, Eggo recently took things a couple steps further with the release of Double Chocolatey Belgian waffles. These waffles not only have chocolate batter, but also chocolate chips. (Double chocolate. You get it.)
So, whether you want to eat a breakfast that is more like a dessert, or eat a dessert that looks like a breakfast food, there are plenty of options out there.