These Chocolate Chip-Stuffed Chocolate Waffles From Eggo Are A '90s Kid's Dream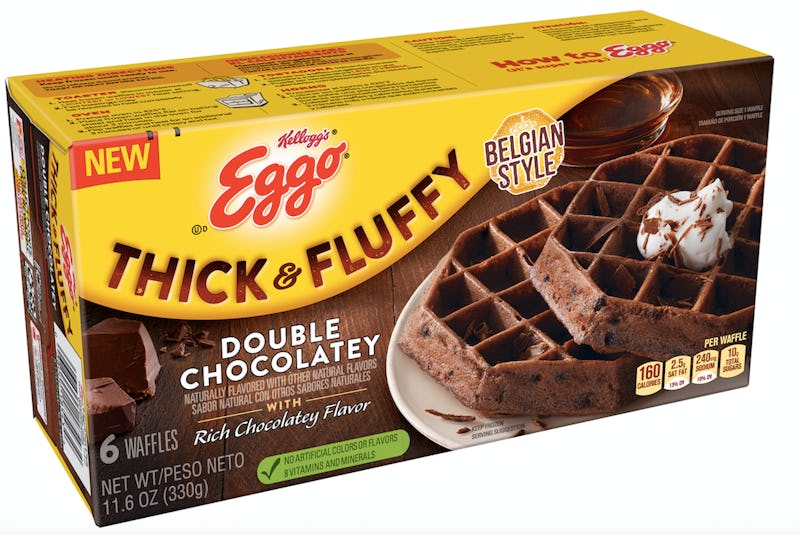 Eggo
Eggo toaster waffles have been a mainstay of American kitchens since they first hit grocery store shelves in the 1950s — but back then, I don't think anyone anticipated the creation of an Eggo waffle so rich that it's basically like eating dessert for breakfast. That's what just happened, though: Eggo's Double Chocolatey Thick & Fluffy Belgium-Style Waffles have arrived, and breakfast will never be the same again.
(Also, yes, that's "Belgium-Style," not "Belgian-Style" — that's the official nomenclature, despite the fact that I have never once heard anyone refer to a Belgian waffle as "Belgium-style." But right now, who cares? Chocolate waffles stuffed with chocolate chips are on the line here. Waffles that epic can call themselves whatever they want, as far a I'm concerned.)
Eggo's take on the almighty Belgian waffle, the Thick and Fluffy waffle, has been around for some time; a review of the Original and Cinnamon Brown Sugar varieties was published over at The Impulsive Buy way back at the beginning of 2011. At the time, the food spotting and review site called the Original Recipe Thick & Fluffy waffle "exceptional," noting that it had "a certain extra something… that [made] the waffle taste extra malty" — just like a good Belgian waffle should taste.
Since then, the Thick & Fluffy line has expanded quite a bit — and now, according to a press release, there are four varieties available: The aforementioned Original and Cinnamon Brown Sugar, as well as Blueberry and — of course — Double Chocolatey. (For what it's worth, the Eggo website also lists Strawberry Shortcake and Chocolatey Chip Strawberry as options, although I was unable to search for them with the Kellogg's product locator. Do with that what you will.)
The Double Chocolatey Thick & Fluffy waffle is the big news here, though; after all, it is both brand-new and full of chocolate. Described in a press release as "the perfect solution to any chocolate craving," the "rich chocolatey waffle" has been "infused with cocoa and scrumptious chocolatey chips." Like all of Eggo's waffles, they're toaster waffles, so you'll want to pop them in either a toaster or toaster oven before you enjoy them; be warned, though, that you might need to run them through two toasting cycles, per The Impulsive Buy's 2011 review. No word on what the Double Chocolatey waffles actually taste like, but my sense is… uh… chocolate. Just, y'know, as a guess.
I'll be honest: As much as I love chocolate — and believe you me, I really love the stuff — this all sounds like a bit much for early morning for me (although if it works for you, go forth and enjoy it whenever you like). As such, I probably wouldn't eat this chocolatey wonder at breakfast — but you know what I would do? Top it with some vanilla ice cream, whipped cream, sprinkles, and maybe some chocolate sauce and eat it for dessert. Waffle sundaes are the best. You know it. I know it. Leslie Knope definitely knows it.
Fun fact, though: Even though the Double Chocolaty version of the Thick & Fluffy waffle was announced at the end of June, it's actually been floating around under the radar for several months. According to The Impulsive Buy, folks were spotting this treat on shelves as early as April. The eagle-eyed reader who submitted the waffle to the site found it at Walmart; they don't, however, appear to be exclusive to any one retailer — a quick Google search reveals that you can find them at stores like Meijer (where they're currently running at two boxes for $5), Giant, Hannaford, Hy-Vee, and even Amazon.
Even though the Double Chocolatey waffle is hogging the spotlight right now, it's worth noting that the other three Thick & Fluffy waffle flavors — the ones that already existed — have undergone something of a renaissance as well. According to a press release, the recipes have all been upgraded: Original now features "real vanilla extract from vanilla beans grown in Madagascar"; Cinnamon Brown Sugar is "now packed with more cinnamon-y goodness"; and Blueberry is "bursting with extra, richer blueberry flavor and an added hint of lemon zest." All four flavors have also been pegged to a new slogan: Rather than "L'eggo my Eggo," — a tagline which was first launched in 1972 — the brand is now encouraging people to "L'eggo your Eggo." Why? Because the waffles are "just too good not to share," of course.
Want to get your hands on some? Kellogg's product locator can help. Head here to find out which retailers near you have them. Happy breakfasting!