These #SuperBowlSunday Tweets Are Even Better Than Buffalo Wings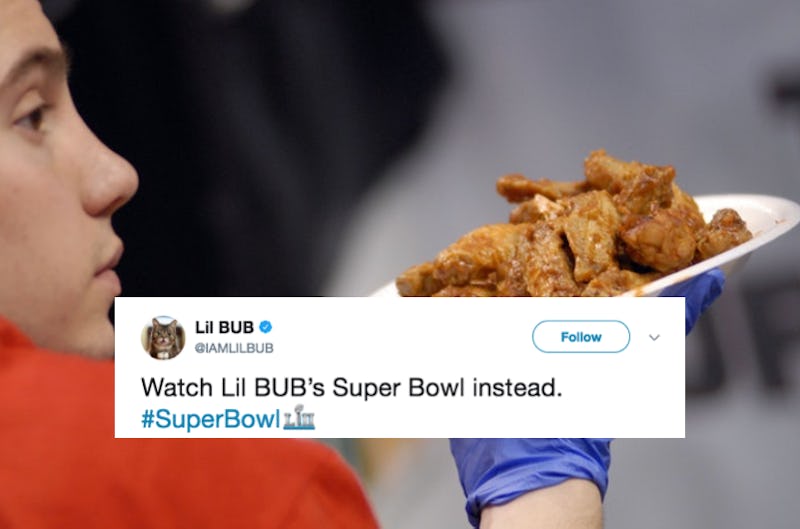 William Thomas Cain/Getty Images News/Getty Images
From touchdowns to bone-crushing tackles, and maybe even a Hail Mary pass or two, there's sure to be a ton of action on the field when the Philadelphia Eagles face the New England Patriots in Super Bowl LII at U.S. Bank Stadium in Minneapolis. But the action isn't just happening on the field. These #SuperBowlSunday tweets prove the Internet is serving up plenty of game day entertainment.
Like Christmas, Super Bowl Sunday comes only once a year. And sure, football is what brings us together on this epic day, but let's be real. It's not the only thing to love about Super Bowl Sunday. Between the commercials, the snacks, the unbelievable plays, and, of course, the halftime show, there's also the chance to gobble up some genius football-related jokes on Twitter.
Whether it's to place a bet, root for their preferred team, complain about the refs, react to a did-you-see-that pass, or just question the uniform choices, you can be sure the Internet will have something to say about almost every aspect of the Super Bowl. And really, what would Super Bowl Sunday be if we didn't have social media to help bring us all together?
Here's how Twitter is reacting to Super Bowl Sunday:
Are You Ready?
The excitement on Super Bowl Sunday is absolutely contagious, even if football is not your thing.
Super Bowl Watch Party
One of the most important aspects of a Super Bowl watch party is surrounding yourself with friends.
Expect Celebrities
I think it's safe to say Diddy scored a great seat at Super Bowl LII. Nothing beats the view from the sidelines.
Who To Root For When Your Team Didn't Make The Cut
The fact that they didn't make it to the Super Bowl didn't stop the Dallas Cowboys from having a little fun on the day of the big game.
Gulp, Gulp, Gulp
Super Bowl Sunday isn't just the ultimate day for snacking, it's the ultimate day for drinking too. Americans consume 325.5 million gallons of beer the day of the big game.
A Different Take On "Super Bowl"
Apparently not everyone hears the phrase "Super Bowl" and thinks football.
It's Not About Who Wins ... Oh, Wait
What's a Super Bowl Sunday without a little friendly ribbing?
Did You Say Super Bowl Or Superb Owl?
You say "Super Bowl Sunday," I say "Superb Owl Sunday." Either way, the day should be a national holiday.
Get On The Bandwagon
Everyone has their own special way of participating in Super Bowl Sunday.
A Love Of The Game
You do not have to love and understand football to enjoy Super Bowl Sunday. There are snacks. There's a free concert somewhere in the middle. Did I mention the snacks?
Remember The Real Heroes Of The Super Bowl
Remember whose hard work really makes Super Bowl Sunday a delightful and delicious day. Tip your pizza delivery person and tip them well.
Grab Your Coat!
This year's Super Bowl is officially the coldest in history.
About The NFL's New Concussion Protocol
There was little doubt Rob Gronkowski, the tight end for the New England Patriots, would be listed as "active" for Super Bowl LII.
Already Bored
Super Bowl Sunday isn't for everybody.
Super Bowl Traditions
This is also my Super Bowl tradition.
Just Get To The Commercials
For some, Super Bowl Sunday is a series of commercial debuts with a bit of football in between.
We Saw That
Everyone watched Pink drop her gum just before singing the National Anthem.
Go Commercials, Go!
The commercials on Super Bowl Sunday remain a treasured American tradition.
What Are The Odds?
That's not quite how football works, but I guess never say never.
Though the Super Bowl itself is plenty entertaining, you can't deny how satisfying these tweets are. So, watch the game and scroll through social media at your heart's content.