You Can Buy An Advent Calendar Full Of Rosé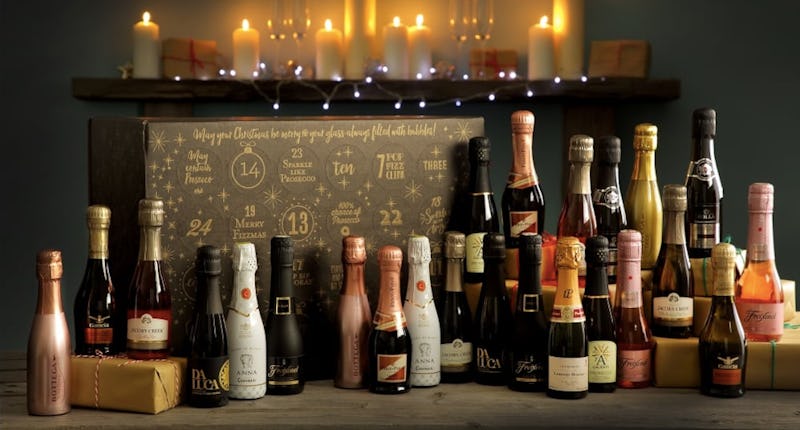 The Pip Stop
The end of the year always goes by in a flash, which means that, if you celebrate, it's time to start getting your holiday plans in order. Sure, you could book travel arrangements or make of list of people you need to buy gifts for, but you could also look into which Advent calendar you want to buy, so you can have tiny gifts for 24 days. One contender? This sparkling wine Advent calendar that will give you 24 days worth of mini wine bottles.
The Superstar Sparkling Advent Calendar comes courtesy of The Pip Stop, and it definitely sounds like something that would be exciting to open every day:
Our Sparkling Wine Advent Calendar is a decadent mixture of 20cl bottles white and rosé fizz including prosecco, cava and champagne. Perfect for putting an element of sparkle into your festive season.
Why, yes, I would like an element of sparkle in my festive season. Unfortunately, that will not be this particular element of spark as The Pip Stop does not deliver outside of the U.K. If you are in the U.K., enjoy! But if you are not, there are other Advent calendars you can choose from. Plus, this one has a pretty hefty price tag at £125 ($162), so it's probably for the best.
While Advent calendars are huge in the U.K. (including luxury ones) that's not really the case in the U.S. — at least if you're looking beyond chocolate ones for kids. But, it seems like things are starting to change as "alternative Advent calendars" become more and more of a phenomenon on both sides of the Atlantic. Here are some that are available in the U.S.
Cheese
This cheese Advent calendar courtesy of So Wrong It's Nom was popular in the U.K. last year, but this year it will also be available in the U.S. at Target. And it's only $20.
Beauty Products
British retailer ASOS is offering this beauty Advent calendar ($87) on its U.S. site, as well. It includes a wide variety of mini products, including a face mask, moisturizer, and makeup brush.
Tea
This $13 calendar from World Market includes 13 different flavors of tea. Sounds cozy!
Jam & Honey
You know those cute, tiny Bonne Maman jars that you only come across now and then in the wild? Now, you can have 24 of them at once.
Wine
Vinebox's 12 Nights of Wine ($129) isn't a full 24-day calendar like the Pip Stop one, but it does up the ante by putting a surprise gold bottle in 10 of the boxes. Get the gold bottle, and you get free wine for all of 2019 (worth $644).
More Wine
World Market also has a wine calendar offering, but it's only available in stores and the price varies, so check out your local store if you're interested.
The start of December is only a month and a half away, which means you are also only a month and a half away from cheese everyday, some cute little beauty products, or a bunch of wine. It's up to you!