Support For Trump's Impeachment Is Gaining On His Approval Ratings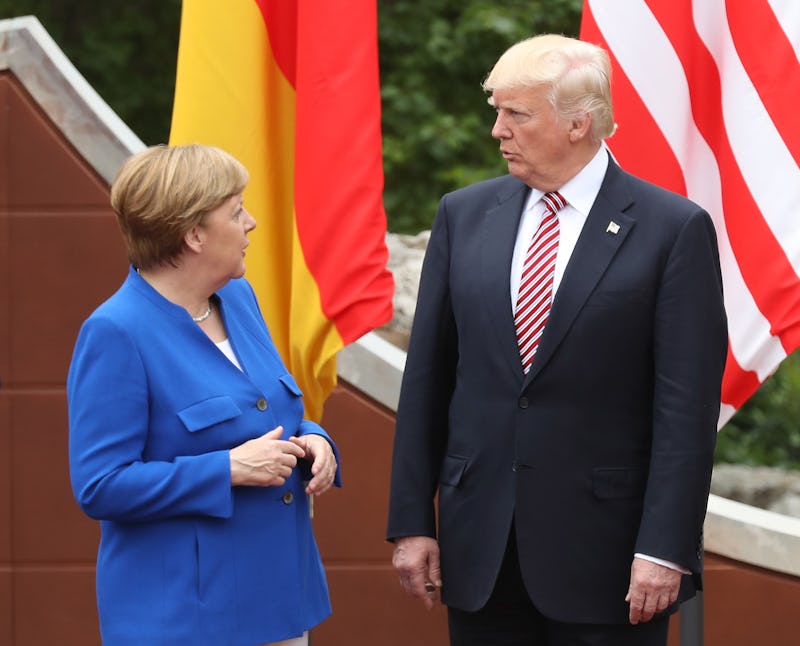 Sean Gallup/Getty Images News/Getty Images
If President Trump's taste for poll numbers hasn't entirely soured in the months since he took office, a new POLITICO/Morning Consult survey might do the trick. According to the poll, the percentage of American voters who want Trump impeached and those who approve of his job performance are nearly similar; 43 percent want him out of office, compared to the 45 percent who approve of his presidency.
Of the voters who want Congress to remove Trump from the highest executive office, 54 percent believe that Trump "has proven he is unfit to serve and should be removed from office, regardless of whether he committed an impeachable offense or not." By comparison, 43 percent of those who want Trump removed believe he has committed an offense that deserves impeachment.
The poll comes in the wake of Trump's first trip abroad as president. Trump's travels took him to Saudi Arabia, Israel, Italy, Belgium and Sicily. Terrorism was on the president's mind during this trip; he raised the issue with both the the leaders of Saudi Arabia and the Catholic Church's Pope Francis, though his tone on terrorism in Saudi Arabia was notably softer than the fiery rhetoric he used during his campaign speeches.
"This is not a battle between different faiths, different sects or different civilizations," Trump said in the capital, Riyadh. "This is a battle between barbaric criminals who seek to obliterate human life and decent people, all in the name of religion, people that want to protect life and want to protect their religion. This is a battle between good and evil."
Trump's visit with Pope Francis seems to have been less of a success than his time in Saudi Arabia, where he struck an arms deal. Francis gave the president, who denies climate science, a copy of his encyclical on preserving the environment. Nonetheless, a few days later Trump decided to leave the landmark 2015 Paris climate accord.
Trump's administration has been plagued by leaks and negative incidents, such as the investigation into his advisers' relationship with Russian officials. "If President Trump was hoping his foreign trip would shift the conversation away from scandals, he may be out of luck," said Kyle Dropp, co-founder of Morning Consult, the firm conducted the survey with POLITICO.
Trump's meetings with allies in Europe, though civil at the time, seem to have been less of a success. The newly elected French President Emmanuel Macron, for example, compared Trump to the autocratic rulers of Russia and Turkey. German Chancellor Angela Merkel also made a noteworthy comment after interacting with Trump at the G7 summit: "The times when we could completely rely on others are, to an extent, over," she said. Clearly, American voters aren't the only one who want Trump out of office.