Sally Yates' Supporters Are Calling Her A Patriot On Twitter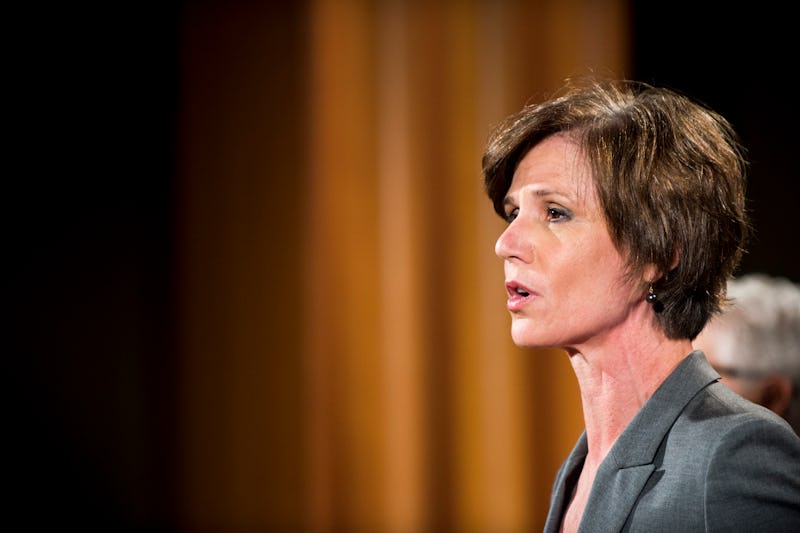 Pete Marovich/Getty Images News/Getty Images
Former Attorney General Sally Yates is set to testify concerning her comments to the White House on Russia and Michael Flynn, the former national security advisor. In February, Flynn stepped down from his position amid a maelstrom of criticism after media reports exposed his communications with Russian officials. Yates' Monday testimony before a Senate subcommittee has garnered the media's attention and the public's curiosity to a great extent as many expect it to provide details on Donald Trump's alleged ties to Russia. Naturally, the internet was awash with tweets declaring "Sally Yates is a patriot" in the lead up to her testimony.
Given Yates' previous assertion that she had warned the White House about Flynn, her testimony is bound to be significant. According to TIME, Yates is expected to recount how she informed White House counsel Don McGahn that she was concerned about Flynn's contact with Russian ambassador Sergey Kislyak.
As things get intense in the White House, the public has its own opinions on Yates, whose popularity also stems from her refusal to be complicit in the travel ban on six Muslim-majority countries. From those who want to label her a "Democratic operative" to others who passionately believe she is loyal to American democracy, Twitter has seen a ton of tweets. Perhaps the most consistently updated ones are coming under the #SallyYatesIsAPatriot hashtag from her fans and followers.
1. Learn About Sally Yates
Former chair of the Democratic National Committee Donna Brazile extolled Yates' character.
2. Fans Highlight Her Grace
Many praised Yates for showing strength under pressure.
3. Remember Her Own Words
Others brought up her previous tweets about justice and accountability.
4. Recall Her Actions
Some shared their opinion of Jeff Sessions while highlighting Yates' commitment to fairness.
5. Yates Is Smart
People brought up the fact that Yates is dedicated to the country as well as a sound moral framework.
6. Yates' Courage Is Worth All The Praise
Yates' courage in the face of such pressure should be seen as commendable.
7. Steer Clear Of Smear Campaigns
Others warned against smear attempts directed at Yates.
8. Yates Is Loyal To America
Some encouraged other high-ranking officials to embody the valor Yates exhibited during her time in the White House.
9. Yates Did More To Resist
One tweet brought up how Yates on her own had worked harder than the Congress to highlight morally dubious moves taken by Trump.
10. Remember Yates' Fairness
As mentioned before, people have been vocal about any attempts to paint Yates as an agent or operative against Trump.
As time goes on, opinions pour in. While a few have voiced stances against her, most are rooting for the former attorney general. A look at the #SallyYatesIsAPatriot hashtag has a clear message for the world: People are seeing a heroine in Yates.