Supreme Court OKs Trump's Refugee Ban, But Denies Him An Actual Win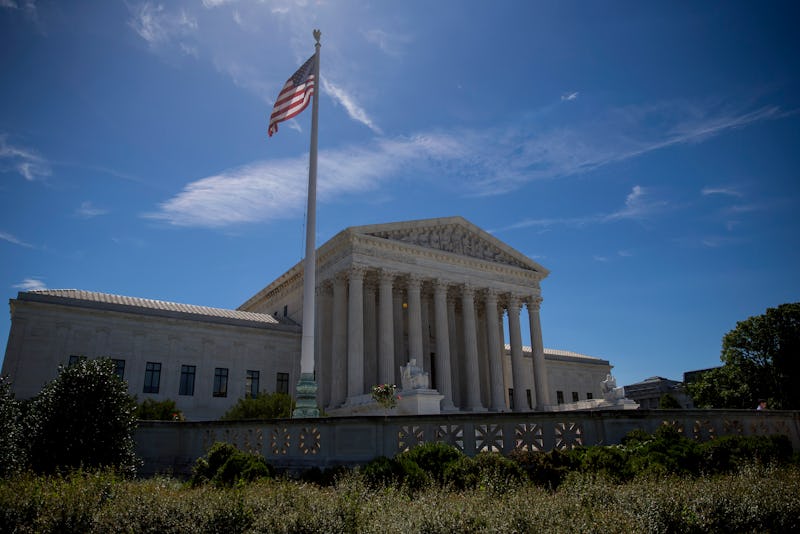 Eric Thayer/Getty Images News/Getty Images
On Wednesday, the Supreme Court sided with the Trump administration's strict refugee ban, meaning that refugees from the six affected majority Muslim countries will not be allowed into the United States for the time being. However, the Court also stayed a Hawaii district court's order that expanded the definition of which "bona fide relationships" with a U.S. citizen are sufficient for admittance into the country, meaning the expanded definition allowing grandparents into the country will be in effect until a federal appeals court rules on it.
This sets up what figure to be a very consequential ruling by the Ninth Circuit Court of Appeals, which will ultimately consider both the "bona fide relationship" and the refugee aspects of U.S. District Judge Derrick Watson's recent decision.
Last week, Watson ruled that the definition of "bona fide relationship" must grandparents, grandchildren, and siblings-in-law, as well as cousins, aunts, uncles, nephews, and nieces of American citizens. He also ruled that the Trump administration had to allow refugees already working with resettlement agencies to enter the country. But the Supreme Court contradicted that part of his order, meaning those refugees will still be forbidden entry until the U.S. until the Ninth Circuit Court hears the appeal, at least.
The Trump administration had asked the Supreme Court to clarify its own ruling on what constituted a "bona fide relationship" in response to Watson's ruling, hoping for a narrower interpretation of the term. To be absolutely clear, none of these questions have been conclusively decided just yet, but the Supreme Court has decided that for the time being, both the strict refugee ban and the expanded definition of a sufficiently close relationship to allow entry into the U.S. will continue.
According to the Associated Press, the fact that the court allowed the strict interpretation of the refugee ban to stay in effect will have a big impact on tens of thousands of people. At present, there are reportedly as many as 24,000 refugees who are connected to resettlement programs in the U.S. but will nonetheless be barred entry.
The travel ban ― which harshly restricts immigration from Libya, Iran, Sudan, Somalia, Syria, and Yemen, ostensibly on a temporary basis ― has been one of the most controversial and widely protested policies of the Trump administration's first several months. The original version of the ban, which also included Iraq, was ruled against by several different courts, prompting Trump to issue the revised ban currently being considered.