Burger King Just Brought Back Surge Soda, Be Still Your '90s Baby Heart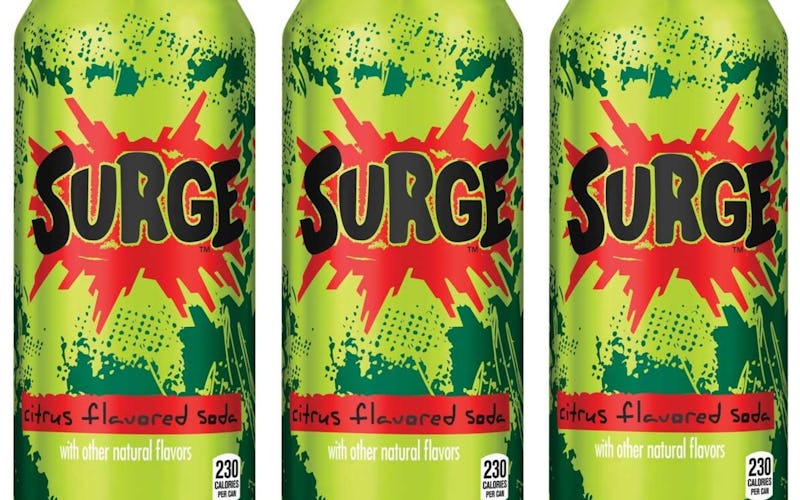 Coca-Cola
Kids of the '90s, get ready for a huge blast from the past. Remember Surge soda? It was originally introduced in 1997 by Coca-Cola to compete with PepsiCo's Mountain Dew — it had a good run for a few years, but popularity died down in by the end of the '90s and it was officially discontinued in 2002. For a long time, it remained one of those lost products from childhood that only existed in our memories, like Dunkaroos or Squeeze-Its fruit juices. Today is a wonderful day for those of us who never stopped loving Surge — Burger King is carrying Surge soda now, so the citrusy soft drink is back and better than ever.
If you're about to go running to your local corner store in search of a highly-anticipated can of Surge, you might want to switch up the destination. According to Delish, Burger King's partnership with the soda brand is an exclusive one, meaning that right now, it's the only chain where you'll find a Surge supply flowing freely. Surge will be available at Burger King locations that have a Coca-Cola freestyle machine — one of those giant, touch-screen beverage dispensers (that often seem to have options you've never even heard of before). Don't know if your local BK has one of these high-tech appliances? Coca-Cola has a fancy locator where you can check for just that, and you can find it here.
If you distantly remember hearing some buzz about a Surge return a few years ago, it's because the soda had a few brief comebacks around 2014. It was a short-lived Amazon exclusive that year, and was available at a few stores in 2015. After that, Surge did what all sodas must do at one point or another: become a slushie. That's right, Surge initially became a frozen treat at Burger King in 2015, then expanded its slushie kingdom to Valero corner stores and Cinemark movie theaters in the following years. You can even find nostalgic soda online and in some stores right now, but the only place where you'll be able to get a classic soda fountain Surge experience right now is Burger King.
According to Surge's Twitter account, the soft drink will be available at Coca-Cola Freestyle machine-equipped Burger Kings until February 2019. Wondering where you'll be able to get your fountain Surge fix after that? So am I. Hopefully everywhere? Diehard Surge fans have done a lot to bring the drink back into the limelight (I'm sorry). In 2015, a fan-run Facebook group called the "SURGE Movement" helped bring the beloved drink to Amazon — where it sold out in just one hour. With the sales of SURGE Movement's soda-themed t-shirts, fans were even able to raise money for a $4,000 billboard near Coca-Cola's headquarters. It read, "Dear Coke, We couldn't buy Surge so we bought this billboard instead." Heavy reports that this was the "largest fan-funded pledge for any discontinued product," and it seems to have worked wonders.
If you're headed to Burger King anytime soon, it might be worth it to accompany your meal with a nostalgic cup of Surge soda — get it while it lasts, friends.