Susan B. Anthony's Long-Lost Letters Have Resurfaced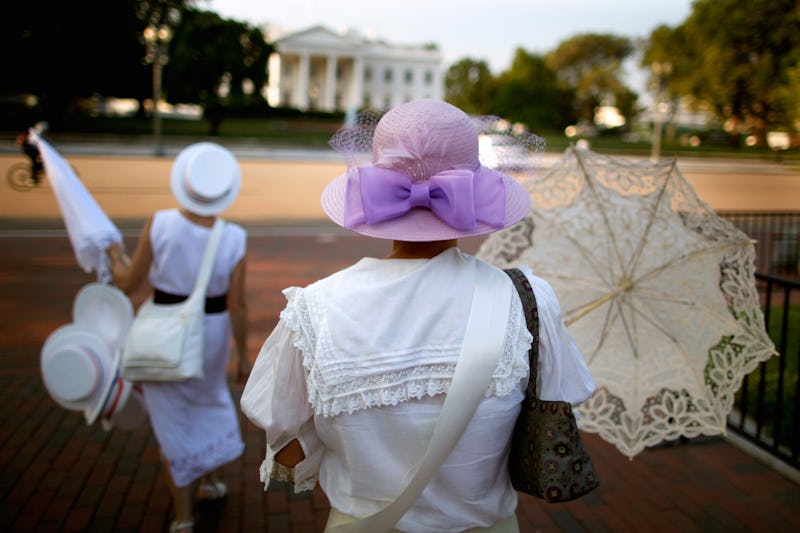 Chip Somodevilla/Getty Images News/Getty Images
If the political climate seems hopeless now, think about what it must have been like for Susan B. Anthony in 1874. Now, thanks to a recently rediscovered treasure trove of material, you can get a little closer to understanding that precarious position. Anthony's long-lost letters about women's suffrage are even more inspiring now, almost 150 years after she wrote them — and they're coming at the perfect time.
The box of material, which was recently found and then sold to the University of Rochester's library, is a huge boon for researchers who study the suffragist movement. More than that, though, it offers a more personal look inside the movement — and that's important not only for academics, but also for the broader community of people who are taking part in the ongoing fight for women's rights.
The box once belonged to Isabella Beecher Hooker, another prominent figure in the fight for women's suffrage. She did most of her work in Connecticut, but she was connected with all of the most important women working for the cause, including Susan B. Anthony and Elizabeth Cady Stanton. Through the letters from Anthony, Stanton, and numerous other suffragists, it's been possible to glean a lot of information not only about the relationships between the various women, but also about the inner workings of the movement.
1874 was almost 50 years before women in the U.S. gained the right to vote in 1920, which neither Hooker nor Anthony would live to see. However, despite the odds that their fight was always up against, the letters prove that they managed to keep up their optimism and their fighting spirit.
"Now wouldn't it be splendid for us to be free & equal citizens— with the power of the ballot to back our hearts, heads & hands," Anthony wrote in a letter dated April 9, 1874. "And we could just go into all the movements to better the conditions of the poor, the insane, the criminal— wouldn't we be happy mortals than to work with power too – I can hardly wait— the good fates though are working together to bring us into this freedom & that rapidly."
Just to give you some historical context, Anthony had recently been arrested for voting and then fined $100, which she never paid. It was also a time when the movement was somewhat divided about its strategy, and success must have seemed very far away. The letters discussed these issues, among many other things. Evidently, though, this was not an excuse to stop pushing forward. The first step towards women having equal rights would, in the end, take a very long time. But now, looking back, these women's dedication over decades of hard work and myriad setbacks is now a huge inspiration.
Women now are facing an onslaught of attacks from this administration, from the government's attempts to restrict reproductive rights to the very fact that the White House now houses someone who literally bragged about sexually assaulting women. However, thanks to women like Hooker and Anthony, we're now coming from a greater position of power. We have more platforms on which to raise our voices. We can look back on what the suffragist movement would eventually achieve for our benefit and see that in the greater scheme of things, we shouldn't be intimidated by the occasional failure along the way.
Republicans may be trying to outlaw abortion, but the direction of progress is not in their favor. It's the same for LGBT rights, equal pay, easier access to healthcare, and a host of other progressive causes. These letters show that Susan B. Anthony was able to find optimism and a burning, constant determination in extremely tough circumstances — and there's no reason that women now shouldn't be able to either.