Susan Collins Spoke Out On Brett Kavanaugh & Gave Insight Into How She'll Vote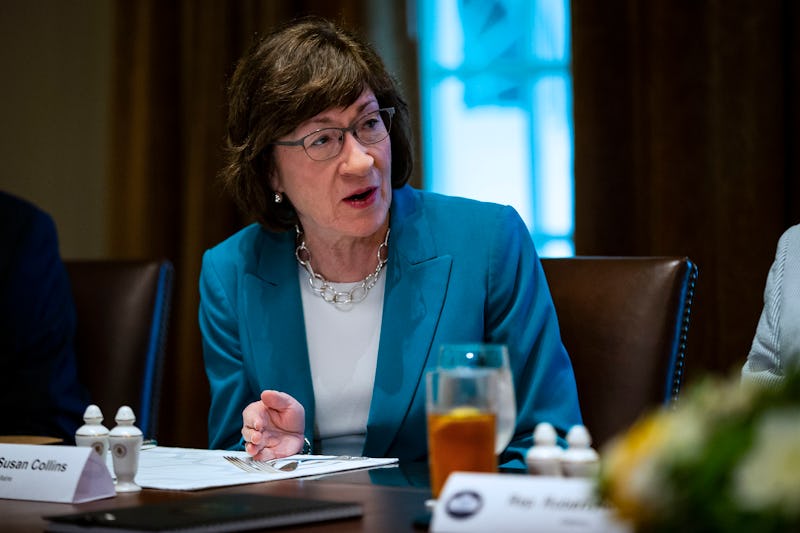 Pool/Getty Images News/Getty Images
The Senate is the only group that can put the breaks on Trump's SCOTUS nominee. The GOP has a one-vote margin in the chamber, and since Republicans went "nuclear" last year for Neil Gorsuch's confirmation, only 51 votes are needed. That means the views of the Republican senators are key, and Sen. Susan Collins' statement on Brett Kavanaugh hints that even she may support him.
Collins has been very clear that she expects justices to respect the Roe v. Wade precedent and won't vote to confirm anyone who would overturn it. But even though abortion advocates warn that Kavanaugh is likely to put the ruling in peril — he has ruled against migrant women in custody seeking abortions recently — Collins seems likely to support his candidacy. She said in her statement:
Judge Kavanaugh has impressive credentials and extensive experience, having served more than a decade on the D.C. Circuit Court of Appeals. I will conduct a careful, thorough vetting of the President's nominee to the Supreme Court, as I have done with the five previous Supreme Court Justices whom I have considered. I look forward to Judge Kavanaugh's public hearing before the Senate Judiciary Committee and to questioning him in a meeting in my office.
The issue here seems to be that Collins is sure the justice's commitment to precedent will protect Roe v. Wade. "I would not support a nominee who demonstrated hostility to Roe v. Wade because that would mean to me that their judicial philosophy did not include a respect for established decisions, established law," Collins told CNN.
Not everyone agrees with her. Tammy Duckworth told CNN that nominees sometimes say what the senators want to hear to be confirmed. "Justice Gorsuch told her that he would respect precedent, and yet he has voted against precedent just this week with the Janus case," she told CNN, referencing a labor union case that will make it more difficult to organize public employees.
Duckworth doesn't advise to "just trust that what somebody says to you in a conversation trying to get your vote is what's going to happen when they are on the Supreme Court."
Law experts also agree that there is nothing stopping a judge from changing precedents. Paul Shiff Berman, a law professor at George Washington University, told the Portland Press Herald that even if Kavanaugh doesn't overturn Roe v. Wade completely, there are lots of small decisions that could limit women's access to abortion if not the technical right.
"The assurance that a justice will adhere to precedent and not literally overturn Roe v. Wade is not really likely to answer the question as to the practical impact on women's right to choose," Berman said.
Collins is, of course, not the only senator who would need to block the decision. She would need to be joined by one other GOP colleague, given that a split vote 50-50 could be decided by Vice President Pence (although on a confirmation vote it would be extreme).
Sen. Lisa Murkowski is another GOP senator who supports abortion rights. She also released a statement following the nomination. "While I have not met Judge Kavanaugh, I look forward to sitting down for a personal meeting with him," Murkowski said in a statement. "I intend to review Judge Kavanaugh's decisions on the bench and writings off the bench, and pay careful attention to his responses to questions posed by my colleagues on the Senate Judiciary Committee."
The future of Roe v. Wade and legal and accessible abortion could hang in the balance of Kavanaugh's confirmation. Neither Collins nor Murkowski seems to be starting their questioning from a place of much skepticism.