The Woman Who Could Make Or Break Kavanaugh's Confirmation Said This About The Allegation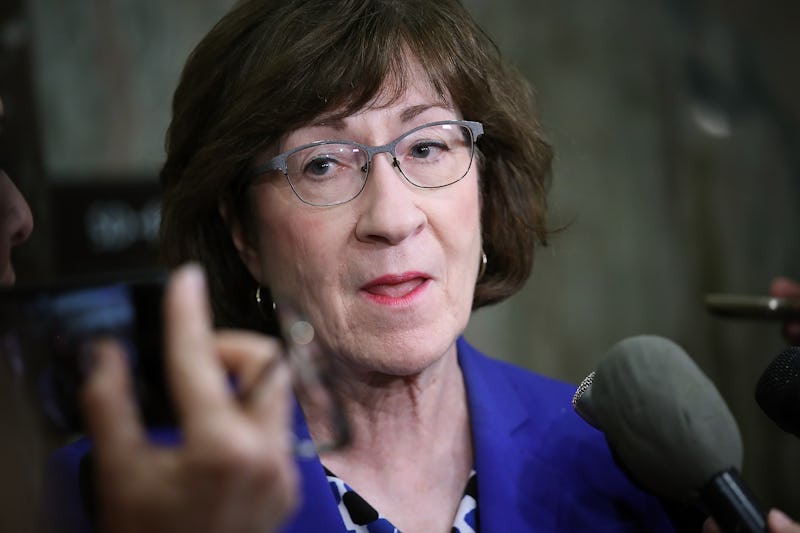 Win McNamee/Getty Images News/Getty Images
In the wake of Christine Blasey Ford's bombshell sexual assault allegation against Supreme Court nominee Brett Kavanaugh, Sen. Susan Collins said Kavanaugh could be "disqualified" from the nomination if proven to have lied in his responses to the claim. Kavanaugh denied Ford's allegation in a statement from the White House saying he has "never done anything like what the accuser described — to her or to anyone."
Collins' remark on possible disqualification is important for more than one reason. First, it reflects how seriously the Republican senator from Maine is taking these allegations from Ford. But perhaps more importantly, it shows that Collins, whose vote on the Senate is one of the few that hasn't been guaranteed to go one way or the other, might just be souring on the Kavanaugh nomination. And if Collins votes against Kavanaugh, then that would likely mean his nomination wouldn't go through.
Collins talked to reporters on Monday, a day after Ford's identity was revealed by The Washington Post. Collins said, "I have said that I believe in order for me to assess the credibility of these allegations that I want to have both the individuals come before the Senate Judiciary Committee and testify under oath...it's important that there be a very thorough interview and that we see both individuals respond to the allegations."
Collins continued, "I don't know enough about Dr. Ford to reach [a] judgement...obviously if Judge Kavanaugh has lied about what happened, that would be disqualifying."
Given how high the stakes are for Kavanaugh's testimony on this topic, it's not surprising that people have already begun to pick apart his statement. For example, Kavanaugh has denied he was at the party at all, and in another statement he has denied "any memory" of a party, two statements seem to make two different arguments: the first, that he knew of a party but didn't go, and the second, that he has no memory of any party Ford is referring to.
It's worth noting that Ford did not give a specific date of this party in the letter she sent to Rep. Anna Eshoo. She only said,
Brett Kavanaugh physically and sexually assaulted me during high school in the early 1980's. He conducted these acts with the assistance of REDACTED. Both were one to two years older than me and students at a local private school. The assault occurred in a suburban Maryland area home at a gathering that included me and four others.
Now, both Ford and Kavanaugh are set to appear before the Senate Judiciary Committee next Monday to testify about the allegation. Kavanaugh needs 51 votes in the Senate in order to receive an appointment, and there are currently 51 Republican senators within the Senate. Collins is one of those Republicans, as is Sen. Lisa Murkowski; the two of them have been put under extreme pressure in recent weeks to vote "nay" on Kavanaugh.
If Kavanaugh does lose Collins' vote, he will have to pick up a vote from the Democratic side of the Senate. And if he can't do that, it will be back to the drawing board for Trump to find another Supreme Court nominee.