Susan Collins Rips The GOP's Obamacare Repeal Efforts & The "13 Men Who Did It"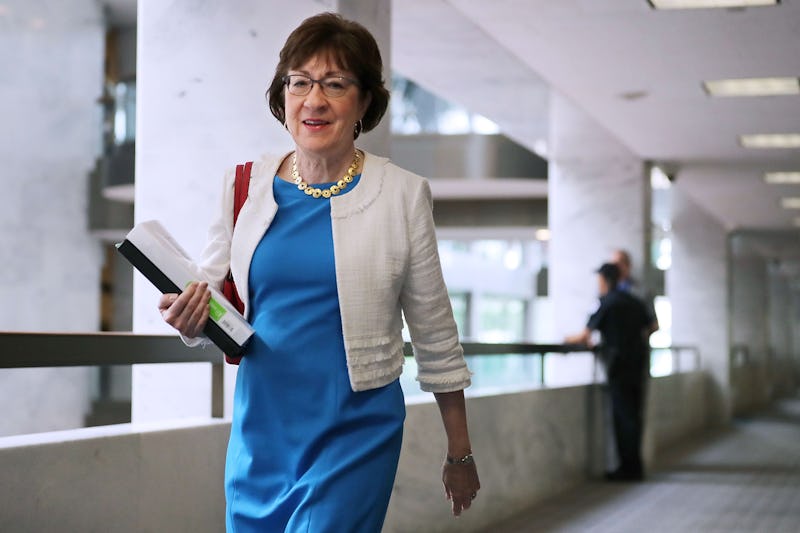 Chip Somodevilla/Getty Images News/Getty Images
If there's one person in Washington who's demonstrated a willingness to buck the leadership of her own party, it's Sen. Susan Collins. A four-term Republican from the state of Maine, Collins has emerged as one of the essential congressional backstops in the Trump era, casting absolutely pivotal votes in opposition to the GOP's fervent efforts to repeal, replace, and dismantle the Affordable Care Act. And on Friday, Collins ripped the Republicans' various Obamacare repeal efforts, noting that they were put together without the input of any of the Republican women of the Senate:
The Senate Republican health care bills were drafted behind close doors. By the way, it was a group of 13 men who did it. It completely bypassed the standard legislative process.
Rather, as Collins remarked, it was strictly a group of male lawmakers who crafted the bill, including provisions like a defunding of Planned Parenthood, an idea both she and Alaska Senator Lisa Murkowski had voiced opposition to. It was, all in all, not how the legislative process is typically supposed to go, and that ended up costing the GOP dearly as Collins, Murkowski, and Arizona Senator John McCain scuttled the so-called "skinny repeal" bill back in July.
Collins also criticized President Donald Trump's move this week to end cost-sharing reduction payments to health insurers, one of the subsidies that helps tamp down premiums for Americans buying their health insurance on the individual market.
If you've been following the seemingly endless tumult surrounding the Republican efforts to pass a health care bill, then you probably heard the news on Thursday. Basically, Trump signed an executive order halting the key Obamacare subsidy payments, a move which is likely to destabilize and damage the individual health insurance market. This is very bad news for low-income Americans who're most dependent on the subsidies, and Collins noted that in her remarks on Friday.
"I will say that I am very concerned about the president's executive order that was issued yesterday and his decision to do away with an important subsidy that helps very low income people," she said.
After signing the order, Trump then advised the Democrats to come to the table and cut a deal with him, making it fairly clear that the entire effort ― despite the hugely negative effect it might have on many people's health and lives ― is part of the president's ongoing negotiating strategy.
Collins, 64, is one of just five women currently serving among Senate Republicans, while the Democrats have 16 women serving. For a time, it seemed like that number might shrink even further on the GOP side of the aisle, as Collins was widely rumored to be considering a run for Maine governor in 2018, aiming to replace the hyper-controversial Paul LePage.
That news seemed to put a bit of a scare into Senate Democrats, who surely understand that their ability to stop the GOP from slamming through its agenda depends on a narrow sliver of moderate Republicans, Collins among them, to vote against her own party. As such, some of her Democratic colleagues went public with their hopes that she wouldn't make the jump back into state-level politics, like North Dakota Senator Heidi Heitkamp.
Fortunately for the Democrats, however, Collins has reportedly decided against a gubernatorial bid, meaning she'll remain in the Senate, barring unforeseen circumstances, at least until her current term is up in 2020. That's big news for anyone trying to preserve a trace of moderate Republicanism in the Senate ― analyses in recent years have found Congress is in a state of hyper-polarization, more divided in 2016 than it had been for more than a century.