Susan Collins Had A Straightforward Response To Trump Mocking Christine Blasey Ford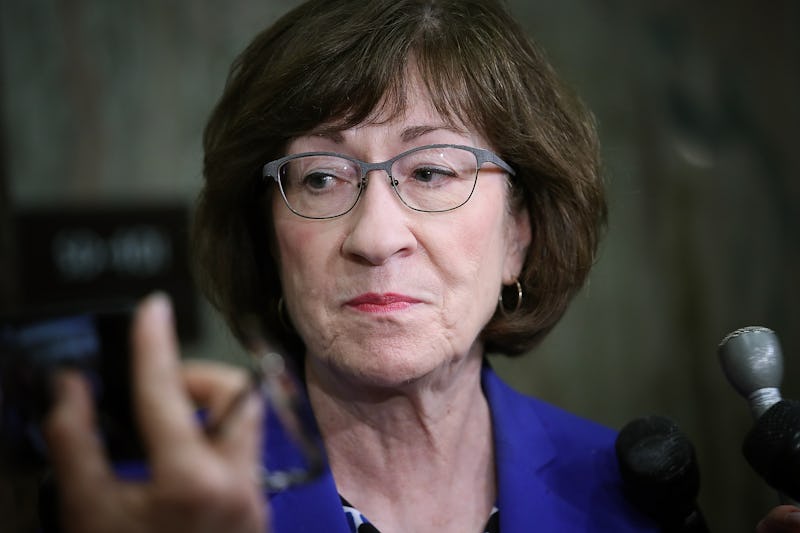 Win McNamee/Getty Images News/Getty Images
All eyes are on Susan Collins this week as Brett Kavanaugh's confirmation vote approaches. The Maine senator is considered to be one of just a few moderate-leaning Republicans in the chamber, and her stated abortion rights position could conceivably sway her on a nominee who has the power to overturn Roe v. Wade. The senator hasn't commented much on the sexual assault allegations against Kavanaugh, which he has denied, but on Wednesday, Collins criticized President Donald Trump's mocking Christine Blasey Ford during his rally the previous night.
"The president's comments were just plain wrong," she told reporters before entering a Senate Aging Committee hearing. Though it was a short statement, Collins appeared earnest and adamant. She declined to respond when asked whether Trump's jokes would affect her vote on Kavanaugh's nomination, though one CNN analyst speculated that it could make her less likely to approve him.
Ford has accused Kavanaugh of trying to rape her at a party in the early '80s, which Kavanaugh "unequivocally" denies. Trump brought up her allegations at his campaign rally in Mississippi on Tuesday night. "Thirty six years ago this happened," he began, mockingly taking on Ford's perspective. "I had one beer," he mimicked. "'I had one beer.' 'Well, do you think it was—' 'Nope, it was one beer."
"Oh, good," he said, and recounted a series of details she couldn't recall. "'How did you get home?' 'I don't remember.' 'How'd you get there?' 'I don't remember.' 'Where is the place?' 'I don't remember.' 'How many years ago was it?' 'I don't know.' The crowd erupted in cheers.
"'What neighborhood was it in?'" he continued. "'I don't know.' 'Where's the house?' 'I don't know.' 'Upstairs, downstairs — where was it?' 'I don't know — but I had one beer. That's the only thing I remember.'"
Ford, who is a psychologist, explained herself during the hearing why she remembers some details and not others. "The level of norepinephrine and epinephrine in the brain ... encodes memories into the hippocampus," she said, "so the trauma-related experience, then, is kind of locked there, whereas other details kind of drift."
Per The Mercury News, stressful experiences release neurotransmitters like epinephrine, also known as adrenaline, that influence the hippocampus as it "sorts" out which memories to store in long-term memory. According to Lancashire Care NHS Foundation Trust, this is why a traumatic experience "may well be encoded and stored in very rich detail — but without a date stamp."
Kavanaugh's confirmation depends on an approval vote from Collins and several other wavering senators. Arizona's Jeff Flake is another, and he also criticized Trump's remarks on Wednesday. "There's no time and no place for remarks like that. To discuss something this sensitive at a political rally is just not right. It's just not right. I wish he hadn't had done it," Flake said on NBC. "It's kind of appalling."
The FBI is currently undertaking an investigation of Ford's accusations that must be wrapped up by Friday. It may finish as early as Wednesday, though, according to The New York Times, and Senate Majority Leader Mitch McConnell (R-Kentucky) has indicated that he hopes to hold a confirmation vote on Kavanaugh this week.
If you or someone you know has been sexually assaulted, call the National Sexual Assault Telephone Hotline at 800-656-HOPE (4673) or visit online.rainn.org.