Sutton Foster's Song In 'Marvelous Mrs. Maisel' Is More Empowering Than You Realize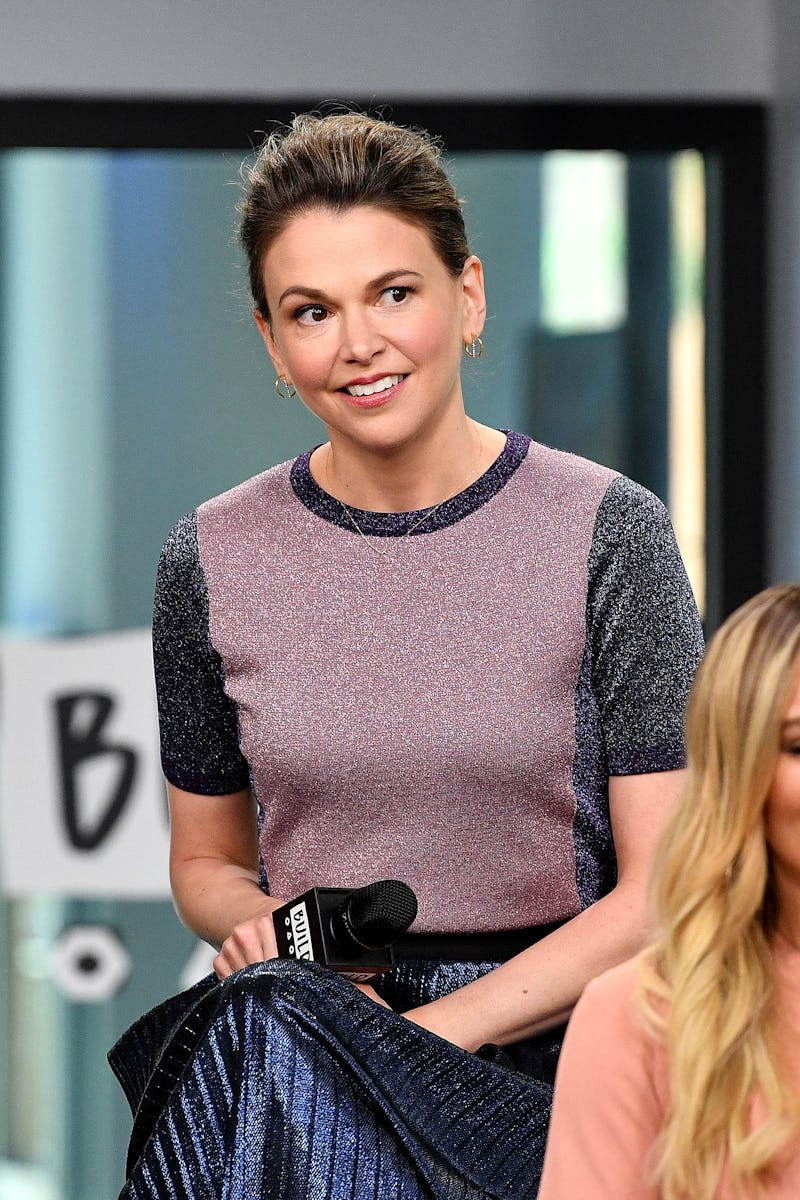 Dia Dipasupil/Getty Images Entertainment/Getty Images
The Marvelous Mrs. Maisel will immerse you in the past, but not everything in the new series from Amy Sherman-Palladino is vintage. One of the modern elements in the series is an unexpected gift that fans will adore. Not only is Sutton Foster's "I Enjoy Being A Girl" on The Marvelous Mrs. Maisel a perfect connection to Sherman-Palladino's other shows Bunheads and Gilmore Girls, it's just as empowering and charming as the show itself — and yes, you can stream and download the song on Amazon already.
You won't hear it right away. But, once you get to Episode 5 and Episode 6, both feature the song from the 1958 Rodgers and Hammerstein musical Flower Drum Song — and is not to be confused with "How Lovely To Be A Woman" from Bye Bye Birdie. It's perfect for the period that The Marvelous Mrs. Maisel is set in as well as the tone and style. Plus, it's probably a familiar tune. While Flower Drum Song isn't the most popular Rodgers & Hammerstein production, the song surpassed the show itself and has been performed by everyone from Peggy Lee to Sara Jessica Parker (in a Gap ad), and even featured on an episode of The Muppet Show with Miss Piggy, of course.
Foster is, of course, the star of Sherman-Palladino's series Bunheads. The Tony winner, frequent Broadway superstar, and Younger star also performed in the Stars Hollow musical portion of the Gilmore Girls Netflix revival. It's clear that the Palladinos like working with her, and it was a nice treat to hear her vocals in this new show.
In Flower Drum Song, there is a bit of irony. That's often the case with Rodgers and Hammerstein. The show is about growing up Chinese in America, and the character imitates Western beauty standards while singing.
But in Maisel the song also captures a major theme of the series — unapologetic femininity. Sure, Midge makes dirty jokes and breaks a lot of gender norms, especially for the time period. She's also covered in pink, sells makeup, and twirls in the street. The word "marvelous" is in the dang title, for goodness sake.
In Episode 7, the character delivers a monologue about the expectations put on women during a set that is both empowering and cathartic. "So what if I work," Midge says. "So what if I get divorced? So what if I'm alone? Why do women care so much about how people look at them or see them? All women. Beautiful women. Successful women."
It's the thesis of the show, in a way. Midge unabashedly loves pink and nice things. She's a very feminine person. However, while there aren't problems with how she presents herself, she still has a lot to learn. At the beginning of the series, she does her hair and makeup before Joel wakes up and gets back into bed, to create the illusion that she is flawless first thing in the morning. She's putting on a facade. Sadly, even her facade doesn't keep Joel from being a jerk and cheating on her — leaving her feeling cheated since she put so much work into being perfect for him. But, it isn't until another female comedian tells her that she can't be herself if she wants to succeed that Midge really cracks.
"Why do women have to pretend to be something that they're not," she says. "Why do we have to pretend to be stupid, when we're not stupid? Why do we have to pretend to be helpless, when we're not helpless? Why do we have to pretend to be sorry when we have nothing to be sorry about? Why do we have to pretend we're not hungry when we're hungry?" Why aren't we allowed to enjoy being a girl, one might add. The song makes it sound so fun, when it's not always, and it should be.
Midge is "strictly a female female" as the song goes, and she'll fiercely defend her right to that as well as her own independence. She's frilly, talkative, lacy and angry, real, heart-broken, and resourceful, intelligent, and hilarious. Mrs. Maisel makes you want to enjoy being a girl, honestly.
The song can also be heard when Susie, who is decidedly less feminine than Midge, enters B. Altman's department store for the first time. It's a funny contrast, but also reminds us that girls can be anything. Being true to yourself is what matters. Even if you weren't already a fan of Sutton Foster's signature brassy voice, if you're loving this show you're definitely going to have her song stuck in your head for a while — and hopefully its message as well.