Why 'Gilmore Girls' Fans Absolutely Need To Watch 'Marvelous Mrs. Maisel'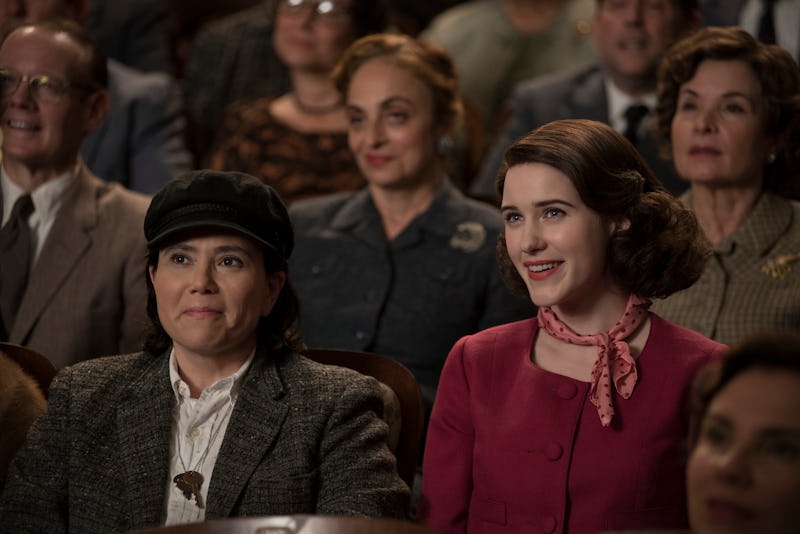 Amazon Studios
On the surface, The Marvelous Mrs. Maisel looks more like Mad Men than Gilmore Girls. Amy Sherman-Palladino and Daniel Palladino have traveled outside of their usual small town setting and into the past to tell a story about a woman named Midge Maisel who finds refuge making others laugh when her life comes crashing down. Never fear, Gilmore Girls fans will love The Marvelous Mrs. Maisel — it hits all of the right buttons and has all the elements that Stars Hollow enthusiasts adore, even though it inhabits an entirely new world.
"I think Amy and Dan write women characters, female characters better than most," says actor Rachel Brosnahan, who plays Midge, in an interview with Bustle's Dana Getz. "Women who are as complicated and passionate and smart and dedicated and flawed and beautiful and bold as the people that we know and love. So I think that you will certainly recognize that." Midge joins a long line of complicated female characters in the Sherman-Palladino world like Michelle Simms (from Bunheads), and Paris Gellar, Lane Kim, and of course all the Gilmore women from Gilmore Girls.
In 2014, an op-ed on The New York Times investigated why we like Gilmore Girls in the first place. They cited the rich and reference-filled dialogue and how fans discover more upon rewatching, as well as the relatability of the characters, and the ability to seamlessly mix serious subject matter and whimsy. All of that and more can be found in The Marvelous Mrs. Maisel.
"What sets [Maisel] apart," Brosnahan says, "is that this is the first time that Amy and Dan have really been able to spread their wings as far as they can go. Amy's been saying a lot that this is the first time she's asked for everything she wanted and been told 'yes' kind of across the board." She continues, "So Gilmore Girls is amazing and they have such an exceptional history of creating incredible content, but I want to say that this is the first time that their vision gets to be executed to its full extent. So if you love them, I think you will love them even more after this show."
Here are some of the reasons why Gilmore Girls fans should make the leap to Mrs. Maisel.
The Dialogue
Come on, you didn't really think Maisel would be without fast-paced dialogue and comedic repetition?
Family Matters
Lorelei infamously leaves her rich parents when she gets pregnant and 16 and her life turns upside down. When Midge's life turns upside down, she moves in with her parents — and finds an escape from that world in a basement doing comedy. Still, the family dinners and dynamics between Midge and her parents will give you all of the Hartford feels.
The Cast
While most of the cast is new to the Sherman-Palladino universe, there are some familiar faces. Alex Borstein, who plays Susie, is a Gilmore Girls regular player. You know her as Drella and Miss Celine in Gilmore Girls. And, as a grumpy café owner in Maisel, Susie is kind of the Luke Danes of this show...
Maisel also brings together a few Bunheads and Gilmore Girls revival crossovers. Bailey De Young (Ginny in Bunheads and 30-Something Gang member Heidi in the GG revival) is in the Maisel cast as Imogene. And, there's a cover of "I Enjoy Being A Girl" from Flower Drum Song that Bunheads and Gilmore Girls revival star Sutton Foster sings — which is available to stream and download on Amazon.
Pop Culture References
You'll need to take notes during this show — the characters on The Marvelous Mrs. Maisel are just as witty and pop culture savvy as Lorelei Gilmore, but the show is set in the '50s, so get ready to learn a lot about the comedians and musicians of the day.
In fact, Maisel is a show that Rory and Lorelei would love based on their viewing habits and pop culture references. Remember Rory's obsession with Donna Reed? There was even an Inside Llewyn Davis reference in the Gilmore Girls revival, and Maisel performs in the Gaslight Cafe, a real NYC location that features in the film.
While the pop culture references aren't modern and the world is a little less quirky than Stars Hollow, rest assured Gilmore fans will (probably) love Maisel — and that's good news because while more GG is up in the air, Maisel is already guaranteed a second season. So, if you can't have Stars Hollow, at least you can have this Amy Sherman-Palladino world to watch.
Additional reporting by Dana Getz.