Suzanne Might Finally Be Getting The Help She Needs On 'OITNB' Season 6, Uzo Aduba Says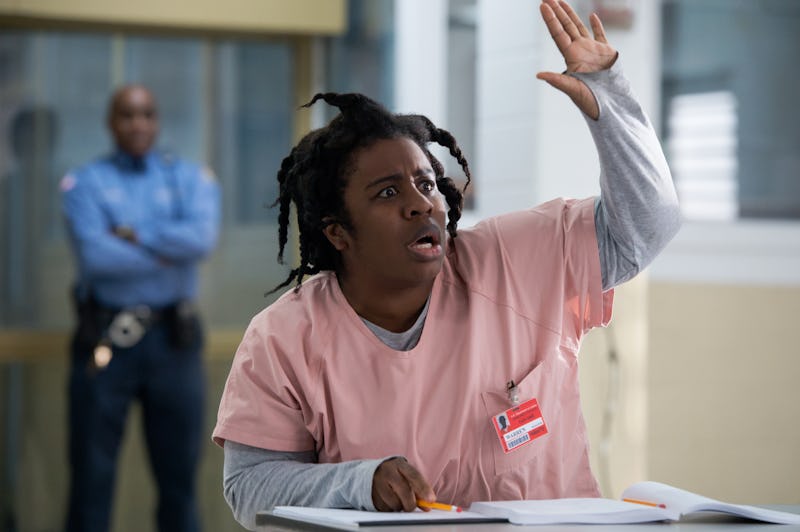 JoJo Whileden/Netflix
Netflix's Orange Is the New Black never shies away from digging into some uncomfortable truths about the American prison system. One of its longest running themes has been the struggles of Suzanne Warren, previously known as "Crazy Eyes," as she navigates incarcerated life. In the fallout of the riot in Season 5, Uzo Aduba's character Suzanne in OITNB Season 6 becomes an even more central figure, and it's through her struggle to get medicated and recover from the trauma of the riot that viewers gain a better understanding of just how high the stakes are for incarcerated women with mental illnesses.
Season 6 shakes up everything viewers — and the inmates — know about prison life by tossing them into the maximum security prison just up the hill from the minimum security part of Litchfield, their former home. It's jarring for everyone involved, but especially for Suzanne, who we find all by herself in a cell in administrative segregation while she waits to be questioned by law enforcement about what actually went down in the final moments of the riot.
She's been off of her meds for days under extreme circumstances, and she's in a solitary cell in a new prison, having trouble deciphering what's real and what's not. The trauma of all that — her friend's death, wandering through the riot alone, being in the bunker in those final moments — haunts her throughout Season 6. But it also makes her the perfect character through which to introduce OITNB viewers to life in Max.
"No one here is settled and [can process] how out of body all of this is," Aduba tells Bustle of how the inmates are adapting to Max. "It's really a whole new world."
Luckily, Suzanne has a lawyer and social worker who understand her mental health issues and advocate for her post-riot. She gets the meds she needs and is put in "Florida," a protected block of the prison where the pudding cups are plentiful and things aren't quite as dangerous as they are in other parts of the prison. Because of the "quiet" provided by her meds and the relative safety of the block, for the first time since we've met her, Suzanne finally has time to consider her relationships and what she wants from them. It's an exciting development, and Aduba was happy to depict it on screen.
"This is the first time we ever get to watch Suzanne stand alone and on her own and make new relationships. For me it was like you [get] to watch her grow up a bit [this season]. She has some independence," Aduba says. But it comes at a price — now that Suzanne is finally "in" with women like Cindy (Adrienne C. Moore) and Tastee (Danielle Brooks), something is still off. Aduba explains, "It begs the question: What happens when you get what you want and you realize that you don't want that?" Being on her meds helps Suzanne regain some agency and forces her to reconsider some of the friendships she had longed for in past seasons.
"This isn't a confused woman, this is a woman who wrestles with mental health issues."
"She's forced to grow up and decide who she wants to be. Who she wants to associate herself with," Aduba continues. "[She realizes] she can, or needs, to stand on her own two feet."
A lot of that growth was possible simply because Suzanne is finally getting some of the treatment she needs this season, which is remarkable, Aduba says. "This isn't a confused woman, this is a woman who wrestles with mental health issues," she adds.
Suzanne's growth this season shouldn't surprise viewers — with the right treatment, people with mental health issues are able to live full lives, even if they're locked up in "Florida." But Suzanne's struggle to simply get an evaluation for medication post-riot is backed up by real life data. According to The Marshall Project, resources are severely lacking for those with mental health needs and the prison environment alone can be anti-therapeutic. A recent study by Bureau of Justice Statistics found that although women make up only 7 percent of the prison population in the U.S., 66 percent of women in prison report a history of some mental health issue, which is double the percentage of men in prison who reported the same. In the same survey, one in five women said they had experienced "extreme psychological distress" in the past thirty days, while only one in seven men said the same.
A 2015 survey of the New York City prison system revealed a racial bias, too. White prisoners are often directed to mental health services, while Black or Latinx inmates were often directed to solitary confinement, which is played out on OITNB when guards and administrators laugh off Suzanne's "crazy" remarks and requests. It's a testament to Aduba's stellar performance that many of these lines come across as simultaneously heartbreaking and laugh-out-loud funny. But while it might be entertaining to watch Suzanne figure out who her friends are and create make-believe games or scenarios to soothe herself, such as her past attempts at writing erotica, her struggle is very, very real.
On any other show, with any other writers and any other actor portraying Suzanne, the gravity of her situation — that she is in a prison in which no one, not even people she thinks are her friends, have her best interests in mind — could easily become a punchline. Finding that balance is something Aduba says she and creator Jenji Kohan take seriously, especially in Season 6.
"It's very easy to watch these women in prison and [laugh] — 'isn't this hysterical?'— but [Kohan] always finds a way to remind the audience of the characters and their circumstance," Aduba says. "She'll remind us by having a prison riot. She'll remind us with Poussey's death. She'll remind us by Tricia's death. She'll remind us by taking us from a minimum to a maximum security prison. So as normalized as the world and Suzanne can become, she'll put a trigger in to say, 'No, no, no, this is not fun and games, this is not camp. This is prison.'" By not turning Suzanne's health into a joke, the real-life issues surrounding the character really come into focus for the viewer this season.
Kohan told the The New York Times last year that she's "leaning toward ending" the show after its seventh season, which has already been ordered by Netflix. So it seemed fitting to ask Aduba how she hopes Suzanne's story will end, especially since she seems to have found some peace for the moment. "My dream final ending for Suzanne is full growth. I want to see her sort of work her way through childhood, adolescence, and I would love to see her begin to step into her womanhood, whatever that is for her," she says. But she also acknowledges the reality that someone like Suzanne faces in prison with the odds stacked against her, and if OITNB wants to keep it authentic, Suzanne's story might not have a happy ending.
"Of course, [I want her to be] given the proper treatment that she should be getting, but the truth of the matter is that doesn't often happen," Aduba says. "We don't often see characters wrestling with mental illness in the penal system, so what I guess [I want to see], sadly, is the truth of what happens to people like her in [the real world], for better or worse."
Fans will have to wait and see what's in store for Suzanne in future seasons. But while we wait for Season 7, Aduba is keeping busy. She's been cast as the lead in the film Miss Virginia, which is the true story of a "struggling inner-city single mother who moves her at-risk son from their dangerous neighborhood school to an expensive one in a safe area," per Variety.
And she's slated to return to Broadway this year in Toni Stone, in which she'll star as the real-life, first ever woman baseball player to play in a professional men's league, according to Variety. She's also recently returned from a trip to Uganda, where she continued her work with Heifer International, which provides micro-loans in the form of livestock to small farmers, a cause very close to Aduba's heart.
Many of the farmers who sign up for the program are women, Aduba says, and she especially loves empowering them. "It's amazing to see them step into their best selves... and not just to survive but to thrive," she says of her work in Africa over the last two years.
While most fans might associate Aduba with "Crazy Eyes," it's clear from her body of work on and off camera that she's all about empowering women and making sure they get what they need to thrive, no matter where they are. Regardless of where Suzanne ends up in the OITNB universe, it's clear that her story, her struggle with mental illness within the prison system, and all the IRL issues surrounding the character are in good hands with Aduba.