See Swatches Of Anastasia Beverly Hills' Aurora Glow Kit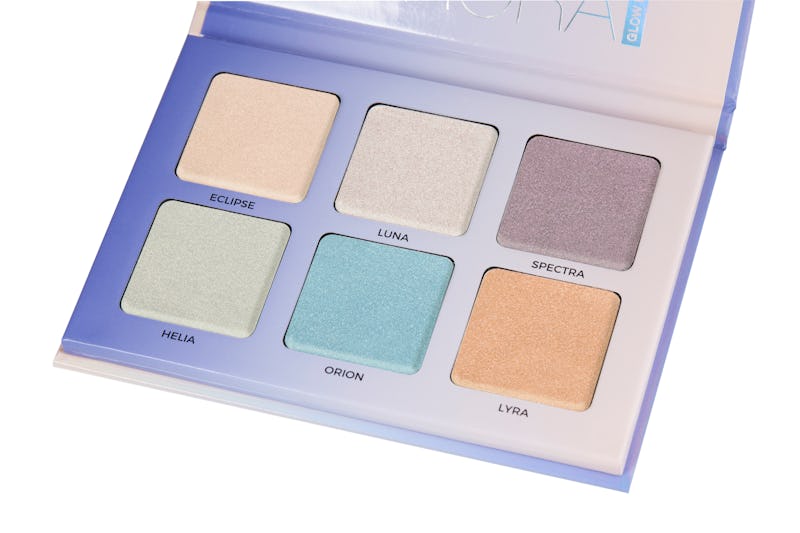 Courtesy Anastasia Beverly Hills
Another day, another cheek shine palette. In case you missed it, Anastasia Beverly Hills created the Aurora Glow Kit. This one is a bit more unconventional than the others though. Think: six bright shades that are perfect for spring. If this cheek shimmer wasn't on your radar before, it will be soon. Let's just say that swatches of Anastasia Beverly Hills Aurora Glow Kit will have you reaching for you wallets.
Anastasia Beverly Hills' Glow Kits are quickly becoming a cult item in the makeup world. There's currently six different options available on their website, and soon there will be a seventh to add to the list. The Aurora Glow Kit has six shades that range from pink and white to lavender and blue. The colors are unconventional to say the least, but they're actually pretty wearable.
I know what you're thinking, but the swatches will make you a believer. The brand posted photos of the Aurora Glow Kit on two different skin tones and the shades look absolutely stunning. The palette is split into two different types of shimmers. While Lyra, Luna, and Eclipse are more on the wearable side, the other three are for bold color-lovers out there. Orion, Helia, and Spectra are just as a bit more bold, but just as gorgeous on the skin.
Pastels are in for spring, but I had no idea that the trend would carry over to highlighters. Of course, you can use these as eyeshadows as well. You can also use them dry, like the photo shows, or wet to make them shine even brighter. Not to mention that you can also mix them. The color options are pretty much endless.
If you're as excited as I am to get your hands on this palette, I have some good news. The Aurora Glow Kit is available on Apr. 4 on the ABH website. It will be available at online retailers on June 13 and in-stores on June 23. The Glow Kit, just like all of the others, will be $40.
Bottom line: start saving, because this is sure to be another fan favorite. Because it will only be available online at first, there's no doubt in my mind that they will sell fast. It's safe to say cheek shine will live on for another season!