This New Makeup Brand Wants To Create The Most Inclusive Beauty Line You've Ever Seen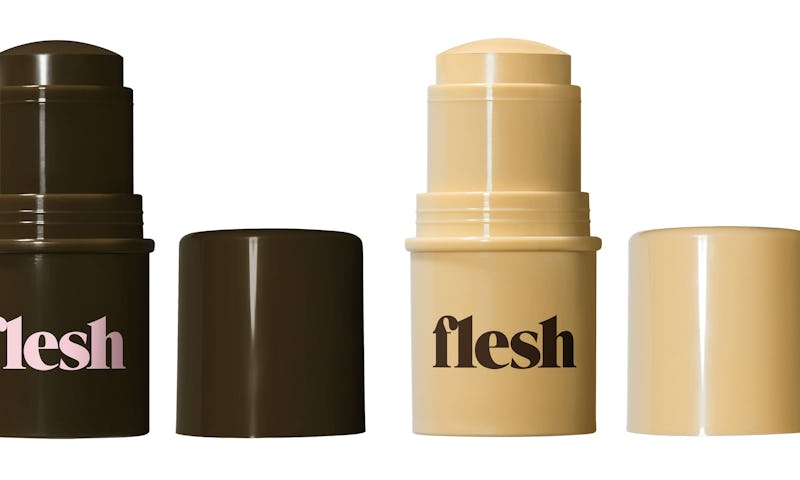 Courtesy of Flesh
When new and inclusive beauty brand Flesh announced itself to the world, we were stoked. How could we not be?! The prestige brand is incubated by Revlon, founded by former Allure editor Linda Wells, and wants to reinvent the notion of "nude" makeup. Well, swatches of Flesh's 40 foundation shades have been posted and they are everything. The brand's nascent Instagram feed is currently filled with swatches — and only swatches. They demonstrate the range of colors, the textures, and the formulas. The pics will have beauty lovers lining up to shop Flesh, which arrives exclusively at Ulta.com on Sunday, June 24 and in Ulta stores on Sunday, July 8.
Flesh is launching with 40 shades of stick foundation. The swatch post is proof that the brand really is working to change the previously-held concept of nude skin. All nudes are not created equal — whether it's a face product, like foundation, powder, or concealer, or a lipstick.
What looks nude for one person is perceived as a totally different shade for someone else. Nude skin is totally subjective — since nude means very specific things to each person based on their skin tone, what their eyes see, their perception, and their life experience.
Flesh fully understands this and therefore wants to offer foundation shades and makeup which satisfies these needs and wants.
Check out all of those beautiful hues! There are several deep and dark shades, as well as many mid-to-dark offerings. There are olive tones, medium tones, light-to-medium shades, and pale options. While Fenty Beauty set the standard when it arrived last September with 40 foundation shades, Flesh is following suit beautifully. It's proof that inclusivity and providing options for all skin tones is becoming the standard. This isn't a trend.
Look at that dreamy, creamy texture and that rich pigmentation. So beautiful.
Oh my! What's more lovely? The pretty rose gold hue or that lush texture? Is it a cream blush? A highlighter? A cream eyeshadow? Creme lipstick? Whatever it is — it's gorgeous. Fans have theories about the short 'n' sweet captions that accompany the images. They think those are the product names. Reading through the guesses and other comments is quite a fun endeavor.
There is palpable excitement for Flesh. The vast array of shades is capturing the attention of beauty fanatics.
It's molten metal! Don't you want to dive right into this golden product?
If you love to feast your eyes on makeup swatches on Instagram, you can pretty much kiss your day goodbye once you hop on the Flesh Insta feed. There are only 18 posts as of press time and each one is a visual spectacle.
What an amazing blob swatch? Is this lipstick or frosting? Regardless, it's downright delish.
These swatches should leave you wanting to grab a damp beautyblender or your fave foundation or face brush. Check out the tonality.
If the struggle to find a foundation that works with the depth and warmth or coolness of your skin tone has been real for most of your life, Flesh, like Fenty Beauty, is here to solve that problem for you.
We agree!
Flesh gets better and better with each and every Insta post. The brand's Insta is a rabbit hole in which you want to go down.
Flesh is a prestige brand, which means the prices will be higher than that of drugstore fare. But you will be paying for the quality and the variety.
We'll pause the swatch sharing to show off the packaging. It has such an adorbs, retro vibe.
In addition to the 40 foundation sticks, Flesh will also boast highlighers, lipsticks, blushes, and eyeshadow palettes. The brand's goal is to be universally wearable and to work with all skin tones.
Welcome to the shelves, Flesh! We're glad you are here! You can sign up for updates on Flesh here.