Kim Kardashian's Latest KKW Beauty Product Has Been Revealed, So Get Ready To Shine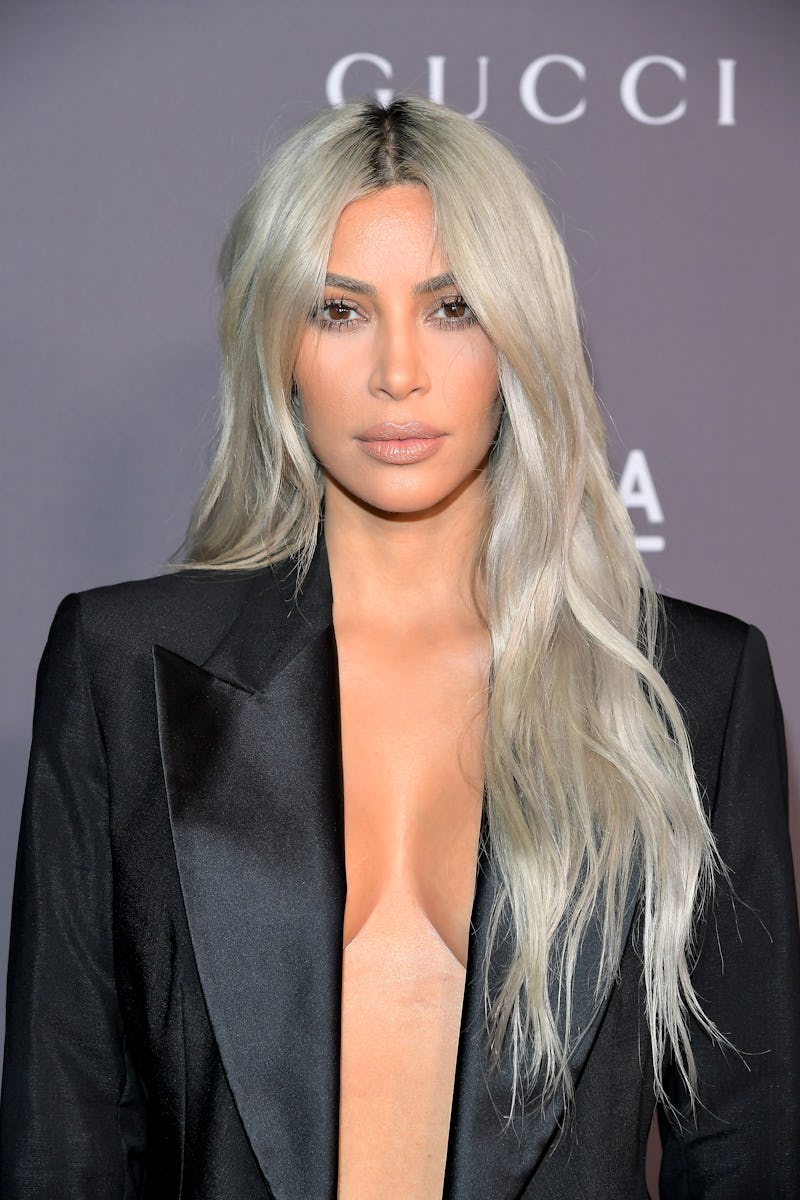 Charley Gallay/Getty Images Entertainment/Getty Images
If you thought the shimmery trend was leaving any time soon, think again. It all started with ultra-shiny cheek highlight in 2016, but Kim Kardashian is now taking it above and beyond. After starting a beauty line and then surprising her fans with a separate fragrance brand, Kim Kardashian is announcing a new KKW Beauty product. Well, sort of. She sent her new glosses and shimmers to Huda Kattan to share for her, as one does.
Typically, Kardashian takes to her social media pages to tease a new product, like when she posted a photo of what she thought were gardenias before her fragrance launch. This time, she left it up to Kattan to do the work for her.
According to Kattan's blog post, she was the very first person to receive KKW Beauty's new lip glosses and shimmers. The makeup artist turned beauty brand owner posted a video on her Snapchat of five glosses and matching powders to go with them. Although Kattan didn't swatch them all, it seems that the glosses are, well, lip products and the powders are meant to be highlighters.
As of Nov. 27, Kardashian has yet to post anything on social media about the new products, but Kattan's video is proof that new products are on the way. The shades are all on the neutrals side, as far as highlights go. The five include pearl, gold, rose gold, bronze, and copper for both the shimmers and glosses.
Honestly, it shouldn't surprise you that Kardashian is switching up her marketing tactics. She's always been one of the first ones to communicate with her fans in new ways, so sending a mystery package to Kattan is really no surprise.
Of course, there is the chance that her business accidentally sent out the product at the wrong time. That would be a slim chance, considering that Kardashian has been posting glitter-filled "#inspo" pictures for weeks now on the KKW Beauty Instagram page. Something shimmery was on the way, but no one knew that it would be two equally-as-shimmery products.
The launch of these two products will put KKW Beauty in direct competition with Kylie Cosmetics for the first time. The brand has thus far only offered a cream and powder contour kit, which her little sister has yet to create. As you probably know, Kylie Jenner is the queen of lip products. She even collabed with Kim K on a lip kit, which is available on KKW Beauty now. But duking it out with products wasn't the sisters' style — until now.
Fans are dying to know when they can get their hands on the new items. Despite the fact that no one but Kattan has actually held these items in their hands, they're still a complete hit with Kardashian fans. Everything the Kardashians touch turn into best sellers, and it looks like the glosses and shimmers are going to be no different.
As the images suggest, there's a good chance that these will be available just in time for the holidays.
That is a bold statement for someone that has yet to see all the swatches.
Some people are still in disbelief.
I'm just going to set this one right here, because it speaks for itself.
Plot twist! You kind of already know what these glosses look like.
Because no one can deny the shine.
Now that is some high shine.
Bottom line: Forget all the holiday shopping plans that you thought you had in order, because Kardashian is here to throw an extra must-have into your plans. You just never know what this family will do next — and this shimmery launch is proof.