SweeTarts Come In Gummy Form Now & It Will Break Your '90s Baby Brain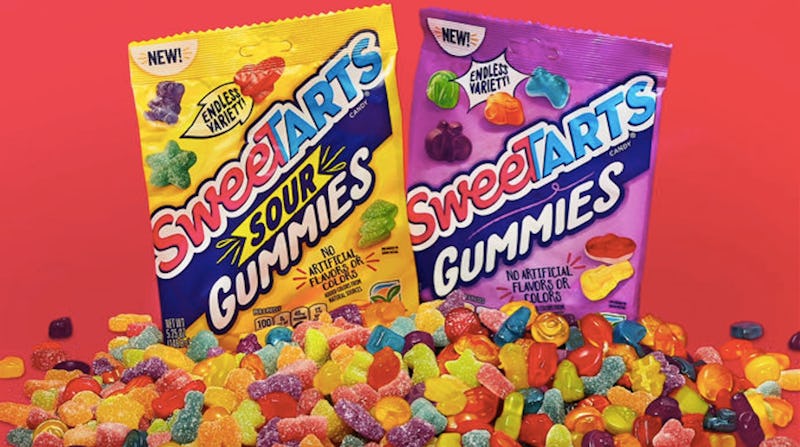 SweeTarts
You've heard of them in myth and in legend. Maybe you've dreamt about them. But, at long last, they're coming to a retailer near you. That's right: SweeTarts Gummies are here. The tangy, confusing, candy of the gods is finally being rolled out nation-wide. SweeTarts Gummies and SweeTarts Sour Gummies (which sound like the more amazing option, in my humble opinion) will both be available around the country. For those of us who knew and loved the original SweeTarts, both of these will let you get your sugar fix with a touch of nostalgia — and, from the Internet full of people who have already tried them, they're pretty effing delicious.
And it looks like you can get a pretty good bang for your buck. Both new varieties can be found in 4-oz share packs that will run you about $1.69, with 5.25-oz peg bags going for $1.99, and 10-oz stand up bags for a selling for $2.89. My mouth is puckering already — but in a good way. I think. Plus, they're GMO-free. If anybody can figure out how to ship them to the UK, please let me know.
The best news? As part of the celebration, they're having a contest that lets you pick the next shape.
"We want to add a new SweeTARTS gummy shape to the bag and we want YOU to decide what it's going to be!" the website explains. And it's really easy to join. "Register and submit your most creative shape ideas to enter the contest." From what I can see on the packaging, the candy currently comes in shapes like a bicycle, a moon, a rocket, a deformed teddy bear, an angry video game controller or a very confusing robot face — basically, I don't think it's going to take much for you to outdo the existing options. Use your imagination. They are also running a separate "Shape Your Passion" sweepstakes, which gives you a chance to win up to $10,000 or one of 100 daily prizes. You can find more information on their website.
SweeTarts Gummies have been making a splash on the internet for a while now — and it's hard to see why they haven't been released nation-wide beforehand. One Amazon review calls them "perfect little bites of happiness" and I'm in no position to argue with that. In fact, it's not even clear where these delicious nuggets have been available — or why the lucky people who have them have been hiding them from us for so long.
A quick look at their website shows that they also have some mysterious other options. There are SweeTarts Soft Bites, which sound pretty straightforward, but also SweeTarts Whipped And Tangy. Whipped what? Tangy how? Aren't all SweeTarts tangy? I have a lot of questions about what is happening down at the SweeTarts factory — and I want answers. Firstly — where is the SweeTarts factory and how to a live downwind of it? Imagine that sweet, sweet breeze.
If you can't find these treats in a store near you, it also looks like you can order them online directly from the website. But, considering that they look pretty impossible to resist, I'm not responsible for what happens next. You're an adult, you can order at your own risk. As someone with a mega sweet tooth, I can say that these look pretty risky — in the best possible way. So sugar addicts and sour lovers of America — and the blissful center of the venn diagram where those two overlap — it's time to enjoy your newest candy, the SweeTarts gummies. And please, help them come up with some better shapes. I'm having nightmares.