The Most Popular Halloween Candies By State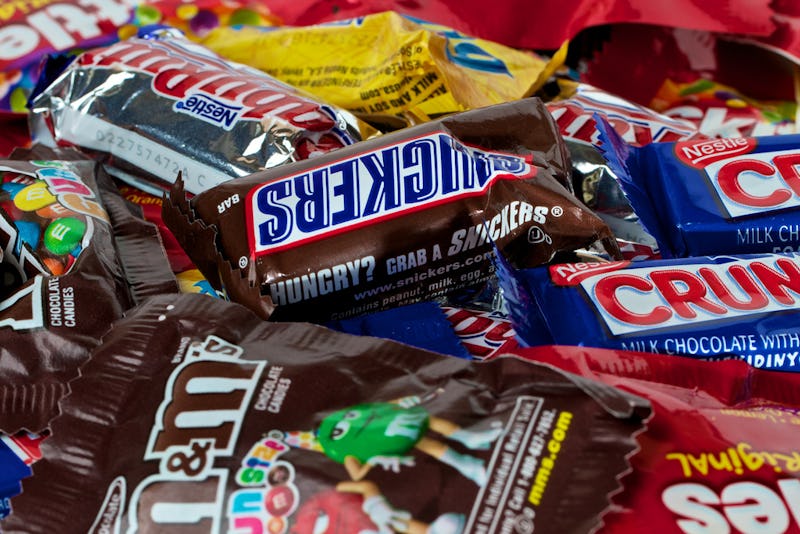 Halloween is just around the corner, and there is quite literally no better way to celebrate than finding ways to get loads and loads of delicious, sugary, colorful candy — even if you're technically "too old" to trick-or-treat. In an interesting twist, though, it turns out that the kind of candy you collect on Halloween might vary from state to state: According to Influenster, each state has a favorite Halloween candy that distinguishes it from its neighbors. So, if you live in Nevada and your state's favorite candy, the Jolly Rancher, doesn't quite make you feel jolly, head on over to bordering state Arizona, where the Toblerone might float your boat a bit more.
In order to determine which states are the fondest of which treats, Influenster surveyed 42,238 of its users in all 50 states plus the District of Columbia between Sept. 20 and Sept. 29, 2015. The average age of respondent was 28, but the data set included people of all ages — from the under-18 set all the up to the 45-and-over one. Then they assembled their findings into a nifty map, because what better way is there to represent the nation's sweet tooth? (Hint: There isn't one. It's the best. Period.)
This isn't the only seasonally-appropriate poll Influenster has carried off for Halloween this year; earlier in October, they also found out about each state's favorite Halloween costume. If you're from Pennsylvania or Minnesota you likely will want to dress up as a mermaid (or know someone from there who does) while Virginians and Texans might want to don a more spooky outfit, like a skeleton. But we all know that we dress for success on Halloween — success, of course, meaning lots of candy — and that a costume is nothing without a chocolate bar or a bag of Sour Patch Kids to complete it.
These five candies were the definite winners of the survey; they were each tops in multiple states. For more, check out the map below, and head on over to Influenster to see the complete list of each state's favorite Halloween treat.
1. Candy Corn
This Halloween classic candy is sure to remind us all of our excitable, young, trick-or-treating days — but Oregon, Wyoming, Texas, Tennessee, and South Carolina love it the most.
2. Hershey's
If you're looking for something a little more chocolatey, head to Missouri or Mississippi, where the crowd favorites are Hershey's chocolates. Surprisingly, Milton Hershey's home state, Pennsylvania, prefers Swedish Fish over the beloved chocolate maker's creation.
3. Willy Wonka Candy
If you like tart, colorful candy, your best bet is to spend Halloween in states like Utah, South Dakota, Wisconsin, or New York, where Nerds, Laffy Taffy, and Sweet Tarts reign supreme.
4. Peanut Butter Goodness
Craving some peanut butter-y goodness? If you live in Indiana, Connecticut, or Rhode Island, you're in luck because Reese's peanut butter cups are all the rage there.
5. Caramel Chocolate Candy
If caramel is your sticky sweet of choice, you might want to find your way to Iowa, Maryland, Minnesota, Iowa, Colorado or Illinois: Milky Ways, Twix, 100 Grand, and Snickers bars abound in those six locations
Whether you like caramel or peanut butter, chocolate or almonds, or the ever-controversial candy corn, one thing's for certain — Halloween is a time to suspend all candy discrimination and eat everything you possibly can. To see what your state's favorite candy is, check out Influenster's full list here.
Images: jeff_golden/Flickr; Giphy (5)