Yes, You Can Eat At The Fancy Restaurant That 'Sweetbitter' Is Based On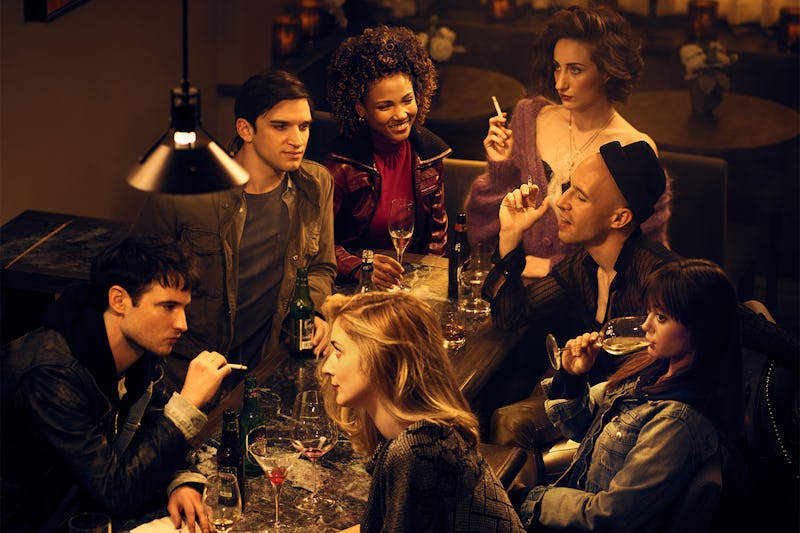 Starz
"Life happens while you wait," the tagline for the new Starz series Sweetbitter, is more than just a play on words. Based on the novel of the same name by Stephanie Danler, the show chronicles a 22 year old woman's (Ella Purnell) coming of age by virtue of working in the restaurant industry. The story is semi-autobiographical, and Sweetbitter is based on a real restaurant as well as a book. So both Tess' personal and professional struggles are based, in part, on real experiences.
According to a 2016 interview with Vanity Fair, Danler based the novel and the series on her time working at Union Square Cafe in New York City. So if you're a super fan of the series, you could technically go to the restaurant the show is based on for a meal. And if you've been there, you'll notice that the set design of the Starz series mimicks the balcony seating at the cafe. The wine list and atmosphere are similar as well. That said, the series is set 12 years ago, and the times, they have a'changed.
"Since 2006 there's been an explosion in food culture," says Danler in an interview with Bustle at a Sweetbitter press event. "We've started to put cameras in the kitchens. We've started to turn our chefs into celebrities. We've seen more and more chef exposes on restaurants and what that means is visibility for the restaurant industry — which in turn has made it very professional."
Not only does the foodie movement change how restaurants are viewed, it changes the status of the staff, and of the jobs themselves. "Now it's acceptable to go from your Ivy League school and become a bartender in Brooklyn and that's considered a valuable skill set," Danler continues. "Back in 2006 it still sort of had the stigma that maybe you had failed at doing something else."
That's a theme that runs throughout the series. Many characters are in transition. Many find themselves drawn in to that restaurant life because of it. "To have a place where you can go and be excellent at something is a seduction," says Caitlin FitzGerald, who plays Simone.
The realism of this world attracted the cast — many of whom saw themselves in their roles — to the project. "Initially what drew me to Heather was my own experiences of being the only person of color working in the front of house," says Jasmine Mathews, who plays Heather, a former law student who was living her parents' dream and whose confidence turns out to be a facade.
"I will tell you one thing," says Daniyar, the Russian actor who plays Tess' fast friend Sasha. "Before this job, I think I shrink the characters to fit me. This time, I expand myself to fit the character."
The whole cast was also trained in restaurant service by the woman who originally trained Danler at Union Square Cafe back in the day. They had real food on set. The back-of-house terms they use are real, as anyone who has ever worked at a server or knows one can tell you, from "back waiter" to "behind you." There's a real specificity to this show.
It wasn't just the main cast who went through bootcamp, either. "Everything in the background had to be believable," says Stuart Zicherman, who directed the pilot. "We had to have dedicated extras in the kitchen so behind our main kitchen people," he explains, meaning that these background actors committed to every episode — which is uncommon in television. "Those people had to get trained. How to cut with a knife. How to core something. How to flip a steak in a pan."
Watching Sweetbitter will feel familiar to those who have ever been seduced by the restaurant industry — whether they were sitting down or waiting tables. The fact that the series is based on a spot that you can visit makes it feel even more immediate and real.