Sylvester Stallone Denies Sexual Assault Allegation Involving A Minor In The '80s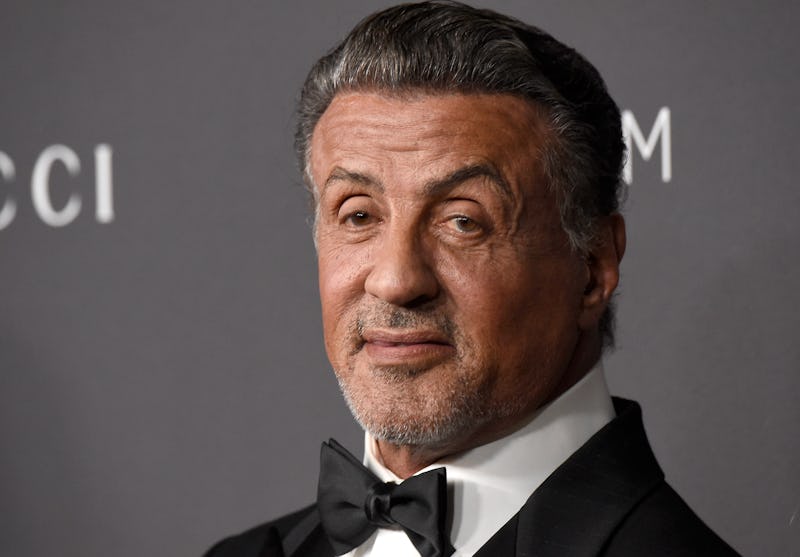 Frazer Harrison/Getty Images Entertainment/Getty Images
Another man in Hollywood is now in the spotlight for his alleged past behavior. On Thursday, Nov. 16, the Daily Mail reported that Sylvester Stallone was accused of sexual assault in 1986. The publication obtained what they claim is a police report from the Las Vegas Metropolitan Police Department, documenting the alleged incident, which reportedly included Stallone, his bodyguard, and a 16-year-old girl. Through his spokesperson Michelle Bega, Stallone denied this allegation. Bega told Bustle in a statement,
"This is a ridiculous, categorically false story.  No one was ever aware of this story until it was published today, including Mr. Stallone. At no time was Mr. Stallone ever contacted by any authorities or anyone else regarding this matter."
UPDATE: The Las Vegas Metropolitan Police Department's Office of Public Information told Bustle via email on Friday, "The LVMPD does not have any records of that event from that time period."
UPDATE #2: According to TMZ on Wednesday, Dec. 20, the accuser has reportedly filed a police report about the alleged incident and the case will reportedly be investigated. Quoting law enforcement sources, TMZ claims that police "will investigate, and present it to the D.A.'s Office to decide whether there's enough to prosecute" despite the statute of limitations having expired.
EARLIER: Bega also included a quote from Stallone himself, which said of the incident, "It never happened." Bustle reached out to Las Vegas Metropolitan Police Department for comment and verification on the circulating police report, but did not receive an immediate response.
In the alleged police report, the then-16-year-old claims she was given a key to Stallone's room at the Las Vegas Hilton Hotel by his bodyguard. Per the Daily Mail, the teen claimed she and Stallone, who was 40 at the time, allegedly got undressed and allegedly had vaginal intercourse, though the report claims, they "really didn't have sex" because he allegedly "only kept it in for a few seconds."
After that, according to the Daily Mail's report, Stallone's bodyguard, Michael De Luca, who has since passed away, came out of the bathroom and the pair allegedly forced the teen to perform oral sex on them; first with De Luca and then Stallone. The Daily Mail's police report also mentions that the teen claimed she was told she "could not tell anybody about the incident and if she did, that they would have to beat her head in." The alleged victim claimed they laughed after that, and she thought the threat was a joke.
As Huffington Post points out, this isn't the first time these allegations came to light. In February 2016, the Baltimore Post-Examiner also reportedly obtained a copy of the aforementioned police report, which included the same behavior and threat mentioned above. The alleged victim told the Baltimore Post-Examiner, "He should be ashamed of himself, what he did to me affected my life and destroyed me." She also claimed to the publication that the police report was accurate.
The Baltimore Post-Examiner reported that charges were never filed, as the age of consent in the state of Nevada is 16. They also reported the victim later told police, "I'm humiliated and ashamed. I don't want anybody else to have that happen to them, but I don't want to prosecute. I cannot talk about this anymore, please leave me alone."
According to The Hollywood Reporter, a spokesperson for the Las Vegas Metropolitan Police Department said the Daily Mail's alleged police report "appears to be" authentic in style, though there was no version of the report on file or any to compare it to. THR cites the time that passed as the reason for that.
At the time of reporting, Stallone has yet to respond to or acknowledge these allegations on his personal Twitter or Instagram accounts. He posted earlier in the day on Thursday about his daughters being last year's Golden Globes ambassadors and how proud he was as a parent.
If you or someone you know has been sexually assaulted, call the National Sexual Assault Telephone Hotline at 800-656-HOPE (4673) or visit online.rainn.org.