Taco Bell Is FINALLY Coming To London, So Here's When You Can Get Your Burrito Fix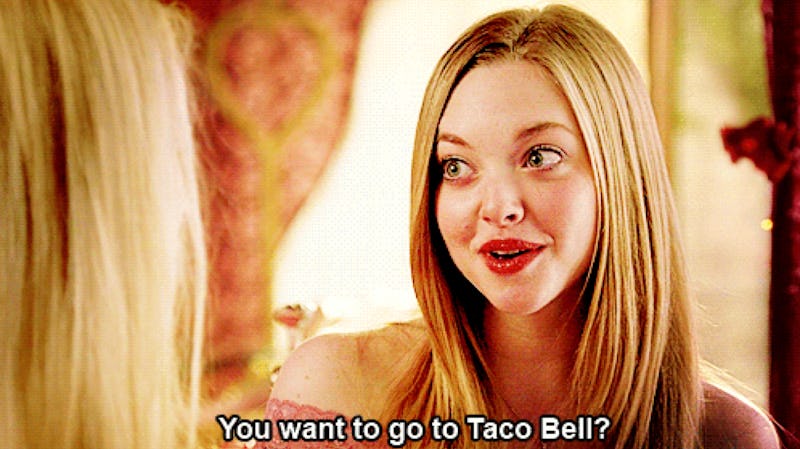 Mean Girls / Paramount Pictures
It's been a year of brilliant U.S. imports. And while I love that brands such as Drunk Elephant and Boscia have come over to us, the announcement that Taco Bell is coming to London has got me beyond excited. Yep, that's right; the legendary American fast food chain is hitting the UK capital and I've got all the details you need to know right here.
Taco Bell will be opening four new restaurants in London, in addition to its other UK units all over the country (there's already currently 27... who knew?!). They will be opening between Friday 23 November and early 2019, in the following locations:
Taco Bell Hammersmith, London – opening on Friday, Nov. 23 at 100 King Street, Hammersmith, London, W6 0QW
Taco Bell Holborn, London – opening on Friday, Nov. 30 at 75 Southampton Row, Bloomsbury, London, WC1B 4ET
Taco Bell Croydon, London – opening in early 2019 at 38 George Street, Croydon, London, CR0 1PB
Taco Bell Fulham, London – opening in early 2019 at 53 Fulham Broadway, London, SW6 1AE
As per the info above, the first restaurant to open will be in Hammersmith, where customers can queue up to enter from 10.30am on Nov. 23, 2018. The first 100 customers will receive a special Taco Bell t-shirt with their entrance number on it as well as being able to experience the very first taste of Taco Bell in London.
Discussing the new openings, Liz Williams, President of Taco Bell International, said: "We've had our sights set on London for quite some time, and as we continue growing internationally, we're excited to bring Taco Bell to one of the world's largest cities – and one of our most-requested markets."
She continued: "We've seen an overwhelmingly positive response to our U.K. restaurants, and have ambitious plans for growth in London and the broader UK, targeting more than 30 UK restaurants by the end of the year."
If you've never eaten at a Taco Bell, you can expect a range of Mexican-inspired meals, from the brand's Grilled Stuft Burrito to its trademark Crunchy Taco. All four of the restaurants will have Happy Hour and Taco Tuesdays (where you can buy a beer and a taco for just £2), as well as a 'Cravers' value menu which offers a selection of purse-friendly options.
Now that the news is public about the new branches of Taco Bell, it's fair to say people are getting pretttyyy excited.
Twitter users have especially gone mad. "Taco bell coming to london is the best news i've heard this year," wrote @_Nikhil26, while @angelszara tweeted: "omg the first taco bell in london is opening like 20 mins from my house god bless".
And Taco Bell have made sure their launch does not go unnoticed; the brand reengineered the sound of Big Ben (which is currently undergoing improvement works) using its own Taco Bell chime in London this week. Check out the video above to see what I mean. Genius.