Taco Bell's Thanksgiving Menu Has Just Been Released & It's A Thing Of True Beauty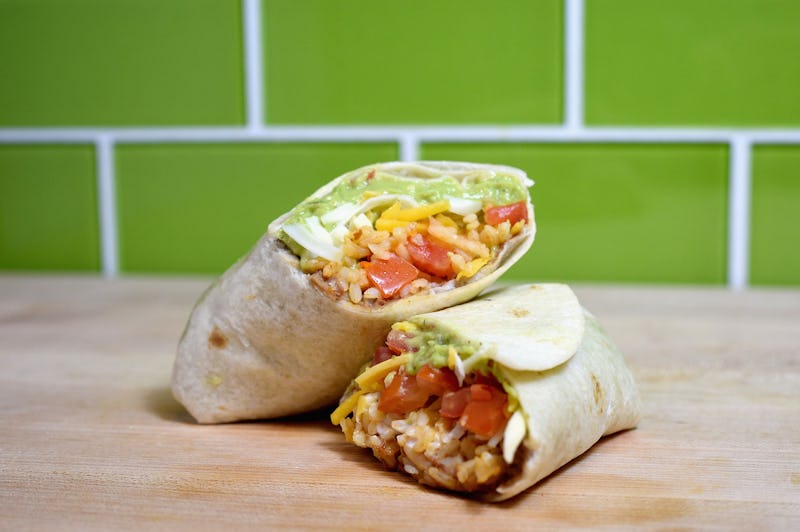 Joshua Blanchard/Getty Images Entertainment/Getty Images
Mom might have already started to boil potatoes for the annual Thanksgiving feast, so you might want to give her a call now, because you're about to get a dose of drool worthy upgrades on traditional dishes — all thanks in part to Taco Bell. That's because Taco Bell's Thanksgiving menu has just been released, and it's a thing of beauty that is totally going to inspire your own Thanksgiving celebration menu. In fact, they look so good, we all might have to sign a petition to make these items open to the public — year round.
Don't get me wrong, Thanksgiving at home — regardless of it's lack of "Gordita Bread Stuffing" — holds a dear place in all corners of my stomach. Between mom's mean candied sweet potatoes and grandma's deep dish baked mac n' cheese, I can't complain. That's why we can only be grateful that the taco chain dropped menu inspiration on us straight from an episode of Chopped. Mom might not have thought to mix crushed Cool Ranch Doritos into her mashed potatoes, but Taco Bell did. And the crunchy addition to the creamy side could make it a main stay entree in future feasts. With these menu items as public knowledge, no dinner will ever be the same.
The mix and match menu is one for story books. It's a new, refreshing take on ~the same old~. The only catch is, the Mountain Dew bathed ham will not be available for your public dining pleasure. Taco Bell HQ employees in Irvine were the lucky diners who got to experience the fusion. And, I mean, we should all be grateful for the Taco Ball staff. Remember the time we got to enjoy free Taco Bell by just showing up? I understand deep in my soul that it's tempting, but, don't quit your job and apply to work in Taco Bell's headquarters just yet. A "Pumpkin Spiced Caramel Apple Empanada" is maybe not the craziest reason I've heard to uproot your life, but it's not necessary. This menu can be used as educational material.
Your family's best chef will probably appreciate help in the kitchen while whipping up every side dish you've waited all year to decimate in a single sitting. It's the perfect opportunity to bring exciting, new flavors and techniques to the table. You'll also get an opportunity to teach the teacher and perhaps change Thanksgiving dinner for the better.
To be honest, nothing on the menu sounds too off putting. And better yet, it sounds pretty attainable. The "Autumn Pueblo Salad" constructed of "delicata squash, roasted pepitas, pomegranate and Orange Cream Pop vinigarette" could be an easily whipped up side. You can probably still find all the ingredients in stock at your local grocery store, too. What we learn here about making a plain old side salad as exciting as a Taco Bell menu item is to use roasted salty pepitas in place of boring cubes of packaged croutons.
Want to have something more tantalizing to smear onto the plush canvas of flakey biscuits? Show your gratitude for your family, your friends and Taco Bell's menu creators by whipping up a fresh batch of Jalapeno Honey Butter. You can get creative with your own knowledge of ingredients and how to make compound butters. But if you have no clue how to start, don't worry! Thankfully, and I'm sure we'll all be saying a lot of thank you's this Thanksgiving dinner, Half Baked Harvest's Jalapeno Honey Butter recipe will clue you in to all you need to know to get your dinner table popping.
There's nothing else we can express to Taco Bell except gratitude as our menus are forever transitioned for the better. Happy upgrading your Thanksgiving dinner menu!