Tamera Mowry's Birthday Post For Her Son Doubles As A Heartbreaking Tribute To Her Late Niece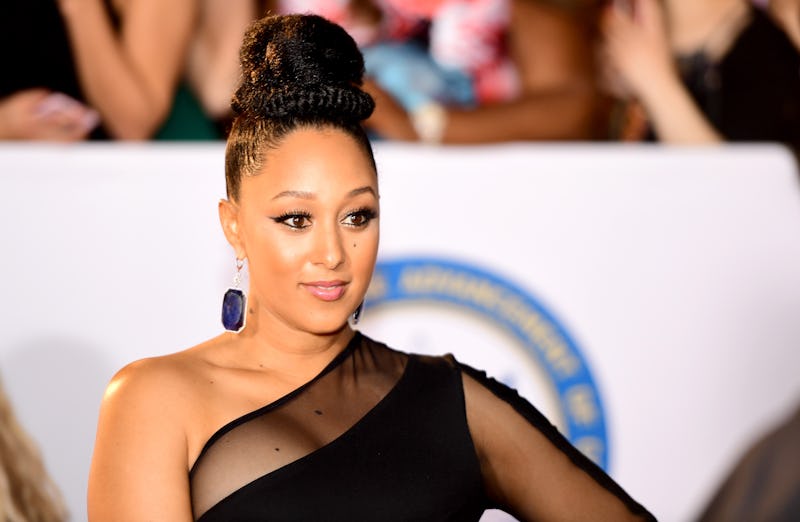 Matt Winkelmeyer/Getty Images Entertainment/Getty Images
In the wake of Alaina Housley's unexpected death during the recent Thousand Oaks shooting, Tamera Mowry-Housley paid tribute to her late niece on her son's 6th birthday, E! News reported. On Nov. 8, news broke that Alaina was one of the victims of the nightclub tragedy, and according to Mowry-Housley's Instagram post, she'd been planning on attending her young relative's party.
The star shared a heartbreaking photo of her son, Aden, smiling sweetly with Alaina, and wrote in the caption,
"Happy 6th birthday Aden! Alaina was excited to come to your birthday party. But as you said buddy, 'She lives in your heart now.' We love you."
So sweet, but so sad. Alaina was just a college freshman when she was gunned down on Nov. 7, and at 18 years old, she was the youngest of the 12 total victims, as per CBS News. Mowry-Housley and her husband, Adam Housley, confirmed their niece's death in a joint statement to People following concerns that Alaina was missing after the massacre.
The couple's statement read,
"Our hearts are broken. We just learned that our niece Alaina was one of the victims of last night's shooting at Borderline bar in Thousand Oaks. Alaina was an incredible young woman with so much life ahead of her and we are devastated that her life was cut short in this manner. We thank everyone for your prayers and ask for privacy at this time."
Mowry-Housley is currently taking some time off from appearing on The Talk to mourn her family's loss. On Monday's show, one of the star's co-hosts, Loni Love, addressed her absence and sparked a discussion about gun control.
"As you can see, our girl Tamera isn't here with us," Love told the audience, as per USA Today. "We don't even have time to grieve before the next [shooting] happens. This time it directly affected members of our family. How do you begin to process something like this?"
Adrienne Houghton, another one of Mowry-Housley's The Talk co-hosts, then asked, "What do we do, and the bigger question is why are people doing this?" Unfortunately, the answer to that hot-button issue remains to be seen for now.
Mowry-Housley and her family are likely asking the same questions following Alaina's untimely death. It seems as if the teen and her former Sister, Sister star aunt were especially close, as Mowry-Housley's recent Intsagram post marks the second post she's dedicated to celebrating her late niece's life.
On Nov. 8, the host shared a lovely picture of Alaina with her followers, and revealed that she'd known her since she was just 5 years old. "I will miss our inside jokes, us serenading at the piano," part of the caption read. "Thank you for being patient with me learning how to braid your hair, and I will never forget our duet singing the national anthem at Napa's soccer game."
The shooting at Borderline Bar & Grill was truly an unspeakable tragedy. This is an undoubtedly difficult time for everyone involved, but Mowry-Housley's tribute to her late niece proves that Alaina — along with the 11 other victims of the massacre — will live on forever in their loved ones' hearts.