Tammy Duckworth Just Became The First Senator EVER To Give Birth While In Office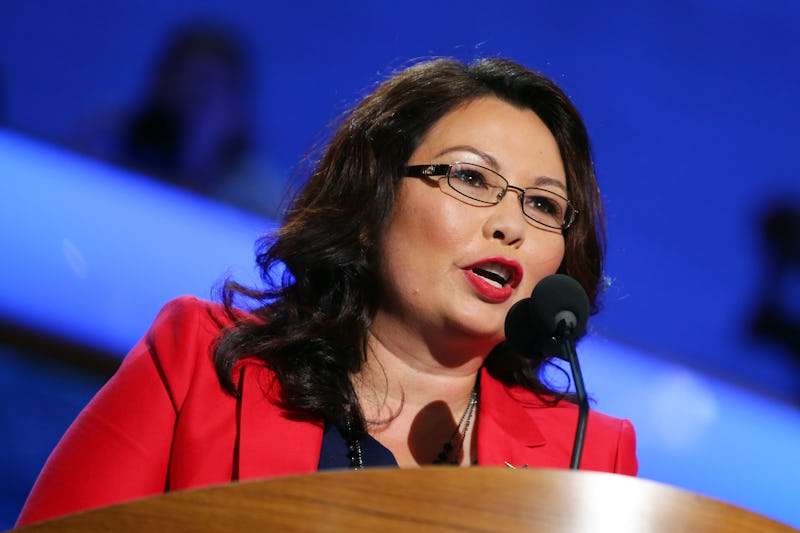 Joe Raedle/Getty Images News/Getty Images
It's a girl! On Monday, Sen. Tammy Duckworth gave birth, making her the first senator to ever give birth while serving in Congress. It's her second daughter — she had her first in 2014 — and now Maile Pearl is the newest member of the family, joining her big sister, Abigail O'kalani.
Maile Pearl was named after Duckworth's husband's great aunt, Pearl Bowlsbey Johnson. The elder Pearl was an Army officer and a nurse who served during World War II, and the Democratic senator's husband used to spend his summers with her, Duckworth explained on Twitter.
"We feel her presence still and are grateful for her service to our nation during the most challenging of times," she tweeted on Monday. "We're also so grateful for the love and support of our friends and family, as well as our wonderful medical teams for everything they've done to help us in our decades-long journey to complete our family."
Former Sen. Daniel Akaka (D-HI), who died three days ago, blessed Maile Pearl's name before he died. Duckworth wrote in her post that "his help in naming both of our daughters means he will always be with us."
Before Maile Pearl's arrival, Duckworth told Politico's Women Rule podcast in February that she plans to keep working because she wouldn't be allowed to vote or sponsor legislation for a full three-months if she actually took maternity leave. But she also used the opportunity to called out the Senate's policies surrounding children for making it challenging for new moms to continue working.
As she explained, the current rules prevent her from bringing her newborn daughter to work. "You are not allowed to bring children onto the floor of the Senate at all," she told Women Rule. "If I have to vote, and I'm breastfeeding my child, especially during my maternity leave period, what do I do? Leave her sitting outside?"
Because she's the first sitting senator to give birth, no one personally needed to examine the protocols before. Now that it's personal, Duckworth wants to update the rules.
Duckworth announced her second pregnancy in January by tweeting out an adorable illustration of rubber ducks that said: "Duck, duck, duck... duckling!" She told The Chicago Sun Times at the time that being a mom does the opposite of detract from her work — it motivates her to continue serving her country.
"As tough as it's been to juggle motherhood and the demands of being in the House and now the Senate, it's made me more committed to doing this job," she said.
In a statement released on Monday, Duckworth again addressed how she plans to continue advocating for parents and families, explaining that the issues parents face affect both men and women:
Parenthood isn't just a women's issue, it's an economic issue and one that affects all parents — men and women alike. As tough as juggling the demands of motherhood and being a Senator can be, I'm hardly alone or unique as a working parent, and my children only make me more committed to doing my job and standing up for hardworking families everywhere.
Following the birth of her first daughter, who's now 3 years old, Duckworth fought to broaden military members' paid parental leave and expand child care on college campuses. She's made it clear that she intends to persist in trying to make working parents' lives easier.
Duckworth's Senate colleagues threw her a baby shower at the Capitol on March 20, The Chicago Sun Times reports. Both Democrats and Republicans were in attendance. As of Monday, Duckworth joins the ranks of nine other women who have given birth while serving in Congress, though the other members served in the House.