Tampax Just Launched Their Own Menstrual Cup & Here's How It Works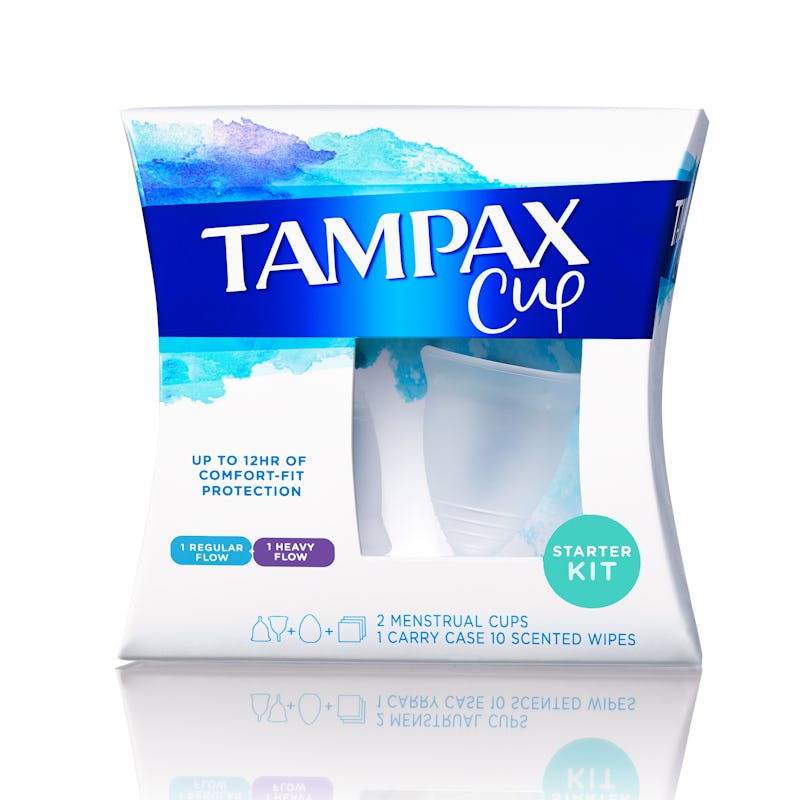 Courtesy of Tampax
If you've been curious about trying a menstrual cup, but haven't yet made the switch, you'll be glad to know that there's a new option for you. Tampax just launched a new menstrual cup, and it's designed to be effective while also as comfortable as possible. Because you definitely don't need leaks, slips, or any extra discomfort during your period. According to a press release sent to Bustle, in order to develop the new cup, Tampax took a deep dive into over 80 years of in-house research and consulted with gynecologists to create the best cup possible.
"For years I've heard from my patients about how they want to try menstrual cups, but the options available just don't meet their needs — they didn't feel secure, [they] put pressure on their bladders, or were just simply uncomfortable to wear," OBGYN and Tampax co-developer Dr. Megan Kessler said in the press release. Dr. Kessler also said that, in partnering with Tampax, she was able to help leverage the brand's vast resources in order to design a superior product. "Based on our research together, including multiple consumer-use tests, clinical tests, MRI imaging, and real-life tests … we were able to understand how the smallest details can make a huge difference in the cup's design and experience," Dr. Kessler said.
SheKnows reports that the new Tampax menstrual cup is the first reusable product launched by the brand. Senior scientist at Tampax, Rebecca Stoebe-Latham, told SheKnows that the new cup was in the works for a full two years. Stoebe, a biomedical engineer, also said that while the new cup looks similar to other menstrual cups on the market, there are two important differences: The new cup is shorter, while also designed in more of a v-shape, than other cups currently available are.
"Comparing the vaginal canal length to a lot of the cups that are currently on the market, they're way too long. The highest concentration of nerves is in the bottom third of the vagina, so if you have a cup that's too long, it's going to be uncomfortable the entire time you're wearing it," Stoebe-Latham said.
A rep for Tampax tells Bustle via email that the new period cup is also designed to fit securely — no slipping — while also not putting added pressure on your bladder. The Tampax menstrual cup is also made of 100 percent reusable medical-grade silicone, contains no dyes, latex, or BPA, and offers up to 12 hours of protection. You can also get a cup for both regular and heavy flows, and removal is easy with the extra grips feature. The cup, which is $39.99 at Target, comes equipped with a carrying case for travel, and you can also grab a starter kit to see which size cup works best for you at different times during your menstrual cycle.
While Tampax is hardly the first brand to develop a menstrual cup — they've been around for decades from a variety of brands — this is the first period cup from a major player in the period space to hit store shelves. (Which, if you've ever tried to buy a menstrual cup at your local drugstore, you know is kind of a big deal.) Though this new product likely won't propel everyone to sign up for the menstrual cup all at once, there's certainly never been a better time to try one.