Tanya Burr On Acting, Reese Witherspoon, & Why Therapy Is So "Life-Changing"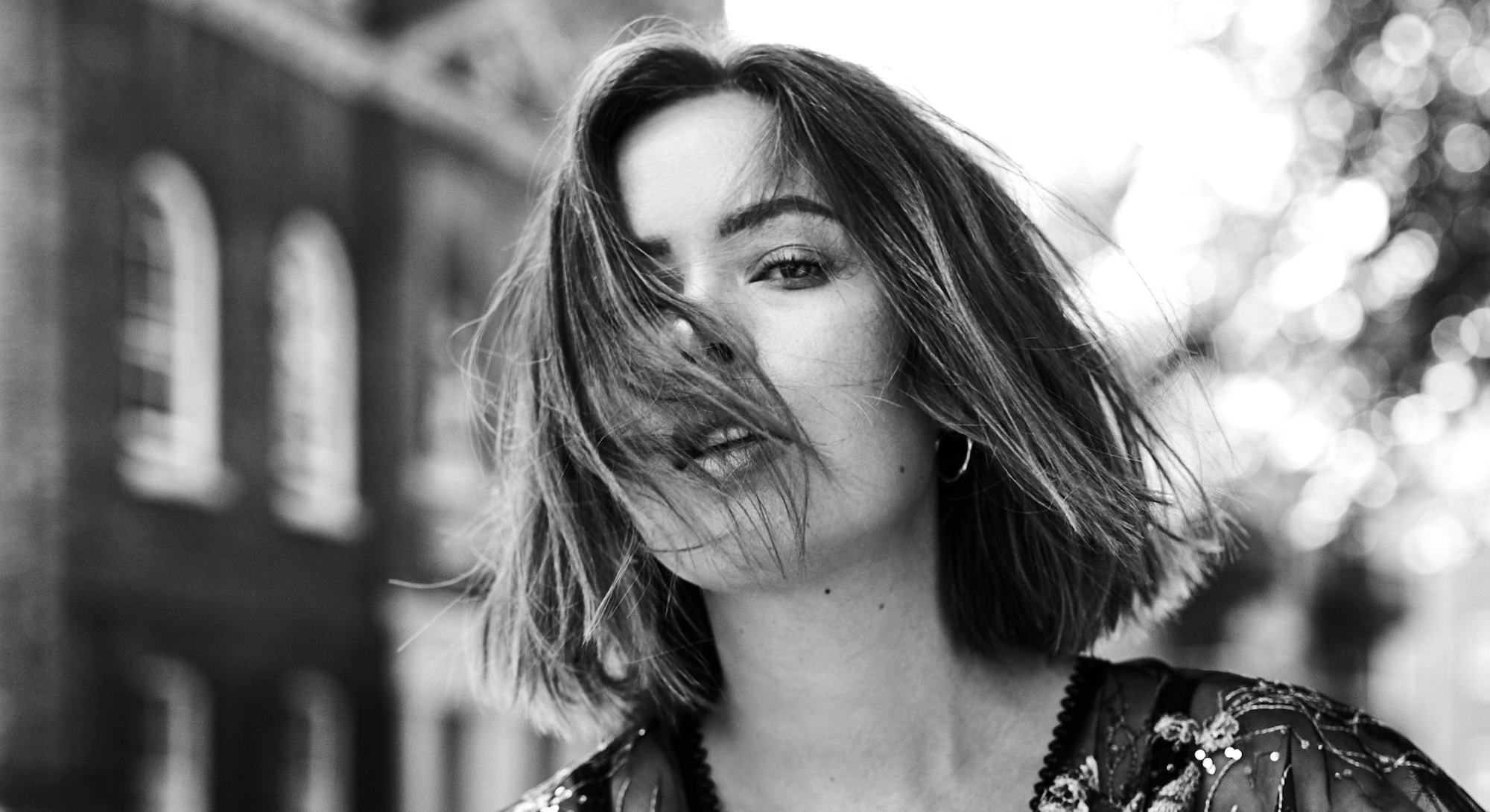 Rachell Smith
One of the things that's most striking about actress Tanya Burr is her sheer determination — her force of will. It radiates from her. It's fierce, refreshing, and totally without arrogance. Thanks to the openness with which she discusses the challenges in her life, she's also incredibly relatable, which probably goes some way to explaining her 3.6 million YouTube subscribers and 3.1 million Instagram followers. She's taken her fans with her on a journey from being a Norwich based vlogger to an actress living in London with her husband, presenter and writer Jim Chapman, and their interest in her life shows no signs of abating.
Burr's rise to prominence is a quintessentially 21st century tale. She started out working behind a makeup counter and producing YouTube tutorials on the side. Her videos took off, and by 2012 the Daily Mail reports she was amassing 2 million visits a month. Today, she works as an actress, sits front row at Dior, and uses her platform to support causes like Amika George's Free Periods campaign, who's December 2017 protest she spoke at with Scarlett Curtis and Adwoa Aboah. With a recent role in Sky drama Bulletproof, and with upcoming gigs in British Indie picture Hurt By Paradise and horror film Cassette, I caught up with Burr after what she called "one of the best summers in my whole life" to talk acting, the genius of Reese Witherspoon, and taking care of your mental health.
Charlotte Owen: You recently made your stage debut in London. How was that?
Tanya Burr: I played Ella in Rob Drummer's revival of Confidence. It's a '90s play. It was really gritty and honest and thought-provoking. I honestly had the best time of my life rehearsing and performing, and I just wish that I could do it all over again really. There were so many things that were challenging about it. Even just in learning that many lines. I think there were 120 pages or something.
That was a lot of dialogue to learn and during the rehearsal period it felt like, "oh my god, are we ever all going to learn our lines?" We had our stage manager sitting us down and making us run lines together, and then she would shout at us because we got it wrong. It was like being back at school, but it was such an amazing experience. I made friends for life during that play.
CO: Having the support of your colleague is so important at moments like that. I find the same in the office when you're all in it together.
TB: It was just so lovely being in the company, in the theatre. It's so different to being in a film or a TV show, particularly because the stuff that I've done for film and TV shows so far, were smaller parts, and so you're there for a few days instead of being there for two months together. As hard as the intensity was, it was also my favourite thing.
Rachell Smith
Rachell Smith
CO: Did you find your character evolved as the play went on?
TB: Oh my god, 100 percent. I wish that everyone who saw it on the first night could have seen it on the last night. There were quite a few people who came on the first night who also came on the last night, and everyone said that on 16th June, which was our final night, "this play has just come on so far."
We were all pretty new actors, and I felt we all just found our groove and took a few risks with it, pushing it that little bit further. By the end of the run I was so happy with it, but everyone important who had come to see it at the beginning of the run and that's the most annoying thing about doing it (laughs).
CO: Talking of TV, what would be your dream show to act in?
TB: One of my favourite TV shows was The Night Manager. It had an amazing production value, amazing story, amazing cast, and it was shot beautifully. I think every actor obviously wants to be in something which they think is incredible. So that and The Night Of. Did you watch that?
CO: No, I didn't see that. I'm going to write it down.
TB: It's amazing. I think it was on Sky. I watched that recently and I would have loved to have been a part of that. There weren't very many female characters in it though.
CO: Do you have an acting idol who's career you'd like to emulate?
TB: My acting idols always vary, but I've always really liked Samuel L. Jackson. I just love him because you can tell how hard he has worked in his career to get what he wants, and how much he's pushed. He's gone through some really, really tough times and then acting has helped bring him out of those dark places. He's also managed to have this longevity in his career and that is what I really aspire to. One of my favourite films is Pulp Fiction. It was one of the initial things that made me think, "I just want to act."
Then I also like Reese Witherspoon. She's really reinvented herself, hasn't she? I really admire her for creating her own work and starting her own production company. The industry is so tough.
CO: I agree. I also think it's also amazing that she's shone a light on some incredible authors because of her production company. She's supporting the whole eco system of female creativity.
TB: 100 percent. I read Big Little Lies, this was years ago, and when I had read that it seemed like it could be a chick flick, but then Reese Witherspoon took it and said, listen: people need to hear this because this is a really important story from a female about females. It also just portrayed an incredible diverse mix of female characters that were so multi-dimensional instead of them being the annoying wife or something.
Rachell Smith
Rachell Smith
CO: It's clear from following you that you have some friends who are in the public eye and others who aren't. Do you find it valuable to have that mix?
TB: Most of my friends have been my friends for so many years that we've all kind of grown up with me being in the public eye and they get it. I'm very lucky that they do understand the world that I'm in, but also I try not focus on that.
CO: I know you've spoken about struggling with anxiety when you were younger. I find my own mental health a constant exercise in self management — is it something you still feel you have to manage today?
TB: I had pretty bad anxiety from the age of 13 to my early twenties and that what was when I started seeing a therapist. And for me, therapy was completely life-changing. After sticking at it for about five years. I just feel like a completely different person and I agree with you, it is something you do have to keep on top of.
My biggest advice is to tell someone how you feeling and not be ashamed and know you're not alone. Because to me that was toughest thing growing up. I didn't realise that anyone else felt how I did.
CO: It's so important to have friends that understand that sometimes if you say, "I can't come to this, I'm so sorry," you just need that space.
TB: It's so, so important. I had friends that did and some that didn't when I was at school. And that was definitely my toughest time of being a teenager. I just think everyone should try therapy. It's the most life-changing thing.
CO: I think it just also removes this pressure — people can be like, "when are you going to be fixed?" — and therapy teaches you it's actually an ongoing process of making sure you continue to be in a good place.
TB: Yeah. I totally want to raise awareness about mental health and my experiences, but then sometimes when I talk about it I'll be like, "it's so fine now, life is so great," and then literally the next day I will have a big bout of feeling awful for a whole day.
CO: It's important not to put pressure on yourself to never have those days because when you do, that's when they come. But I feel like as I get older those days are easier to manage somehow. And you also live with the knowledge that it's going to pass because it's passed before.
TB: Well, it's like my therapist said, no mind state is ever permanent. And that is such a good thing to hear when you in a bad state. You can be on top of the world having the best day ever, but you can't put pressure on yourself to stay like that. You're up and down and you can have ten different mind states before breakfast. I just have to breathe through them and acknowledge how I'm feeling and be like "OK, I'm just not going have any big thoughts today and I'm just going to deal with it all when I feel better."
🔥 Quick Fire 🔥
Destinations 🌍 "I actually miss New York, when I'm not there which is most of the time. I stay at this hotel called Escencia in Tulum, Mexico, and honestly, it's just like, a total dream. LA, I also love, and Ibiza."
Reading 📚 "I just started Snap by Belinda Bauer. I read 63 pages in one night so that must mean it's quite entertaining."
Wearing 💃 "I love Dior. They really wanted to support me at the beginning of my acting career — it's a dream come true to wear their clothes."
Watching 🎥 "I watched the whole of Season 2 of Atypical (Neflix) in one day. I'm also watching Bodyguard (BBC) and Vanity Fair (ITV)."
Top Tip 📸 "My biggest tip for being in front of the camera is to keep moving. I find that if you stand too still and get really nervous and try and hold a pose, it never goes well."
Secret Habit 🤫"I sleep with my make-up on far too much. Last night we had friends over and we were like having Dominos. It was just midnight when they left, but if it gets to midnight I just crawl into bed and fall asleep."
This interview was edited and condensed for clarity.