Target Just Dropped Hundreds Of New Easy Meal Options For As Low As $2.99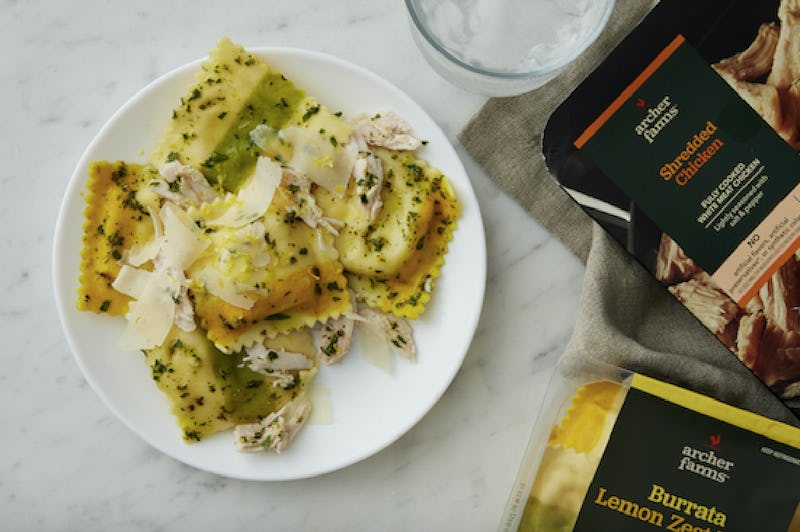 Target
Not all generic store brands are worth it, but I will defend Target's Archer Farms line with my dying breath — and that's doubly true in light of the new easy meal items from Archer Farms that Target just launched. Ranging in price from $2.99 to $8.99, they're affordable, well-rounded options you can mix and match to put together a quick meal — and, most importantly, they all sound absolutely delicious. Bless you, Archer Farms. Bless your tasty, life-simplifying little heart.
I love cooking. I do. I am a meal prepper; I plan each week's dinners and lunches before making my grocery list and shop accordingly; and generally speaking, making a meal and then devouring that meal are activities I enjoy immensely. Sometimes, though, life happens, leaving me with neither the time nor the energy to go full Gordon Ramsey. Since I still need to, y'know, eat when that happens, I find it helps to keep a few prepped things around so I can still throw together a complete meal without needing to do much more than open a couple of packages and throw a few things in the microwave or into a pan.
That's the market the new Archer Farms items aim to fill — and if the meal plans suggested in a blog post on the company's website that incorporate the new items are anything to go by, it's going to accomplish that goal with aplomb.
The new line encompasses 100 offerings ranging from meats and pastas to salads, soups, and sides which can be combined to create more elaborate meals or simply eaten on their own. They're all ready-to-heat, so the most you'll have to do to make them is throw them in a pot of boiling water — and in many cases, you won't even have to do that: A lot of them just go right in the microwave and come out done a few minutes later. Best of all, they're all under $9, with some options even running a low as $3.
This isn't the first time Target has offered a grocery line geared towards providing fast and easy meal solutions; as Progressive Grocer notes, the Archer Farms Mix & Match Meals line debuted in 2014, offering a color-coded system that reportedly yielded 500 different meal combinations. The Mix & Match Meals line seems to have been discontinued, however; it's no longer available on Target's website. The new release may be a different attempt to fill the niche previously filled by Mix & Match Meals.
Here's a look at just a few of the new items; be on the lookout for them at your local Target.
1. Archer Farms Pulled Pork in Original BBQ Sauce
2. Archer Farms Yukon Gold Mashed Potatoes
3. Archer Farms Pork Carnitas
4. Archer Farms Mexican Street Corn Salad
5. Archer Farms Burrata Lemon Zest Herb Ravioli
6. Archer Farms Creamed Spinach and Kale
7. Archer Farms Apple Pecan Quinoa Salad
8. Archer Farms Vegetarian Pumpkin Bisque
9. Archer Farms Shredded Chicken
Check out more from Archer Farms online here — and be sure to look for the new options the next time you stop by your friendly neighborhood Target.