Target Has Its Own Version Of Halo Top Now & One Of The Flavors Has Mini Donuts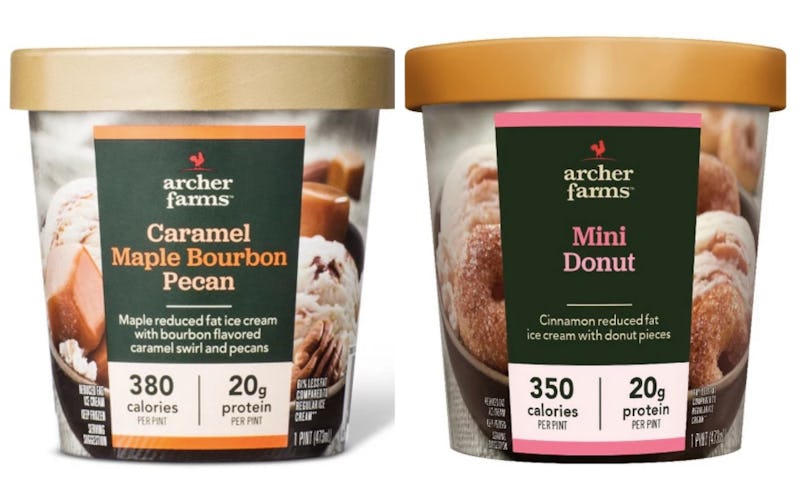 Target
Yet another item has been released into the world that Target shoppers will end up buying when they only went to the store for toilet paper, dang it! As pointed out by food news Instagram Candy Hunting, Target now has its own Halo Top-esque ice cream from in-house brand Archer Farms. There are six flavors (so far), and they aren't just your usual chocolate and vanilla.
As shown on the Target website, the new ice cream comes in Cookie Dough, Chocolate Pecan Pie, Caramel Maple Bourbon Pecan (lot going on there), Mini Donut, Chocolate Peanut Butter, and Mint Cookies & Cream. Obviously, the most intriguing of these is Mini Donut, which, while I know it's ice cream, makes me think it will be a container of cereal-sized doughnuts. Not the case. Mini Donut is "cinnamon reduced-fat ice cream with donut pieces."
It should go without saying, but before anyone gets any ideas, the new ice creams are available in-store only (no, sadly, you can not get these delivered to your home), and they're on sale now.
Like Halo Top, the new Target ice creams are low calorie and high-protein; each pint of the Archer Farms ice cream has between 20 and 22 grams of protein. Target also sells Halo Top, so there will be plenty of flavor options for anyone looking to check out this non-traditional version of ice cream. But, while Halo Top offers non-dairy selections, too, at this point, Archer Farms only has dairy ice cream. Maybe if these are successful (and it seems impossible for them to not be), the brand will expand into new territory.
The Archer Farms ice cream is not the only big ice cream news to come out of Target this year. In March, Target's Market Pantry brand released an ice cream called Unicorn Magic, and what its name lacks in descriptiveness, it makes up for with actual glitter. Candy Hunting described it as having "a pink fruity base with a sour blue raspberry swirl, a frosting swirl, and glitter candy bits." So, yeah, it sounds unicorn-y, if also incredibly painful for your teeth and best suited for a five-year-old. Market Pantry is also behind other creative flavors like Monster Cookie, Caramel Waffle Cone, Coco Choco Nut (coconut-flavored ice cream with chocolate and almonds), and Cherry Chocolaty Cake.
And with this being Target, the store that has everything, that's not all. On Sunday, July 8, Target also debuted Museum of Ice Cream ice cream as part of a larger partnership between the store and the museum. As explained in an announcement from May, Target is selling seven flavors, with five of them being brand new:
Target is the first retailer to sell the premium flavors, which include five new flavors — Nana Banana, Cherrylicious, Chocolate Crush, Churro Churro and Vanillionaire — as well as Museum of Ice Cream's classic flavors, Piñata and Sprinkle Pool.
The Museum of Ice Cream basically exists to be posted on Instagram, so of course packaging of the ice cream is super cute and could even end up inspiring the creation of a churro emoji. The Target and Museum of Ice Cream collaboration also includes a line of pastel-colored kids' clothes and accessories, and a pop-up shop in New York City called The Pint Shop.
So, if you want to beat the summer heat with some ice cream and risk spending $200 when you meant to spend $20, the time to go to Target is now. Whether you want unicorn ice cream, Museum of Ice Cream Instagram-able ice cream, or to see what Mini Donut is really like, they've got you covered.