Target's Lisa Frank Pajama Collection Is A '90s Kid's Dream Come True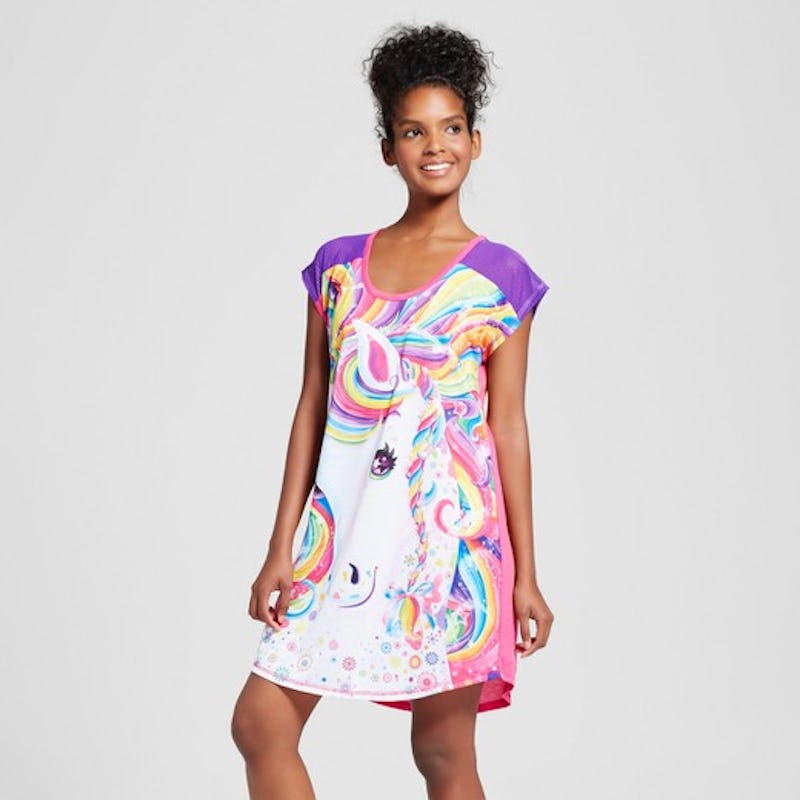 Lisa Frank
Long before people were obsessing over Vetements, Gucci, and Céline, there was one brand that reigned supreme: the psychedelic designs of Lisa Frank. 2017 has heard your prayers, because now, Target's Lisa Frank pajama collection now exists. I'll give you a moment to collect yourself after that major announcement.
If you grew up in the '90s or early 2000s, Lisa Frank was your homegirl, toted around with you plastered on your Trapper Keeper or on every single one of your pencils and pens. Remember Panda Painter? That character was definitely a favorite of pre-teens everywhere.
The pajama line features sleepwear in all sorts of prints — from dolphins to unicorns to puckered lips — and ranges from $6-$20. Thank you, Target, for affordable and cute options.
Whether you're looking for a full pajama set or just a long shirt to sleep in, this collection has it all, including more size options. Half of the pajama sets are plus-size, according to HelloGiggles, so sizes range from XS to 2X.
And, if you're in a major rush to get your hands on these but can't make it to the store, express shipping can get you these items by Wednesday, July 26, thanks to express shipping. On your mark, get set, go! Cause these aren't going to stay on shelves for very long.
Women's Lisa Frank Sleep Shirt, $6, Target
10 of these, please.
Women's Plus Size Lisa Frank Sleep Shirt, $17, Target
Swimming dolphins? Who wouldn't love this shirt?
Women's Lisa Frank Tee & Shorts Pajama Set, $18, Target
How could these rainbows not cheer you up?
Women's Plus Size Lisa Frank Tee & Shorts Pajama Set, $20, Target
Definitely reminiscent of the Trapper Keeper days.
Women's Plus Size Lisa Frank Sleep Shirt, $17, Target
Can these designs actually boost your endorphins? All signs point to yes...
Be honest...How many of these tees do you have in your cart right now? One for Monday, Tuesday, Wednesday, Thursday, Friday....well, you get it.
But honestly, with the rise of nostalgic fashion — from brands like Calvin Klein, Juicy Couture, and Moschino — it wouldn't be surprising to see people wearing these pieces of sleepwear as day or nighttime wear. Hey, pop on some leggings under these t-shirts and you've got a full outfit.
Just make sure that when you put these on before bed, you pop in an equally-nostalgic VHS tape — say Toy Story, Clueless, Home Alone, or 10 Things I Hate About You — and invite your besties over for the ultimate sleepover.