Target Is Selling Ready-To-Make Cookie & Brownie Skillets For Under $10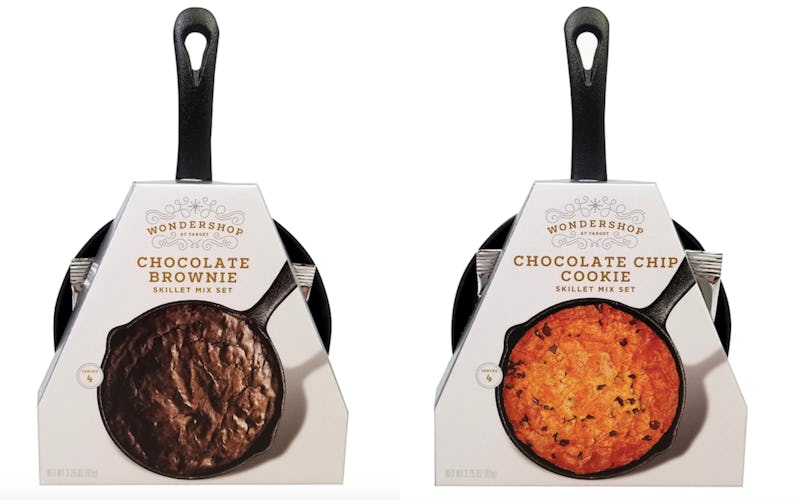 Target, Remixed by Bustle
After Halloween ends the holiday season officially begins; it is the rules. Though the spookiest day of the year may get all the glory for sweet treats, keep in mind the holiday season brings something equally, if not more indulgent than candy. Holiday cookies aren't just for Santa — you also deserve a warm baked treat to pair with your carols and eggnog. But baking good cookies can be a long, drawn-out process; thankfully, Target just launched cookie and brownie skillets to so you can treat yourself — and all the people on your list — simply, quickly, and inexpensively.
The skillet desserts are part of a new line from Target being released in November, just in time for the holidays. They come in two forms: the Chocolate Brownie, and the Chocolate Chip Cookie, both of which come complete with a reusable dessert skillet and a pre-made mix that's enough to serve four (which sounds like a challenge if there ever were one). They're part of the Wondershop line, which are super gift-worthy desserts that come in adorable packaging. These clock in at $9.99 each — a true deal considering you can whip up your own batters at home and reuse the mini skillets they come with for infinite desserts.
The Wondershop gift sets make a perfect gift for your friends or pantry staple for yourself. The skillet desserts alone are tempting enough, but there is a whole slew of other products in the line. If skillet desserts aren't your thing (why not?!), don't worry — there are plenty other cookies you can treat yourself to. For those who like to craft cookies, you can grab either a Footie Pajama Cookie Decoration Kit or an Ugly Sweater Cookie Kit, both of which retail for $6.99. You can also get either a Deluxe Gingerbread House Kit or a Pre-Built Gingerbread House with Icing, both of which will retail for $9.99. (Whether or not you'll actually construct them before indulging is up to you.)
But skillet desserts are all the rage, and unlike many viral foods, these took off because of their deliciousness more than their aesthetics. By baking something in a skillet, the dessert maintains its ooey gooeyness and becomes the kind of sweet treat you dig into with a spoon. In the past if you've struggled to find one, or have been too intimidated to make one yourself, use this to fill the skillet dessert-shaped void that undoubtedly exists in your heart and stomach.
And hey, if you need any inspo for what to put in the skillet after you're done with the first round of premade mix, you have plenty of options — Target has more cookie dough, both premade and in mixes, then even people with a notorious sweet tooth will know what to do with. And odds are holiday flavors are going to be in aisles soon, so keep your eyes peeled and your skillets ready.
With such a wide variety of choices, now all you need to worry about is making up your mind. Best of all, everything mentioned above is affordable as heck, so you don't have to worry about breaking the bank when playing Santa.