M&M's Just Launched A HOT COCOA Flavor — Here's Where You Can Find It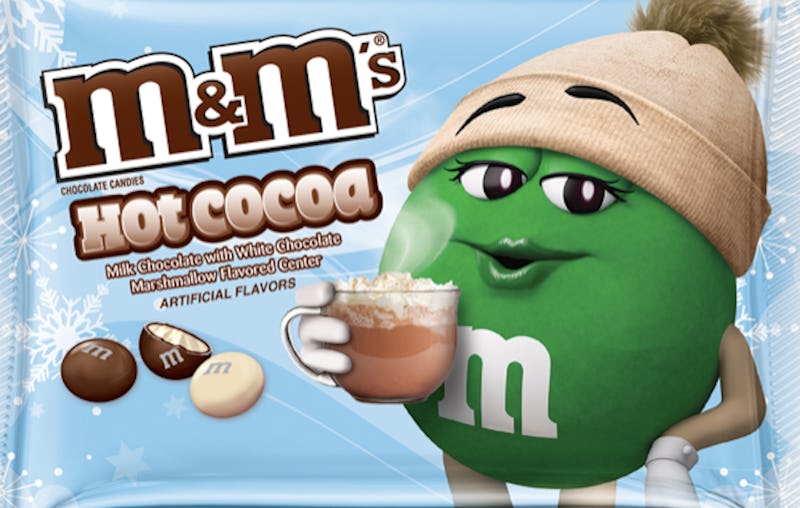 Courtesy of Target
It's been a delicious year to be a fan of M&M's (and, also, a terrifying year to be someone sitting next to me watching me inhale them in movie theaters). The iconic candy rolled out three new "crunchy" flavors for a contest to see which would get to stay on shelves, which included M&M Crunchy Raspberry, M&M Crunchy Espresso, and M&M Crunchy Mint. Ultimately, Crunchy Mint took the prize in August; but as it turns out, we're getting gifted with yet another new flavor this holiday season, in the form of the Hot Cocoa M&M's recently announced as part of Target's exclusive 2018 holiday candy lineup.
These M&M's aren't just remarkable because they're brand spanking new and only available in one place — they're also an interesting departure from the typical M&M flavor varieties. This M&M will be milk chocolate-based on the outside, but filled with a white chocolate marshmallow-flavored center, giving it that distinctive "hot cocoa" taste. Rather than multicolor, the candies will be marshmallow and chocolate-colored on the outside. The new flavor will hit shelves in Target as early as mid-November, so keep your eyes peeled — seeing as everyone's favorite M&M, the green one (FIGHT ME), is repping this new flavor, it shouldn't be all that hard to spot.
The Hot Cocoa M&M's are far from the only holiday candy coming exclusively to Target stores this year. Also headed to shelves is a new Ghirardelli Toffee Cookie Crunch, which features milk chocolate with caramelized cookie bits on the inside (and seems to be the perfect size to fit in my stocking, JUST SAYIN').
Another new exclusive launch will make the Snickerdoodle fans in your life drool — Lindt has a new white chocolate-based Snickerdoodle Truffle flavor launching exclusively at Target this year as well.
But if you're looking to keep the hot cocoa-flavored good times rolling, Target has you covered in that department, too; another exclusive hitting the chain this holiday season is Dove's new Milk Chocolate Hot Cocoa flavor, which, similar to the M&M's, features a milk chocolate outside and a marshmallow-flavored center.
And also new to shelves (but not exclusively) are Hershey's Hot Cocoa Kisses, which — plot twist! — also feature milk chocolate with marshmallow filling. Truly, it seems as if the candy gauntlet has been laid down for 2018: your mission is to try every single one of the hot cocoa-flavored candies and report back on which is up to the seasonal snuff.
As for returning exclusive candies, Reese's Santa's Helpers will also be coming back to Target's shelves; revel in them now, friends, because in 2019 Reese's is reportedly releasing a "thin" version of the iconic candy, so who even knows what else the future has in store?
In the meantime, if you have a hankering for any of these candies, be sure to check the aisles of your local Target as the holiday and limited time offerings start to roll out to shelves; might as well have something delicious to snack on as you accidentally put all your life savings into a red cart again!