Target's Harry Potter Sock Advent Calendars Are BACK & Some Are Already Sold Out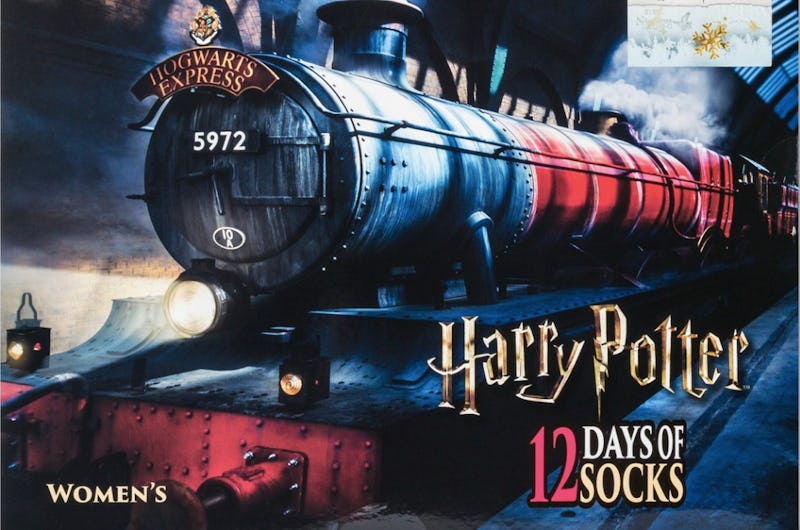 Target
Perhaps you, too, are still slightly scarred for life from the absolute mayhem of attempting to get yourself a sock advent calendar at Target last year. After all, they come in all the glorious nerdy forms — I'm talking Marvel, Disney, Harry Potter, Star Wars, and even Game of Thrones. Well, you're about to find yourself ankle-deep in a Game of Socks if you don't move quickly, because Target brought back all of its sock advent calendars and then some — and you can buy them all online with free shipping, y'all.
A bit of warning, though: even though at the time of publishing they are all in stock, at the time of publishing there are also approximately one bajillion options at your disposal. It's going to make the decision process difficult, to say the least. Since they've only been out for a day and BuzzFeed hasn't yet turned around a "Tell Us Your Favorite In-Flight Snacks And We'll Tell You What Target Sock Advent Calendar To Get" quiz yet, you'll have to rely on your own gut for this adventure — or do what I'm about to do, which is close my eyes, apologize to the Gringotts goblin in charge of my bank account, and recklessly purchase more socks than my feet could ever fathom.
Brace yourselves. The socks are coming.
Star Wars
I do not believe in spoiling sock advent calendars, BUT to leave you with some incentive, one of them definitely has Han and Leia on them saying an iconic line that ~I know~ you know.
Marvel
Y'ALL, I am a Marvel fan and hard to impress, but these are the perfect mix of cute and kickass. And your faves Black Panther and Spider-Man are definitely repped. (OK, my faves, but you should get on board with my Marvel opinions because they are the right ones to have.)
Harry Potter
Honesty hour, there are MULTIPLE Harry Potter sock advent calendars on Target's website right now. Some are already sold out. Make like a Seeker and snag one while you still can.
Game of Thrones
One of these socks says "A Girl Has No Name" on it, and if that's not enough to motivate you to buy this advent calendar, then I am truly at a loss.
Target has a slew of other sock advent calendar options on its website right now, including a Mickey Mouse one, several other Harry Potter varieties (some of which are sold out!), and more general, non-fandom themed ones as well. If you want to peruse the sock options before you buy, you should be able to hit the link for any of the calendars and see a preview of the socks inside — but for those of us who don't want sock spoilers, a peek at the pretty packaging is more than enough. Just remember to act sooner rather than later — last year the frenzy for these was so intense they were selling for more than twice their retail value on eBay! Go live your coziest dreams and sock on.
Did you know that you can find Target promo codes at the Bustle Coupons page? Bustle Coupons is a service provided by Groupon in collaboration with BDG Media, Inc. Each time you use a coupon or promo code from Bustle Coupons to make a purchase, Groupon and BDG Media, Inc. earn a small commission. This article was created independently from Bustle's sales department.