Tarte Just Made An Eyeshadow Palette Inspired By Its Shape Tape Concealer & OMG It's Good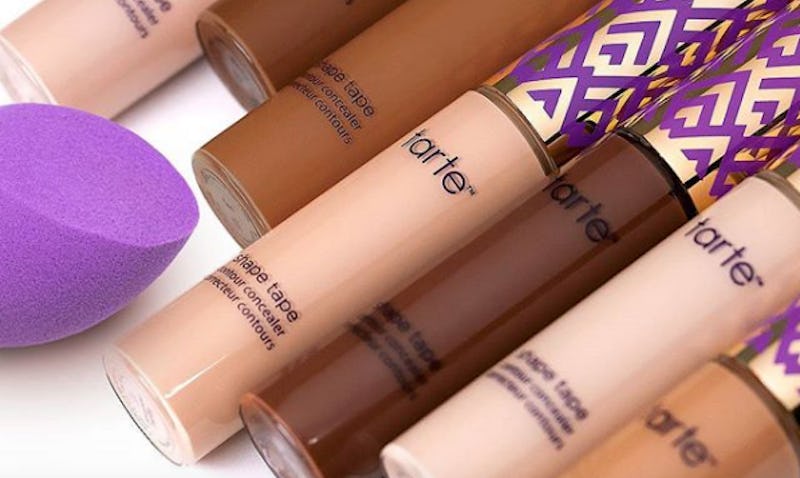 Tarte Cosmetics
Tarte's Double Duty Shape Tape Concealer is many beauty lover's holy grail beauty product. Its thick formula creates miracles when it comes to hiding tired under eye circles and bruised bags, and its easy-to-blend texture is a fan-favorite when it comes to highlighting. So when the brand announced that a Shape Tape Foundation might be in the works, a whole series of jazz hands went into motion. But the fun doesn't stop there. The famous concealer has been re-imagined into an affordable palette, called the Shape Your Money Maker Eye & Cheek Palette.
Riding on a "shape up" theme that will help you contour and highlight, this cheek and eye palette is going to take care all of your beauty needs in one compact case that's easy to slip into your bag. It features a cool-toned bronzer called Slim and champagne pink highlighter called Flex.
Next to that are three matte shadows called Trainer, Cardio, and Reps that ride the contour-and-highlight color spectrum, moving from an off-white shadow to a clay brown to a sienna red. Above them are three complimenting shimmer shadows dubbed Cut, Snatched, and Tone Up, which are basically the matte colors just infused with sparkle.
Shape Your Money Maker Eye & Cheek Palette, $32, Ulta
Everything is made with their famous longwear Amazonian clay formula, and the palette was made with the hopes of helping you shape and accent your features. Not only will the contour and highlight portion bring out your cheekbones, but the eyeshadows can help you define your eye shape, wake it up with shimmer, and smoke it out into a new shape if that's where your mood hits.
Tarte broke the news on their Instagram account, sharing a two-second video clip of the palette. Though brief, you can still get a feel for how velvety the matte shadows are, and how much defined shimmer the highlighter and glittery shadows have.
The caption read, "This January, we're taking 'shape up' to a whole new level. Check out our new Shape Your Money Maker Eye & Cheek Palette!!! With three silky mattes, three shimmery shadows, a bronzer and highlighter, this Amazonian clay-infused palette is perfect for shaping up just about anything."
The hashtags gave you an idea what the brand hopes to achieve with this palette, tagging #rethinknatural, #doubledutybeauty, and #busygirlbeauty. This collection might not have the fun pink and purple colors that help you whip up creative smoky eyes, but it will help you get your regular weekday face on, and is the perfect all-in-one stop for that busy person trying to get ready in the morning and fly out the door. It's utility wrapped up in a pretty package.
And while most fans were excited, some voiced frustration through the comment section that Tarte seems to be releasing the same few shades over and over in new palettes. In order to clear up why this palette feels similar to ones from 2017, the brand jumped into the conversation to explain this is also meant to be an upgraded version of the Tarte Clay Palette.
"After we launched the original clay play palette, we took all the feedback from our loyal tartelettes and wanted to quickly come out with a sequel that addressed everything you asked for! We created a new outer packaging box to easily differentiate between the two versions, but utilized the same compact design so that we could bring you the updates as soon as possible," they explained. "Version 2 swaps out some shades to add three luster shadows, one contouring bronzer, one blush, and one shimmering highlighter."
Whether you want to update your OG Clay Palette or love the one-stop-shop feel of the contouring shades, then this palette would be perfect. You don't have to wait to get it, either — it's already available at Ulta and Tarte's website. Happy shopping.