Taylor & Derek From 'Bachelor In Paradise' Split & Their Statement Will Hurt Your Heart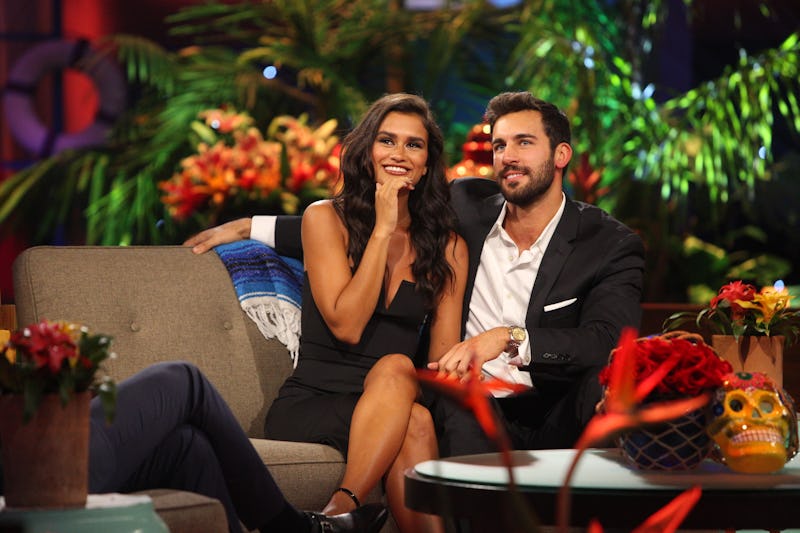 ABC/Paul Hebert
There are about to be a lot of broken hearts in Bachelor Nation, as one of Bachelor in Paradise's seemingly strongest couples has split. According to E! News, Bachelor in Paradise's Derek Peth and Taylor Nolan have broken up. To announce the sad news, the pair released a joint statement to E!, which read:
"It is with much sadness that we have decided to end our engagement. We put everything we could into our relationship and are heartbroken to go forward separately, but we know this is the best decision for the both of us. We will still be present in each other's lives with support, admiration and respect for each other."
Bustle reached out to Derek and Taylor for comment, but did not receive an immediate response.
E!'s report detailed that one of the biggest obstacles in the pair's relationship may have had to do with distance. Derek moved to New York City around October 2017, as one of his Instagram posts would imply. While he relocated to the Big Apple, Taylor was still in Seattle, Washington. She recounted the long-distance struggle on Instagram in May. As she highlighted their trip to south New Jersey to meet her family, she wrote, "It's one of my favorite trips we've had because everyone loved him and it just fit. Long distance is difficult but thinking about good quality experiences like this makes it a bit easier."
Of course, before things unfortunately headed south, Derek and Taylor's romantic love story played out on Season 4 of Bachelor in Paradise. She had just come off of an appearance on Nick Viall's season of The Bachelor, and he had previously appeared on JoJo Fletcher's season of The Bachelorette. While neither of them found love on their respective seasons, they did find an instant connection on the beaches of Paradise.
From the get-go of the season, Derek and Taylor were immediately drawn to each other. During the course of the show, they were regarded as one of the strongest couples there, seeing as though they were almost together for the entirety of the season.
Things were going so well for them during their time in Paradise that they even decided to take the next step in their relationship. On the reunion special for the series, Derek had the kindest words to say to Taylor as he prepared to get down on one knee (with a Neil Lane ring, of course). "You're not searching for someone who completes you but someone who compliments you. And I think we literally and figuratively do that," he said, "I choose to love you this minute, this hour, this day, and every day from here on out." It's especially emotional, though, to look back on their romantic engagement now, seeing as though they've since parted ways.
Following their engagement, the couple were all about posting adorable photos together on Instagram, whether it was of their trip to Hawaii or their hangout with fellow BiP couple, Raven Gates and Adam Gottschalk. Although, more recently, the pair haven't been posting as many photos featuring their significant other on their social media pages. The last snap Taylor posted with Derek was on May 29, whereas Derek last posted about his then-fiancée on April 25 (although, he isn't all that active on the social media site in the first place). As Elite Daily noted, the lack of photos led some to question whether the two had split.
Well, as it turns out, those fans' hunches were unfortunately correct. Derek and Taylor have since split after their length engagement. But, at the very least, their joint statement shows that they will still be in each other's lives with "support, admiration, and respect."