Taylor Swift Getting Political Had A Huge Impact On Voter Registration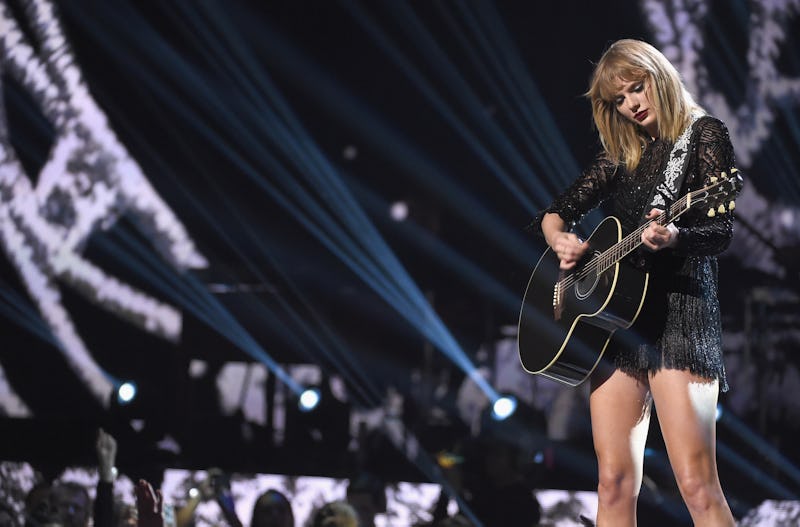 Kevin Winter/Getty Images Entertainment/Getty Images
When the 28-year-old pop star shares her thoughts, her fans listen. Voter registration surged following Taylor Swift's Instagram post announcing that she planned to vote for Tennessee Democrats and encouraging everyone to register, Vote.org told BuzzFeed News. After years of keeping her political beliefs to herself, it turns out Swift's massive audience is pretty receptive to her advice.
In the first 24 hours after Swift's post went up, the voter registration nonprofit saw up to 65,000 new registrations, Vote.org's Kamari Guthrie told BuzzFeed. The spike was especially noticeable in Tennessee — where T. Swift said she's registered to vote — with at least 2,144 residents signing up immediately after the post. By comparison, 2,811 people from Tennessee registered to vote in the month of September. Nationwide, 190,178 people registered to vote on the site in September, and 56,669 voters registered in August, according to BuzzFeed.
"Please, please educate yourself on the candidates running in your state and vote based on who most closely represents your values," Swift posted on Sunday. "For a lot of us, we may never find a candidate or party with whom we agree 100% on every issue, but we have to vote anyway."
Vote.org saw a spike in visitors to the site as well as voters who registered. Unique visitors to Vote.org jumped to 155,940 in the 24 hours following Swift's post, while the site's average users falls around 14,078 per day, Guthrie told BuzzFeed.
"Thank God for Taylor Swift," she said.
Swift's post garnered so much attention because, well, she's Taylor Swift — but also because the pop star had never voiced her opinion on an election before. Not only did she espouse the importance of voting, she went so far as to explicitly endorse two Democrats running in Tennessee and criticize a Republican member of the U.S. House running for a Senate seat. Swift outlined how Rep. Marsha Blackburn opposes LGBTQ rights and has voted against equal pay measures and the reauthorization of the Violence Against Women Act.
"As much as I have in the past and would like to continue voting for women in office, I cannot support Marsha Blackburn," Swift wrote on Sunday. "Her voting record in Congress appalls and terrifies me."
As expected, President Donald Trump responded to Swift's public support of Democratic candidates by claiming Swift didn't know what she was talking about.
"Marsha Blackburn is doing a very good job now in Tennessee. She's leading now substantially, which she should. I'm sure Taylor Swift doesn't know anything about her," Trump told reporters on Monday. "Let's say that I like Taylor's music about 25 percent less now, OK?"
But Swift's lengthy explanation of why she wouldn't support Blackburn proved that she had done her homework, as well as explained that she doesn't vote based on party but rather on which candidate will fight for every American's human rights.
"I believe in the fight for LGBTQ rights, and that any form of discrimination based on sexual orientation or gender is WRONG," Swift wrote on Instagram. "I believe that the systemic racism we still see in this country towards people of color is terrifying, sickening and prevalent. I cannot vote for someone who will not be willing to fight for dignity for ALL Americans, no matter their skin color, gender or who they love."
Tuesday is the last day to register to vote in many states. If you're unsure where to get started, check here.